Are Comic Books A Good Investment: A Complete Guide
Are Comic Books A Good Investment: A Complete Guide
Comic books investing has become a popular topic! Many collectors are opting to invest in comic books instead of the stock market – or in addition to their portfolio of traditional investments! If you are a comic book lover, comic book investing could sound like a very appealing option. How much fun is it to invest in something that's exciting, colorful, and has a great story along with it?
If you choose to invest in comic books, it's important that you are knowledgeable about your subject and that you know as much as possible about comic book investing. Investing in comic books is exciting, but like any investment, it carries some risk. You'll need to know which comic books are worth buying, which comic books to avoid, what type of investor you want to be. You'll also need to know which comic books you are interested in collecting, as well as the pros and cons when in comes to this type of investment.
Read on for a comprehensive guide on everything you need to know about comic book investing, the comic market, and how to get started.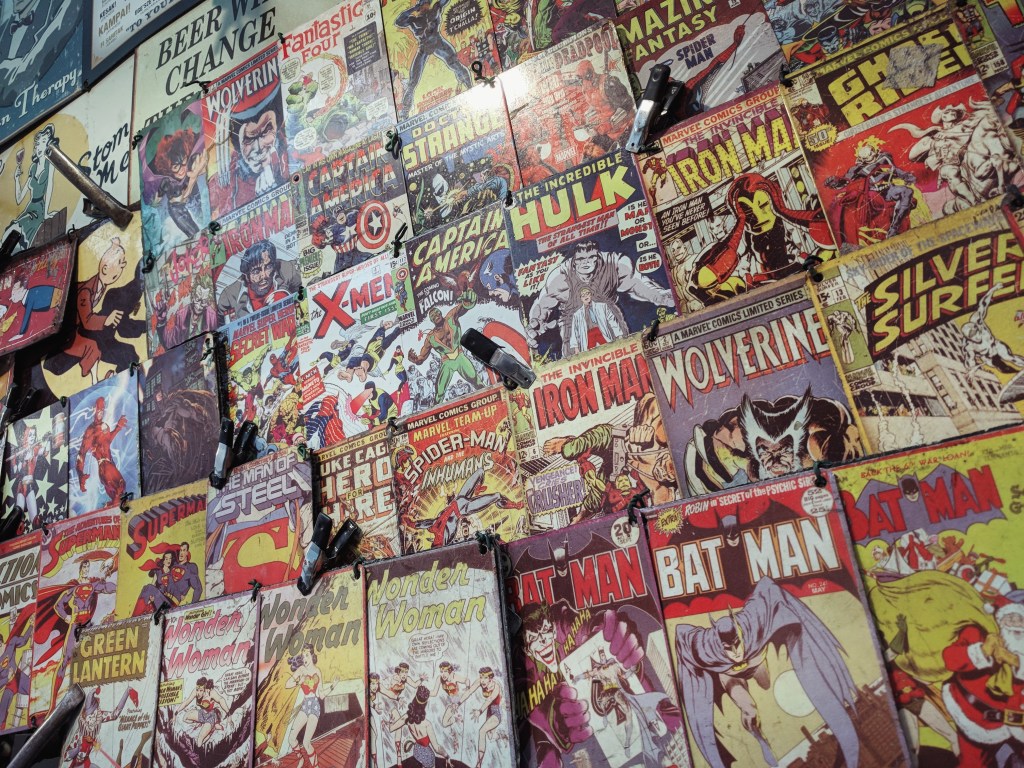 Why You Should Invest In Comic Books
Comic books can be a great alternative asset to add to your investment portfolio. It's important to diversify your investments – you want to have a variety of things that you've invested into. Comic books often increase in value, with some of the rarest comics experiencing a huge spike in their value.
Despite being a great investment, it's important if you decide to go down this road that you learn as much as you can about comic book investing and the current market trends. If you are passionate about comic books, you may find the process of learning more about them to be quite enjoyable!
How big is the comic book market?
The comic book market is thriving! According to GP analysis, over 3 million comic books have been bought and sold for more than $1 billion since 2001. In 2021, the global comic book industry was valued at $7.14 billion, according to a market analysis report by Grandview Research.
Pros & Cons of comic book investing
When considering whether or not you will invest in comic books, you'll want to weigh the benefits to determine if comic book investing is worth your while. Here are some of the pros and cons of investing in comic books:
Pros
You can see big returns if you invest in the right comics
Comic book investing is a fun way to add to your portfolio
Comic books are an great alternative asset
The books are tangible and can be kept for a long time
Cons
Value of the books depends on demand, and can be subjective
These days more people are saving their comics, so it can be difficult to make money with new editions
Purchasing the valuable comic books can be expensive, so it's harder to get a return on investment
How To Invest In Comic Books
The first step to investing in comic books is to learn as much as possible about the industry and the current market conditions. You'll also need to determine a few other things: your budget, your investment style, and how to find the best comics for your collection.
Once you have your comics in hand, you'll also need to consider getting comics insurance to protect your investment. You never know what could happen, and getting insurance for your collection is a great way to protect yourself from uncertainty. Plus, most homeowner's policies don't offer comprehensive coverage for your collection.
Choose Your Comic Book Investment Style
If you decide to invest in comic books, you'll need to first determine your budget. You can decide to invest a lot of money or just a little. Your budget will determine how many comic books you can buy – and what type of books you can buy. When figuring out your budget, you'll also need to consider which type of comic book investor you want to be: do you want to invest for the long-term or short-term?
Long-term comic book investors should opt for comics that have shown slow but steady growth over the years – books that have appreciated in value and that are likely to continue with this trend. Books from 1980 or earlier are a good choice for the long-term investor.
Short-term comic book investors should try to buy comic books before they get popular and sell them at the height of their popularity. Comics like these could be selling for $50-$100 when they have only been out for a few months, and they originally cost just $4. To determine which books will experience a spike in popularity, short-term comic book investors should follow movie releases that feature popular comic book characters. When a new movie about a comic book character is released, the demand for their comic book often skyrockets.
Finding the Best Comic Books
When on the hunt for comic books to add to your collection, it's important to know what to look for. In general, pre-1985 comic books will have more value, but newer books could bring a profit in the long run. When considering a comic book, think about these factors:
Significance
First issues of a comic book, such as the very first Superman comic book, are often in demand and generally offer a good return on investment. Issues that have a turnover in the writer or the artist can also be valuable. Issues that feature an important story arc, the first appearance of a special character or costume, or the death of a character can also become valuable.
Artist or Writer Popularity
If a specific writer or artist is popular, the books that they lent their talents to can become valuable. Stan Lee is a very popular comic book writer, and he is the creator of popular series such as The Incredible Hulk, The Fantastic Four, Iron Man, and X-Men. Frank Miller and John Byrne are also popular writers. John Byrne and Jack Kirby are also popular comic book artists. Consider investing in comic books by these and other prolific writers and artists!
Rarity
Older comic books are often the most valuable because they are scarce. In the early days of comic books, they weren't considered valuable, so many people were tossing theirs once they were done with them. Modern comic books are more common, plus more people save their comic books now, so they don't usually have as much value.
Condition
It might seem obvious, but a comic book in excellent condition is more valuable than one in poor condition. To verify the condition of your comic book, consider getting it graded by an expert. A great place to consider for comic book grading is CGC Comics. Grading involves assigning a number to a comic book on a scale of 0.5 to 10, with ten being mint condition. Graders will examine the book's binding, the quality of the printing, the edges, and more.
First Time Buying Comic Books?
If you're new to the world of comic books, you might be wondering how to buy comic books. If you are just getting started as a comic book investor, a good place to begin is to determine a specific character or series you would like to start with. Having a niche isn't totally necessary, but it can help you stay focused and keep you interested in what you are doing. Then, research that specific series and determine what you want to buy. Is the first issue of that series something that might grow in value? Are there any specific story arcs that are popular with readers? Are there some older editions of that comic book that have become quite valuable over the years?
Once you know what you want, it's time to make a purchase! You could purchase the books at a comic book store, but keep in mind that the seller is looking to make a profit, so you might pay more for the books than you would elsewhere. A great place to find comic books is to scour eBay listings. Sometimes, you might get lucky and find a great deal on a valuable comic book. If you are knowledgeable about value, you can find books that are underpriced on eBay and scoop them up for your collection!
Taking a Look at Vintage Comic Books
Most comic book collectors are interested in vintage comics. "Vintage" is considered anything that was published between the 1930s and the mid-1970s. A good rule in determining whether a comic book is vintage is to look at the price on the cover. A vintage comic book could say 10c, 12c, 15c, 20c, or 25c.
Comic books are actually divided into groups by different ages, which are defined below:
Victorian Age (1842 – 1897)
Platinum Age (1897 – 1938)
Golden Age (1938 – 1956)
Silver Age (1956 – 1970)
Bronze Age (1970 – 1985)
Modern Age (1985 – Present)
The typical comic book investor is after comic books from the golden or silver age.
Here's How To Resell Your Comic Books
Once you've got your comics in hand, you may be wondering how to sell your comic book collection. To get the maximum value for your comic books, you may first want to get them graded by an expert. Grading can cost money, but if the comic book is very valuable it could help you get the best return on your investment.
The next step in selling is to research the value of the comic books that you have. You can use tools such as GoCollect to help you determine the market value of your comic book. You'll also want to determine the best place to sell your books. Here are a few options:
eBay
eBay is a great place to sell lots of comics or comics that aren't especially valuable. You can set up your listing as an auction or list it with a "buy it now" price. Before selling on eBay, be sure to take clear photos of what you are selling and write a product description that accurately portrays the condition of what you are selling.
Heritage Auctions
Heritage Auctions is know as the world's largest collectible auctioneer. Here you will find auctions featuring a wide variety of collectible items, including comic books.
This is a great place to sell your more valuable comic books; it's a good choice for selling Golden or Silver age comics. It's important that you have your book graded and know the value of what you are selling if you opt to sell on this platform.
Mile High Comics
Mile High Comics refers to themselves as America's largest comics retailer. This online place for buying and selling comics has been around for over 25 years, and it has become a popular platform for sellers.
Local comic book store
Your local comic book store or local pawn shop could be a place to sell your comic books. Keep in mind that they are buying to resell, so they may not offer you top dollar for what you are selling.
FAQs
Are comics a good investment?
Investing in comic books can be a great move, as they are an excellent way to diversify your portfolio. It's important that you are knowledgeable about the market before you start your journey of comic book investing. Do your research and determine what type of investor you want to be and what types of comic books you want to add to your collection.
Which comic books will be worth the money?
There are many factors that comic book investors should consider when deciding which comic books will have a high value. First, consider that older comic books (think Silver or Golden age) tend to have more value. First issues, key character arcs, the first appearance of certain characters (or their costumes), and issues written or illustrated by popular writers and artists tend to be more valuable. It's also smart to consider which comic book characters have movies in the works, as a movie can cause a spike in the value of that character's comic book series.
Where can I sell old comic books?
You can sell your old comic books in a variety of places, both brick and mortar and online! Online options include eBay for your lower value items, Heritage Auctions for your higher value items, and Mile High Comics. In person locations include your local comic book store or pawn shop.
Do comic books appreciate in value?
While many comic books appreciate in value, not all of them do. Before investing in comic books, it's important to do your research and learn which comic books are valuable and which are not. It's also important to keep in mind the types of comic books that tend to increase in value, such as first issues, first appearances of special characters or costumes, and issues by popular artists or writers.
Conclusion
Comic book investing can be a lucrative business, as long as you know your stuff! Be sure to learn as much as you can about investing in comic books, about the market overall, and especially learn about your area of interest, whether it be comics from a specific age, books that cover a specific character, or a specific series. Make sure that you get your most valuable books graded before you sell them so that you can maximize what you'll earn from the sale. And finally, don't forget to consider the best venues to sell your comic books, whether you opt for a comic book store or an online auction site.
Source
https://www.grandviewresearch.com/industry-analysis/comic-books-market-report
https://www.potteriesauctions.com/news/are-my-vintage-comic-books-worth-anything
https://en.wikipedia.org/wiki/History_of_American_comics
https://financebuzz.com/amp/how-to-invest-in-comic-books
https://multiversecomicbox.com/how-to-invest-in-comic-books-guide/
https://www.financialpoise.com/should-you-invest-in-comic-books/
https://gobacktothepast.com/are-comic-books-a-good-investment/
https://www.liveabout.com/investing-in-comics-books-804295
https://gobookmart.com/10-best-comic-book-writers-of-all-time/
About Collectibles Insurance Services
Collectibles Insurance Services has been protecting collections since 1966 and all coverage is provided by a carrier with a group rating of "A" (Excellent) by AM Best, the leading rating agency for the insurance industry.

Comprehensive coverage includes, but is not limited to: accidental breakage, burglary, fire, flood, loss in the mail, theft, natural disasters, and other causes of loss unless specifically excluded from the policy. Deductibles start at $0 for collector policies and we provide coverage for the market value of your collection for losses in excess of $50.

Additionally the protection extends At home and away, and we don't require collection itemization and serial number nor extensive paperwork and red tape.