Shirley Temple Doll Values: Collecting & Appraising Guide
Shirley Temple Doll Values: Collecting & Appraising Guide
Shirley Temple is among the most popular child actors of her time – and perhaps of all time! This singing, dancing, and acting child sensation made her way into the hearts of her audience by appearing in films such as "Stand Up and Cheer" (her first film in 1934), "Little Miss Marker," "Heidi," the "Little Princess," and many more. While Shirley Temple Black passed away in 2014, her inspiration lives on with the legacy of classic films that she left behind.
With the popularity of Shirley Temple came a wide range of Shirley Temple merchandise – the most popular among collectors being the Shirley Temple doll. Read on as we discuss a history of the Shirley Temple doll and its value as a collectible item.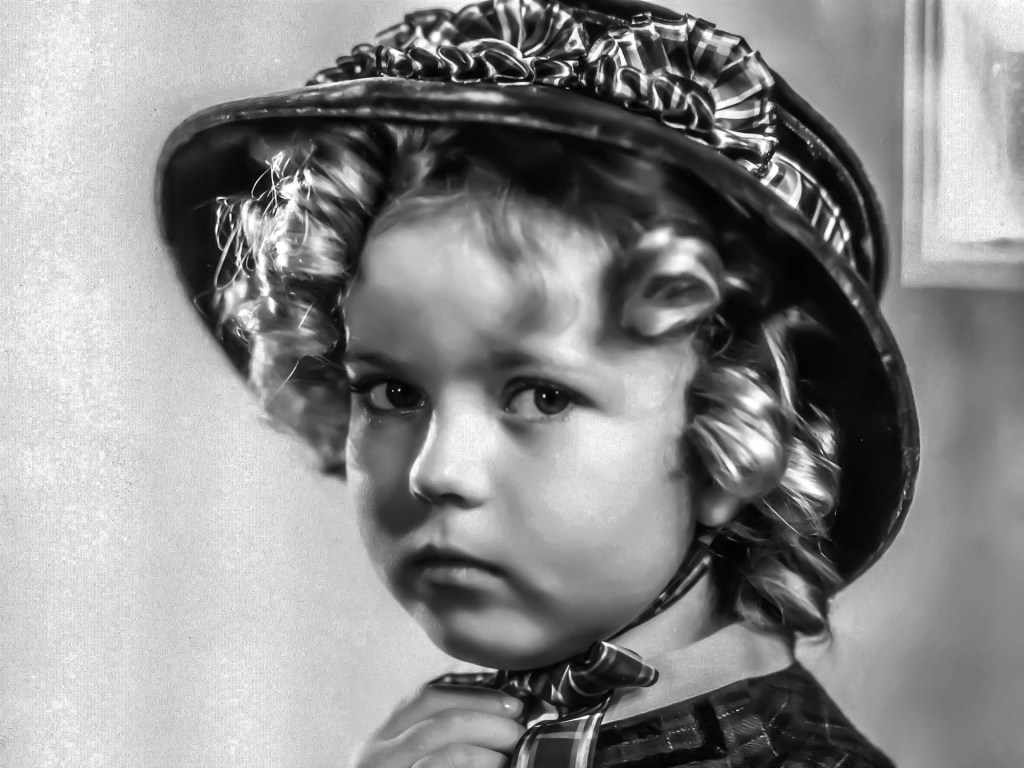 Brief History of the Shirley Temple Doll
Shortly after "Stand Up and Cheer" became a huge success for Shirley Temple, a likeness doll was introduced. These dolls were first made by the Ideal Novelty and Toy Company in the 1930s. The first doll was made in 1934 after the company received permission from the Temple family to create the doll. This first doll is known as the composition Shirley Temple doll, and it was sold until 1939. Since this doll's popularity, there have been other licensed versions of the doll in production. However, this first doll remains one of the most popular among collectors.
The first announcement of the Shirley Temple doll was in the September 1934 issue of Playthings Magazine. The advertisement for the doll read, "Shirley Doll. Shirley has same well-shaped body, legs, and arms as 'Ginger.' New Ideal double action glace eyes and lashes, has wig in choice of brunette, blonde, or auburn. Variety of costumes in pink, blue, maize, green, or white." The ad didn't mention Shirley Temple's last name, or the fact that she was a movie star. At the time, the doll's four sizes cost $3, $5, $6, and $7.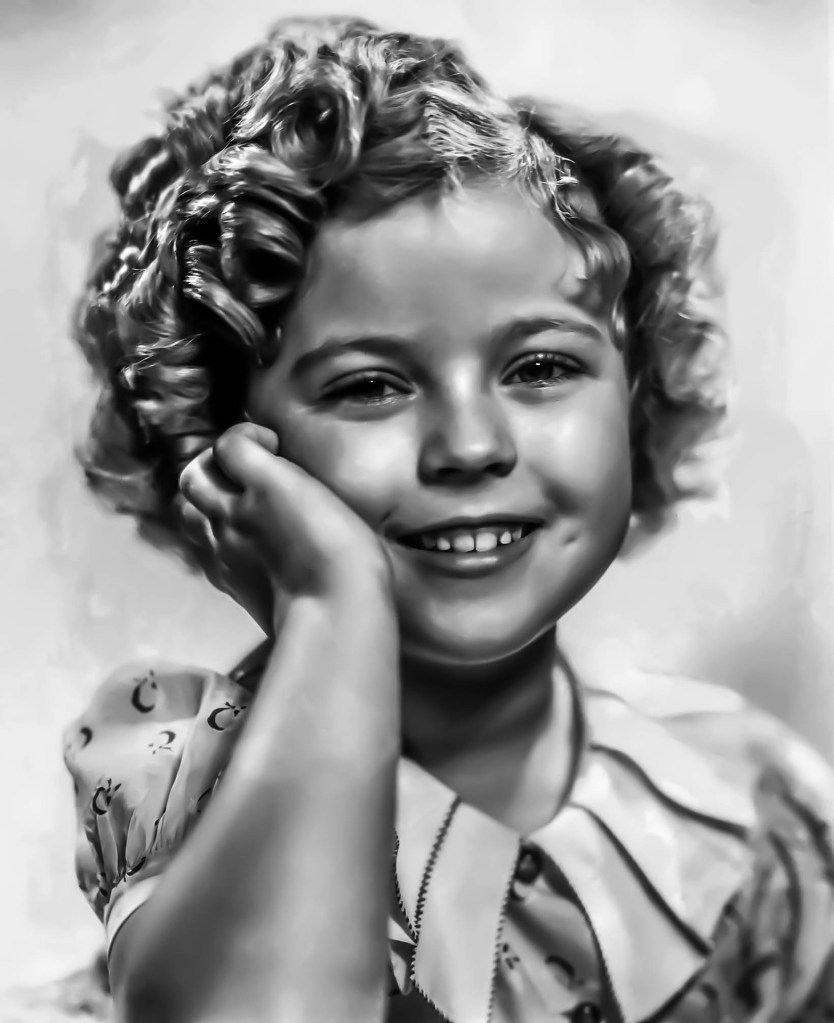 The Composition Shirley Temple Doll
The well-known composition Shirley Temple doll was designed by doll sculptor Bernard Lipfert. It has Shirley Temple's dimples in her cheeks, hazel eyes, and a golden mohair wig styled in ringlets. Most of these dolls were marked "Shirley Temple" on the head and body, along with the company name "Ideal" and the size of the doll. The doll's sizes included 11″, 13″, 16″, 17″, 18″, 20″, 22″, 25″, and 27″, with the most common sizes being 13″ and 18″.
The composition Shirley Temple doll came with outfits that were exact re-creations of dresses that Shirley wore in her movies "Stand Up and Cheer," "Littlest Rebel," "Curly Top," and "Our Little Girl." The dresses each had a label with her signature sewn into the seam, as well as a signed photo of Shirley Temple as a child in the box. A favorite outfit among collectors is a long dress from "The Little Colonel," which appeared on the Shirley Temple doll in 1934.
Between 1934 and 1939, over one and a half million of these beautiful playthings were sold – a reflection of Shirley Temple's great popularity. Collectors loved them, and Shirley Temple – the child – in some ways saved the Ideal Toy Company from financial trouble during the Great Depression.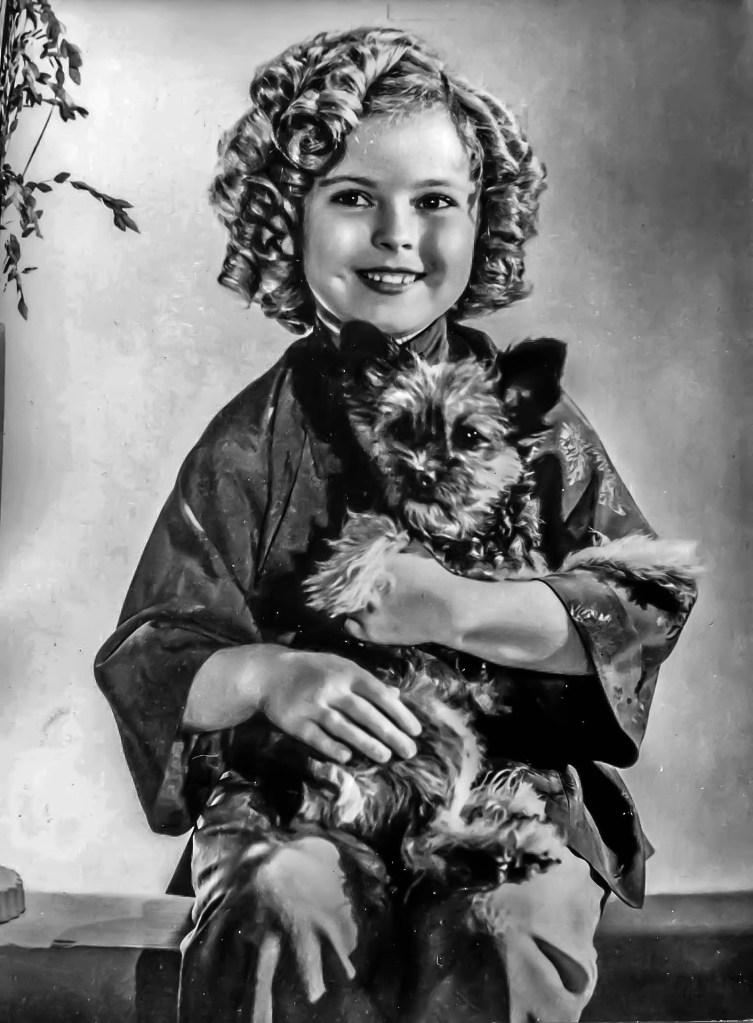 Top 10 Most Expensive Shirley Temple Dolls
These playthings that date back to the 1930s are now some of the most valuable antique collectible items. There are some Shirley Temple dolls out there that sell for a pretty penny! Follow along as we explore the top ten most expensive Shirley Temple dolls, plus their staggering selling prices.
11″ Shirley Temple 1930s Composition Doll
This composition Shirley Temple doll is 11″ tall and features a white and blue striped dress. The price for this rare Shirley Temple was $1,000 in 2009.
Shirley Temple 17″ "Baby Take a Bow" Doll
This antique Shirley Temple, wearing her "Baby Take a Bow" costume, was a composition doll produced by Ideal. A perfect condition collectible with its original outfit, dress, shoes, and mohair wig sold for $1,000 in 2010.
Shirley Temple 18″ Composition Dimity Dress Doll
This Ideal doll was produced in the 1930s and her clothing was an orange patterned dimity dress. Despite some crazing and wear, this Shirley Temple sold for $1,100 in 2007.
26″ Shirley Temple Tartan Skirt Doll
This rare Shirley Temple composition doll wears a red tartan skit and belted jacket. The doll with its original wig was not in the best condition, but even at a price of $1,100 some collector was lucky to buy this Shirley Temple.
16″ Shirley Temple Make-Up Doll, Peach Organdy Dress
This 16″ tall Shirley Temple doll has a socket head and a jointed composition body. This Shirley Temple has the original mohair wig and wears an outfit of a peach leaf print dress. It sold for $1,100 in 2013.
Shirley Temple 20″ Doll with Celluloid Pin Bank
This is a rare and lesser-known Shirley Temple doll, and its price was $1,150 in 2004 in its original box from Bullocks Store and in excellent condition.
16″ Ideal Composition Shirley Temple "Cowboy Doll"
This Shirley Temple doll was created to celebrate the Texas Centennial. The doll, in its original Texas ranger outfit, sold for $1,400 in 2020.
Shirley Temple 27″ 1934 Ideal Composition Baby Doll
This rare 27″ tall baby doll has a Shirley Temple mark on the back of its head. The baby doll wore an outfit that included a bonnet and booties, and sold for $1,495 at auction in 2023.
Shirley Temple 18″ Composition Sleep Cello Eyes Ideal Doll
This rare, limited-edition doll has joined limbs and wears a blue and gold rayon Chinese pajama outfit from the 1936 film "Stowaway." It sold for $1,700 in 2023.
Shirley Temple 21″ Composition 1930's Ideal Doll
Despite not being in perfect condition, this doll, wearing an outfit of a blue and white dress, sold for $1,900 in 2007.
Evaluating the Value of a Shirley Temple Doll
When considering the value of a Shirley Temple doll, there are several factors to consider: variety, condition and packaging, and the manufacturer. Read on to learn more about these factors and how they impact value.
Variety
First, consider which variety of Shirley Temple doll you are looking at. The earliest composition dolls produced by Ideal were made of a composite material of glue mixed with sawdust. Later versions of the doll were made in vinyl in 1957 – some of them were up to three feet tall. Both types are valuable among collectors.
There are also porcelain dolls released by Danbury Mint in the 1990s, which can sell from between $10 and $150 – they are not as valuable as the older versions of the doll.
Condition & Packaging
The composition dolls often have crazing or cracks if they are not properly cared for. Dolls in perfect condition and in their original boxes tend to be worth more than those in poor condition or without their packaging.
Original Clothing
A Shirley Temple doll in its original clothing is worth more than one without it. Many an outfit worn by the doll is a replica of an outfit worn in one of her films.
Manufacturer
Ideal is the best-known manufacturer of the Shirley Temple doll, producing them from the 1930s until the 1970s, when the company went out of business. Later porcelain dolls were produced by Danbury Mint. The Ideal dolls tend to be worth the most to collectors.
Resources for Appraising a Shirley Temple Doll
Looking to appraise the value of a Shirley Temple doll? There are a few ways that collectors can approach this.
Look up auction records for the doll on sites such as eBay. This should give you a good idea of what your particular Shirley Temple doll is selling for.
Consult with a professional doll appraiser to learn the value of your Shirley Temple doll.
Check out ShirleyTempleDolls.com to learn about the varieties of Shirley dolls, as well as information on valuing the dolls.
Purchase The Complete Guide to Shirley Temple Dolls and Collectibles to learn more about your collection.
Consult with other websites, books, or forums that discuss the value of the Shirley Temple doll.
Taking Care of the Shirley Temple Doll
If you are interested in Shirley Temple dolls and collectibles, it's important to care for them and keep them in excellent condition. Store dolls away from dust to preserve them – a glass curio cabinet is an excellent choice for both protection and as a beautiful display case. If you have the original box, keep that nearby and store that away from dust as well. Consult with a doll repair or restoration expert if your doll is in need of some TLC.
FAQs
Is a Shirley Temple doll worth anything?
Yes, a Shirley Temple doll can be worth quite a bit of money! Earlier composition dolls are worth the most, with some examples selling for around $1,000 each.
How do I identify a Shirley Temple doll?
If the cute curls, hazel eyes, and short dresses don't tip you off, the earlier dolls should have "Shirley Temple" stamped on the back of the doll's head. You can search online to help you identify which type of Shirley Temple doll you own.
What year did the Shirley Temple doll come out?
The first Shirley Temple doll was introduced in 1934 by the Ideal Novelty and Toy Company after the Temple family approved production. Today, the original dolls are valuable collectibles.
Sources
https://www.thesprucecrafts.com/shirley-temple-dolls-774724
https://www.antiquedolls-collectors-onlineadvisors.com/Shirley-Temple-Was-A-Doll-Collector.html
https://www.dollkingdomus.com/post/composition-shirley-temple
https://www.vipartfair.com/most-expensive-shirley-temple-dolls/
About Collectibles Insurance Services
Collectibles Insurance Services has been protecting collections since 1966 and all coverage is provided by a carrier with a group rating of "A" (Excellent) by AM Best, the leading rating agency for the insurance industry.

Comprehensive coverage includes, but is not limited to: accidental breakage, burglary, fire, flood, loss in the mail, theft, natural disasters, and other causes of loss unless specifically excluded from the policy. Deductibles start at $0 for collector policies and we provide coverage for the market value of your collection for losses in excess of $50.

Additionally the protection extends At home and away, and we don't require collection itemization and serial number nor extensive paperwork and red tape.