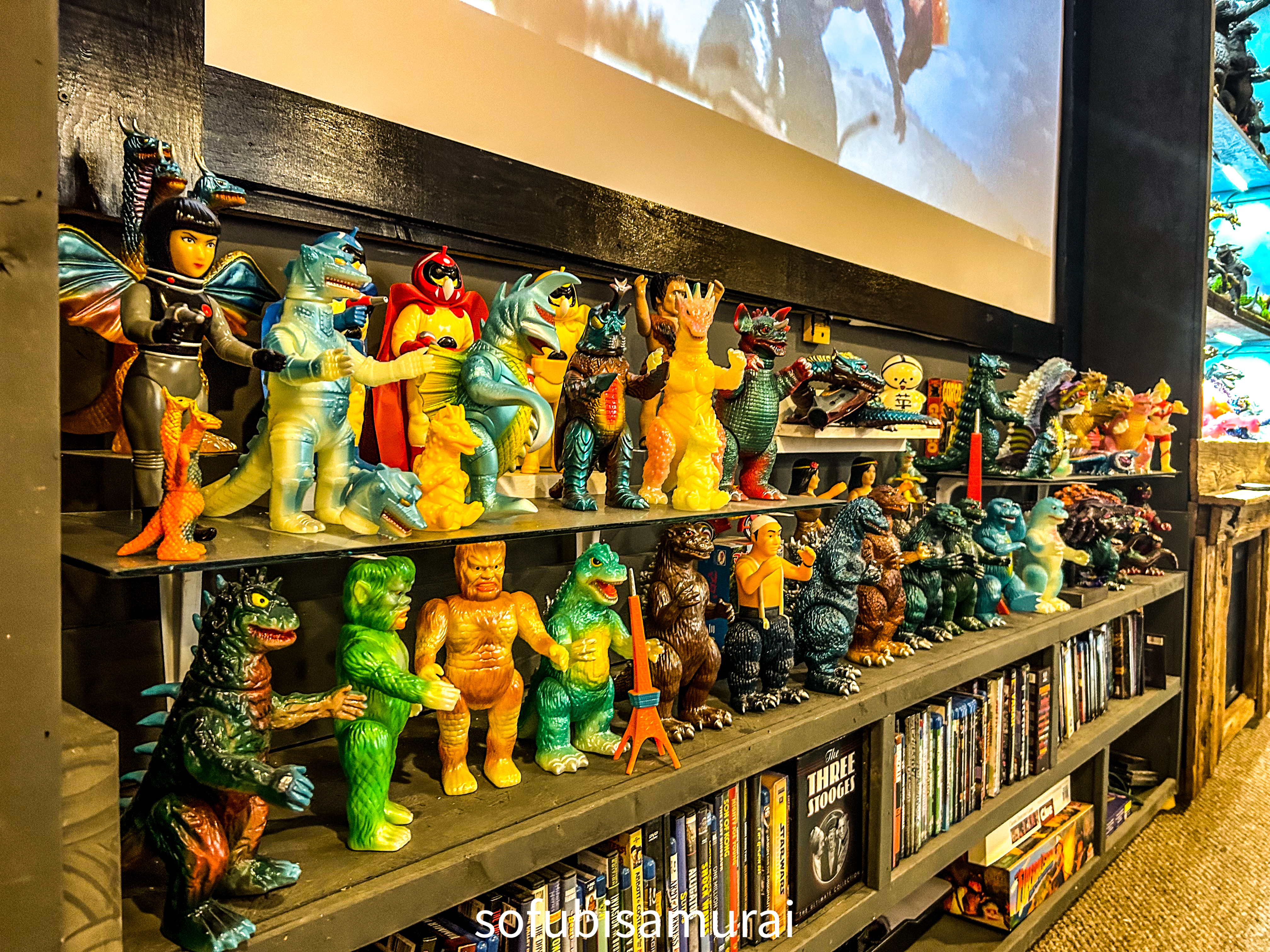 A Collection of Godzilla and Transformers Action Figures, Plus Other 80s Collectibles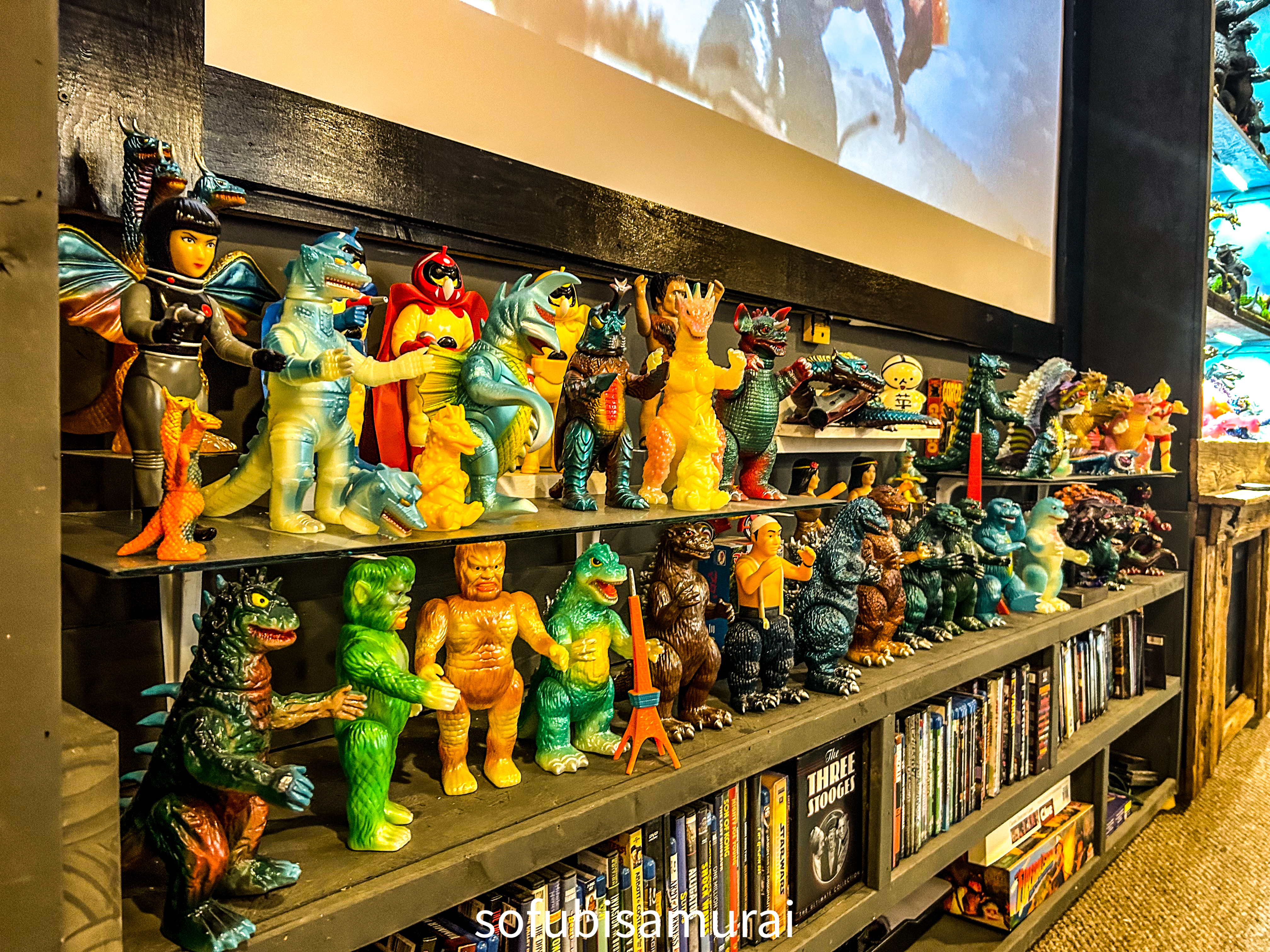 A Collection of Godzilla and Transformers Action Figures, Plus Other 80s Collectibles
For Brian Mattoscio, a large part of his drive to collect comes from nostalgia. As a kid, he was very interested in Godzilla, but the toys based on this character were hard to come by. As he got older, he started attending conventions and began to obtain Godzilla toys for his collection. "I started going to comic book conventions, and it was mind blowing how much Godzilla stuff there was!" he shares.
Brian found that many of the early Godzilla toys were made in Japan, and the best way to obtain them was to form connections with people who lived in Japan or people who knew someone that could ship from Japan. He also used to look for ads for the toys in Godzilla fanzines. Many of the figures that Brian found for his collection are called "sofubi," which roughly translates to soft vinyl toy. These figures are painted and sculpted, and they are very artistically produced. They are painted in garish colors, which makes them a bit different from the actual movie characters, but they make for a dazzling display on a shelf. Many of the pieces are very limited, with only a small amount of them in existence.
Since COVID started, Brian took an interest in another collectible category: Transformers. He also began to collect items from other 80s movies and tv shows he is interested in, such as Teenage Mutant Ninja Turtles, Thunder Cats, and more. At one point, he thought he wanted to sell his Godzilla collection, so he joined a Facebook group with the intent of selling to other collectors. Rather than selling off his toys, Brian ended up nearly tripling his Godzilla collection, and today he is an admin of that Facebook group, called the Godzilla Collector's Group. "It didn't work out as I had planned!" laughs Brian.

A favorite item from Brian's collection is a Shogun Warrior piece that his grandparents gifted him as a kid. "I would never get rid of that!" he explains. It's almost 18 inches tall, and it has a lever on the back of its head that shoots out fake fire. He also treasures some toys that have been autographed by the man who played the original Godzilla, who he had the opportunity to meet with on several occasions.
Brian can still remember the first purchase he made for his collection: It was a soft vinyl model kit of Godzilla from Godzilla vs Biollante, which came out in 1989. "I was a junior in high school, and at $75 it was a huge purchase for me!" he explains. He still owns the figure, though he admits it was sloppily put together due to his lack of skill at the time. Brian's skill at assembling toys has since grown, as he has started to create dioramas depicting battle scenes from Godzilla and Transformers. He has learned how to airbrush and sculpt. Notably, he created a giant 7-foot by 4-foot scene, as well as many smaller ones.
Brian's entire collection is on display in his finished basement. "The thing about my collection is that I aim to curate it properly so that it looks nice." He doesn't just randomly display his prized items – he carefully arranges them on glass shelving, and he ensures that the room itself is still a livable room so that he can enjoy being around his collection.
To learn more about Brian's collection, you can follow him on Instagram.
About Collectibles Insurance Services
Collectibles Insurance Services has been protecting collections since 1966 and all coverage is provided by a carrier with a group rating of "A" (Excellent) by AM Best, the leading rating agency for the insurance industry.

Comprehensive coverage includes, but is not limited to: accidental breakage, burglary, fire, flood, loss in the mail, theft, natural disasters, and other causes of loss unless specifically excluded from the policy. Deductibles start at $0 for collector policies and we provide coverage for the market value of your collection for losses in excess of $50.

Additionally the protection extends At home and away, and we don't require collection itemization and serial number nor extensive paperwork and red tape.