Toy Collector Has Over 700 Pieces in His Collection

Toy Collector Has Over 700 Pieces in His Collection
Dave Bontempo's toy collection is primarily composed of toys from 1985-1994. 1985 is the year he was born, and 1994 is the year that he was ten years old. The collection covers all of Dave's favorite toys from his childhood. His collecting journey started with the toys that his mom had saved from when he was little – including Ghostbusters, GI Joe, Ninja Turtles, and more.
As an adult, Dave started to fill in the gaps for his collection. There was a toy company called Kenner that had toy catalogues, and Dave would look through them and try to collect every single piece from a specific line of toys. It wasn't until a year or two before the COVID-19 pandemic that Dave began to realize that he was a serious collector. Eventually, his kids started developing an interest as well. They built a designated toy room in the basement that his kids referred to as the "toy store."
Most of what Dave collects these days remains in the original packaging, but Dave's favorite pieces from his collection are his opened original four Ghostbusters toys. He can remember when he got them and who gave them to him. "I've had them for 33 years!" One of his first purchases for his collection is also Ghostbusters-themed – a proton pack that he had as a kid. The pieces from the original set got lost, so he purchased one in the box as an adult. This purchase is what sparked his interest in having the original packaging.
Today, Dave owns every piece of the Ghostbusters Kennar line in the original packaging, as well as full lines of unopened G.I. Joes and Ninja Turtles toys. Some other notable items from his collection are a super rare G.I. Joe called the Gold Head Steele Brigade. He also has a Ninja Turtles figurine called Scratch the Cat and a Heman figure called Laser Light Skeletor.
Dave's collection is comprised of somewhere around 3,500 pieces, and it has become quite valuable. Pieces can range from $100 in value to around $3,000 apiece. Everything is on display in a private storage location and is meticulously organized by production year, genre, opened vs unopened, and by series.
After getting sober 12 years ago, Dave now works in the behavioral health field, and he loves to connect with others through toys. He asks people that he works with to tell them about a memorable toy from their childhood, and then he'll purchase it for them on eBay. "It creates great conversations," shares Dave. "I think people like getting that stuff because it reminds them of a simpler time, and it's a lot of fun!" He also enjoys sharing the hobby with his children and seeing them get excited about it. "It's become more than just a hobby!"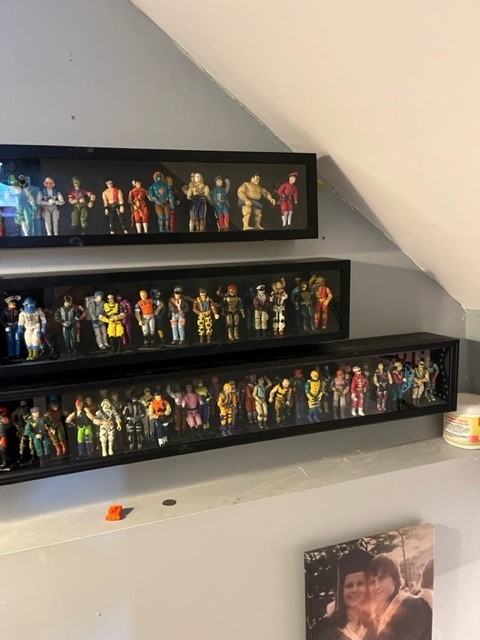 About Collectibles Insurance Services
Collectibles Insurance Services has been protecting collections since 1966 and all coverage is provided by a carrier with a group rating of "A" (Excellent) by AM Best, the leading rating agency for the insurance industry.

Comprehensive coverage includes, but is not limited to: accidental breakage, burglary, fire, flood, loss in the mail, theft, natural disasters, and other causes of loss unless specifically excluded from the policy. Deductibles start at $0 for collector policies and we provide coverage for the market value of your collection for losses in excess of $50.

Additionally the protection extends At home and away, and we don't require collection itemization and serial number nor extensive paperwork and red tape.