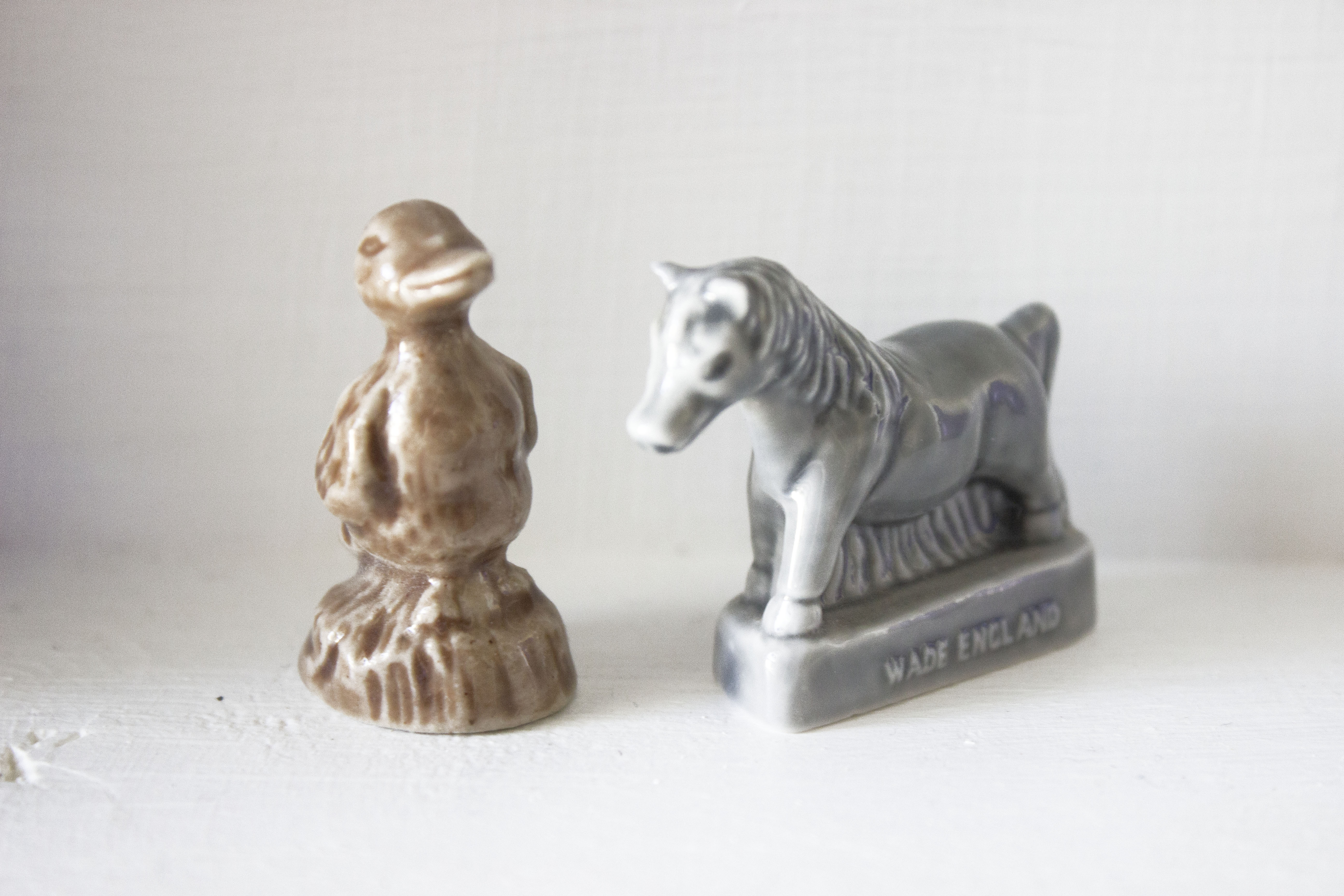 The Most Valuable Wade Figurines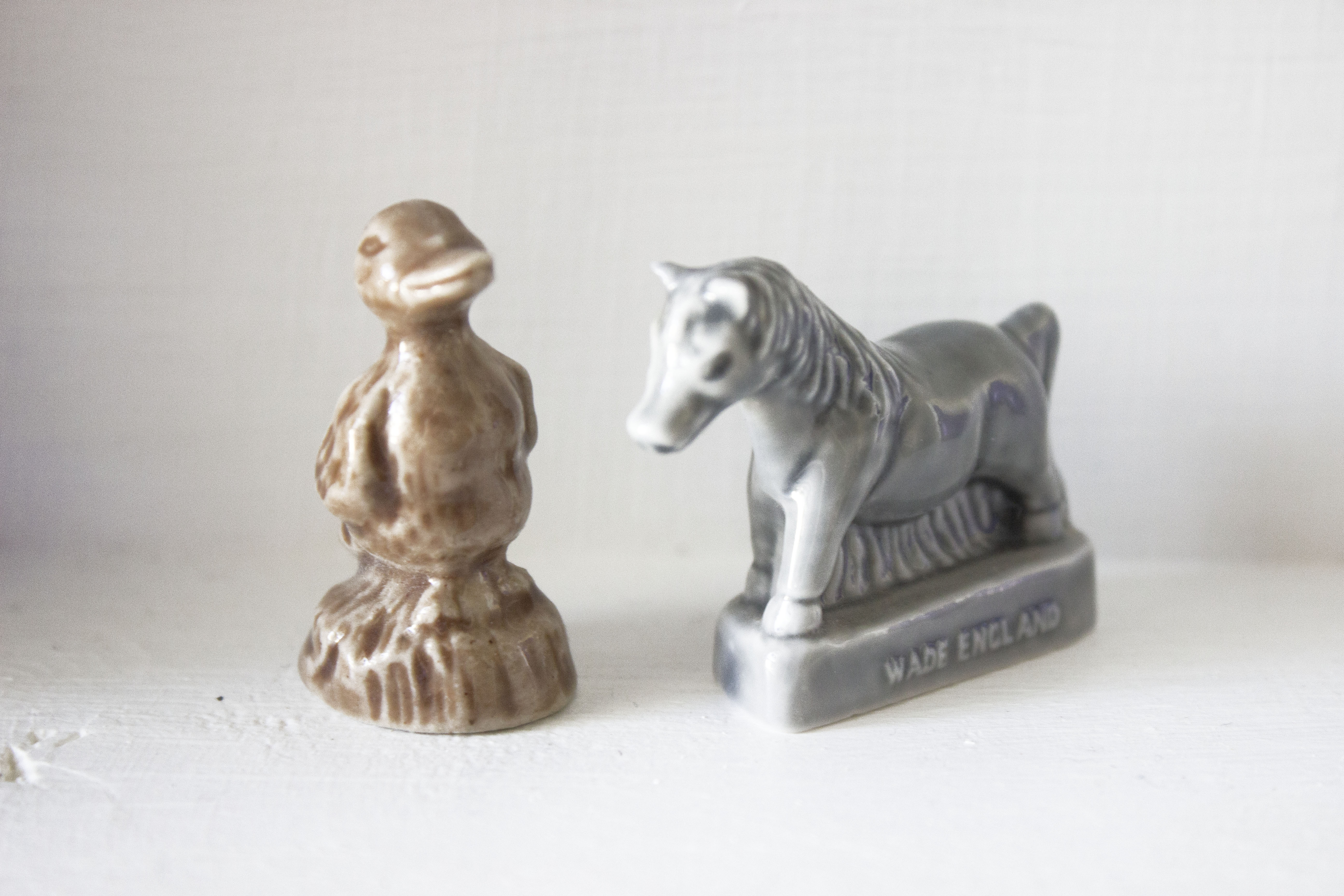 The Most Valuable Wade Figurines
Wade figurines are classic collectible items! Although Wade Ceramics, a company founded by Sir George Wade, produced quite a variety of Wade pottery and figurines, they are perhaps best known for their miniature figurines called Wade Whimsies. Given away for free in boxes of Red Rose Tea, these figurines – which were once free – have surged in value and popularity as collectible items.
These small Wade Whimsies figurines took on a wide variety of shapes, including animals, people, characters, and more. Over the years, they have become popular collectible items. Wade figurines are great entry level collector items, as most of them can be bought for a few dollars apiece. They are pretty, come in a wide variety of colors, and you can enjoy the thrill of trying to collect an entire set of them. Some figurines, however, are worth quite a bit more.
Read on to learn more about these special figures – their history, which ones are in demand, what makes them valuable, and how to properly care for them.
Introduction to Wade Figurines: History and Overview
For many years, Wade Ceramics, founded by Sir George Wade, produced a variety of different types of pottery. In 1954, it began producing Wade figurines. In 1967, it began a collaboration with Red Rose Tea.
This partnership allowed Red Rose Tea to place a small Wade figurine (also known as Wade Whimsies) in every box of tea that it sold. Over the years, Red Rose Tea gave away over 300 million Wade figurines in just the United States.
These cute collectible figures may have been given away, but now they can be worth quite a bit of money – anywhere between a few dollars apiece up to $700 or more.
Factors That Can Affect Wade Figurines Value
There are multiple factors that contribute to the value of Wade figurines, such as rarity, popularity, their condition, and whether or not you've collected the complete set. Read on for a look at each of these factors.
Rarity and Scarcity
As with most collectibles, an extremely rare or scarce Wade figurine has a higher value on the secondary market. Common Wade figurines are not worth as much as those that are harder to come by.
Popularity
The demand for a specific style of Wade figurine will have an impact on its value. Those that are popular and in high demand will fetch a higher price tag.
Condition
Condition is everything when it comes to Wade figurines. Chipped figurines have relatively little value. It's important to keep your collectible figurines in good condition, with no chips or cracks.
Completing the Set
Wade figurines were often sets, such as the Noah's Ark collection, which had a variety of animal figurines plus one of Noah and his wife; circus figurines; and figurines featuring North American animals. Collecting the complete set of any Wade figurines is sure to boost the resale value.
Wade Figurines Authentication: How to Identify Genuine Pieces
The best way to identify an authentic Wade figurine is to look for the Wade mark on your figurine. There are a few different ways that the figurines could be marked. They include "WADE," "WADE ENG," and "WADE ENGLAND."
It is unknown why these different marks were applied to the figurines. There is no correlation between the type of mark used and the time period in which it was produced, making it difficult to identify vintage Wade figurines without conducting a bit more research.
Types of Wade Figurines
Wade Whimsies
Wade Whimsies are the miniature version of Wade figurines that were given away in boxes of Red Rose Tea. This was done in an effort to boost sales.
Vintage Wade Collectibles
Wade also produces a wide variety of larger ceramic figurines, which span a variety of characters, including Betty Boop, Snow White and the Seven Dwarfs, the Michelin Man, and more.
Most Valuable Wade Figurines: Extremely Rare and Highly Sought-After Pieces
Figurines and other piece produced by Wade Ceramics are highly collectible. Here are some of the most sought-after and valuable Wade figurines!
Wade Figurines Nautical Series Complete Set of 12
This nautical-themed set includes a seahorse, starfish, boat, lighthouse, and more. This set is valued around $75.
Vintage Red Rose Tea Wade Figurines
Between the years of 1967 and 2018, miniature Wade Whimsies figurines came with every box of Red Rose iced tea. They were usually just one color, and collecting an entire set, such as the Animal Series, could give you a valuable collection, worth around $150.
The Bard of Armagh Wade Figurine
This figurine, valued at around $66, features an old man sitting on a bench playing a harp. This was originally made in Ireland.
Vintage Dancing Circus Poodle Wade Figurine
While a standard Wade Whimsies figurine only sells for a dollar or two, pieces made for specific markets – like the vintage dancing circus poodle – can fetch a bit more money. This figurine is valued at around $14.
Noah's Ark 15-Piece Wade Figurines
This incredible set of Noah's Ark figurines features a variety of animals, including birds, elephants, lions, horses, and more. There is also a mini figurine of Noah and his wife. An entire set is valued at around $180.
Vintage Red Rose Tea Gingerbread Wade Whimsy
This precious gingerbread figurine was part of a series of figurines based on popular nursery rhymes. Other figurines include the three bears, Goldilocks, and the old woman in the shoe. The price for the gingerbread man can range from $2 to around $200.
Wade Figurines Complete 12-Piece Calendar Series
This set features 12 figurines that are based after the 12 months of the year. The figurines are of Christmas trees, the Easter Bunny, a jack-o-lantern, a scarecrow, and more. The set is worth around $125.
Complete Camelot Series 5-Piece Wade Figurines
This set contains King Arthur, Guinevere, Lancelot, Merlin, and the Lady of the Lake, and each piece has more than one color. The set is valued around $70.
Complete Dinosaur Set 3 Wade Figurines
Valued around $175, this set of dinosaurs are cute and colorful.
Snow White & The Seven Dwarfs Wade Figurines
This stunning set features Snow White and each of the seven dwarfs from the original Disney movie. The set is valued around $108.
Dolly Varden Rare Wade Figurine
Based on a Charles Dickens character, this figurine features a lot of detail and multiple colors. It is valued around $180.
Betty Boop Limited Edition World Cup Wade Figurine
This cute collectible features the popular Betty Boop character with a soccer ball and draped in the flag of England. It is valued around $33.
Michelin Man Bibendum Complete Wade Figurines
This set of four features the Michelin Man. They are valued at around $350.
Wade Whimsies Farmyard Animals Figurines 1959
This set of five farmyard animals is valued at a whopping $564.
Wade Figurines Collecting Tips
How to Get Started With Wade Figurines Collecting
Wade figurines are a fun item to collect, and they are often available for a relatively low cost at antique stores and flea markets. You can also add to your collection by ordering them online from sites such as eBay, Etsy, or other online auction sites.
Tips and Strategies
When collecting Wade figurines, consider trying to complete various collections. For example, you could try to acquire the entire Noah's Ark collection, or complete one of the animal sets of Wade Whimsies. A complete collection of a series is more valuable than individual items.
Preserving Your Collection
As chips and cracks significantly impact the value of your Wade figurines, be sure to keep them in mint condition. Display your figurines safely in a curio cabinet with a door to minimize the chance of accidental breakage. You can also keep them clean by periodically dusting them or cleaning them in warm, soapy water and drying them with a soft cloth.
Why Your Homeowner's Insurance Policy May Not Be Enough to Protect Your Wade Figurine Collection
If you have a large and valuable collection of Wade figurines, your homeowner's insurance policy may not be enough to cover your collection. A homeowner's policy typically covers your collection up to a certain dollar amount, and if your collection is worth more, then you may not be paid what it is actually worth.
What's more is that your homeowner's policy may only repay you for the actual cash value of your collection rather than its current market value. If your collection has appreciated in value, that coverage will not be enough.
Protect your collection of Wade figurines with a comprehensive policy designed by collectors, for collectors. Get started today by obtaining a free quote.
FAQs
Are Wade Figurines a good investment?
Wade figurines are fun to collect, but most of them are only worth a few dollars apiece. The most expensive pieces and sets are valued in the hundreds. In general, Wade figurines should be viewed as a fun way to start a collection, but they are not the best investment from a financial standpoint.
Are Wade miniatures worth anything?
While most Wade figurines are worth just a few dollars apiece, full sets and rare figurines can be quite valuable. Research your particular set online and see what it has sold for on auction sites such as eBay in order to determine its value.
How can I tell the age of a Wade Figurine?
There is no mark on a Wade figurine to indicate its age, which makes it hard to distinguish between vintage Wade figurines and newer versions. Your best bet is to research each individual piece online to learn more about its origin and when it was produced.
Can Wade Figurines be repaired if they are damaged?
You can repair your Wade figurines sometimes, but they will lose their value. Cracked or chipped figurines aren't really worth much. Mint condition figurines are worth much more.
Sources
https://adirondackgirlatheart.com/a-cool-collectible-wade-whimsies/
https://www.txantiquemall.com/wade-figurines/
About Collectibles Insurance Services
Collectibles Insurance Services has been protecting collections since 1966 and all coverage is provided by a carrier with a group rating of "A" (Excellent) by AM Best, the leading rating agency for the insurance industry.

Comprehensive coverage includes, but is not limited to: accidental breakage, burglary, fire, flood, loss in the mail, theft, natural disasters, and other causes of loss unless specifically excluded from the policy. Deductibles start at $0 for collector policies and we provide coverage for the market value of your collection for losses in excess of $50.

Additionally the protection extends At home and away, and we don't require collection itemization and serial number nor extensive paperwork and red tape.