Collector of Militaria Has Nearly 2,000 Items in His Collection
Collector of Militaria Has Nearly 2,000 Items in His Collection
Jim has been collecting military items for 60 years. It all began when he was 8 years old, when he was growing up on a Marine base. His father was a career Marine officer who experienced some horrific battles in World War II in the Pacific. He began collecting as a way to honor his father. The collection started with military medals from his father, as well as flags and swords from Japan that his father passed on to him.
Today, Jim – who has since served 30 years in the Marine Corps himself – has an extensive, nearly 2,000-piece collection of militaria. Most of this collection is very personal. Besides the things that he inherited from his father, he stayed in contact with friends of his father who passed on mementos, along with stories that went with them. "I keep the item with the story. The same holds true with everything I've collected over the years. Everything has a story, and everything is very unique and very personal," shares Jim.
The most personal item in the collection is a Japanese sword that his father brought back from the war. "He wouldn't tell me much about it," said Jim. However, there was an article that fell from his notebooks many years ago from his father's hometown of Peoria, Illinois. The article was a picture of him, and the headline read, "Japanese Who Swung Sword at Marine Lieutenant is Dead One Now." His father nearly lost his life at the hands of that sword. Today the article and the sword hang on Jim's wall.
The earliest items in the collection include a Civil War Marine lieutenant's uniform from 1865. There is also a large set of national colors that flew on the union ship called the U.S.S. Pocahontas, which turned out to be a blockade ship. "This ship was instrumental in the bombardment of Fort Wagner in 1864," explains Jim. "I got that flag directly from the family."
A large part of Jim's collection is recruiting posters, which hang along the walls of an 800 square foot room that is dedicated to the collection. "I've amassed a really nice collection of pristine Marine corps recruiting posters dating back to about 1913," shares Jim. "They are all matted in museum glass and framed for display." The display room also contains his organized collection displayed in cabinets.
Besides his father, Jim likes to honor all veterans with his collecting hobby. He often has veterans come through his display room for a walk through. "We split a beer and talk about our service," explains Jim. "We have a lot of laughs and a lot of tears over the people we've lost. Freedom is never free!"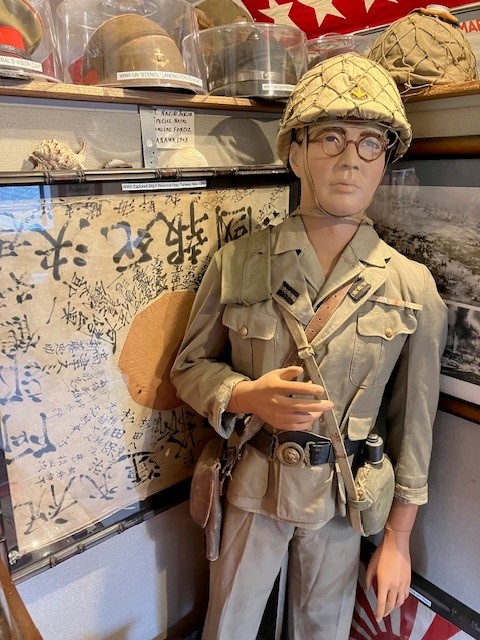 About Collectibles Insurance Services
Collectibles Insurance Services has been protecting collections since 1966 and all coverage is provided by a carrier with a group rating of "A" (Excellent) by AM Best, the leading rating agency for the insurance industry.

Comprehensive coverage includes, but is not limited to: accidental breakage, burglary, fire, flood, loss in the mail, theft, natural disasters, and other causes of loss unless specifically excluded from the policy. Deductibles start at $0 for collector policies and we provide coverage for the market value of your collection for losses in excess of $50.

Additionally the protection extends At home and away, and we don't require collection itemization and serial number nor extensive paperwork and red tape.