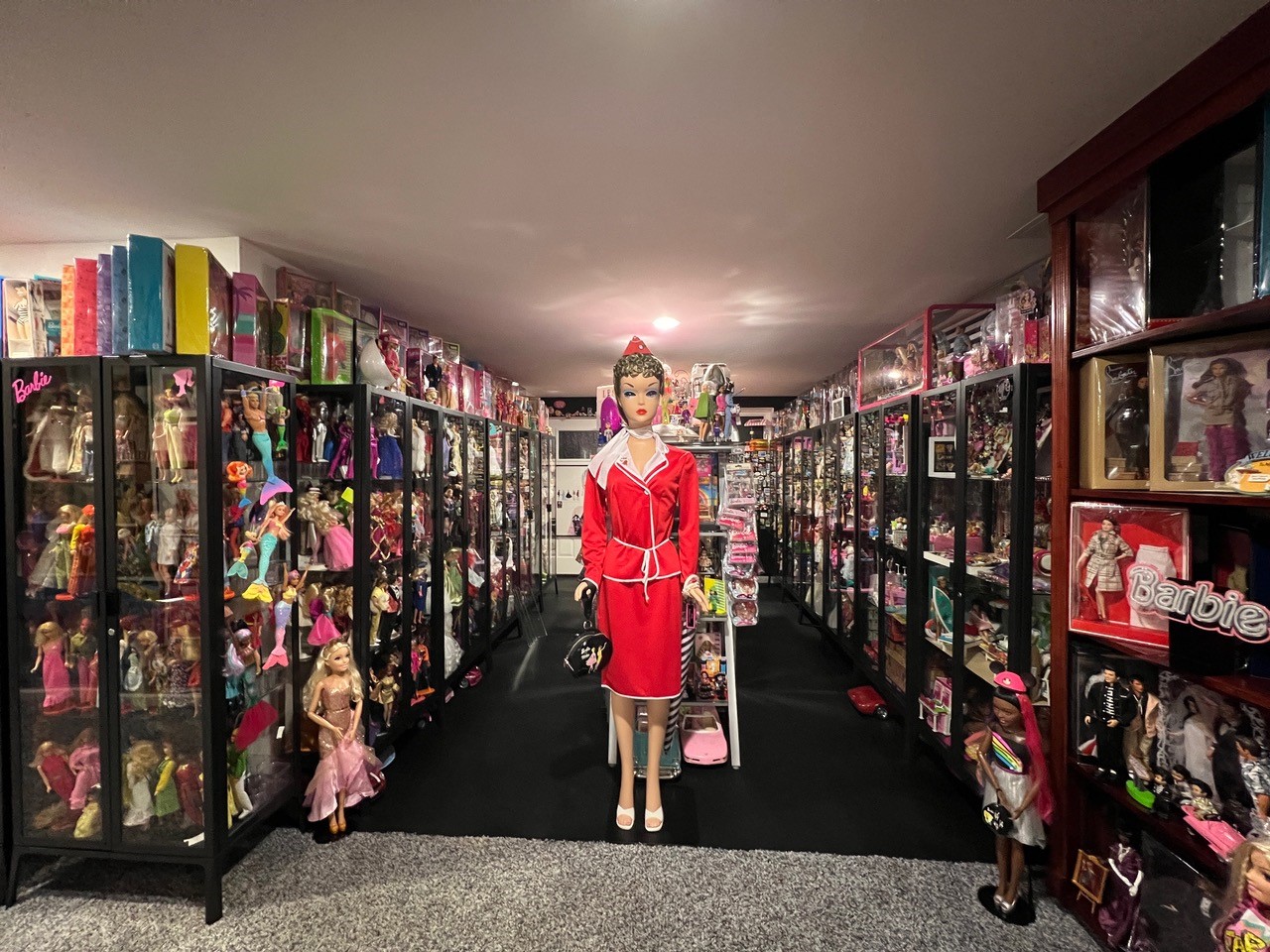 Barbie Collector Has a Basement Full of Dolls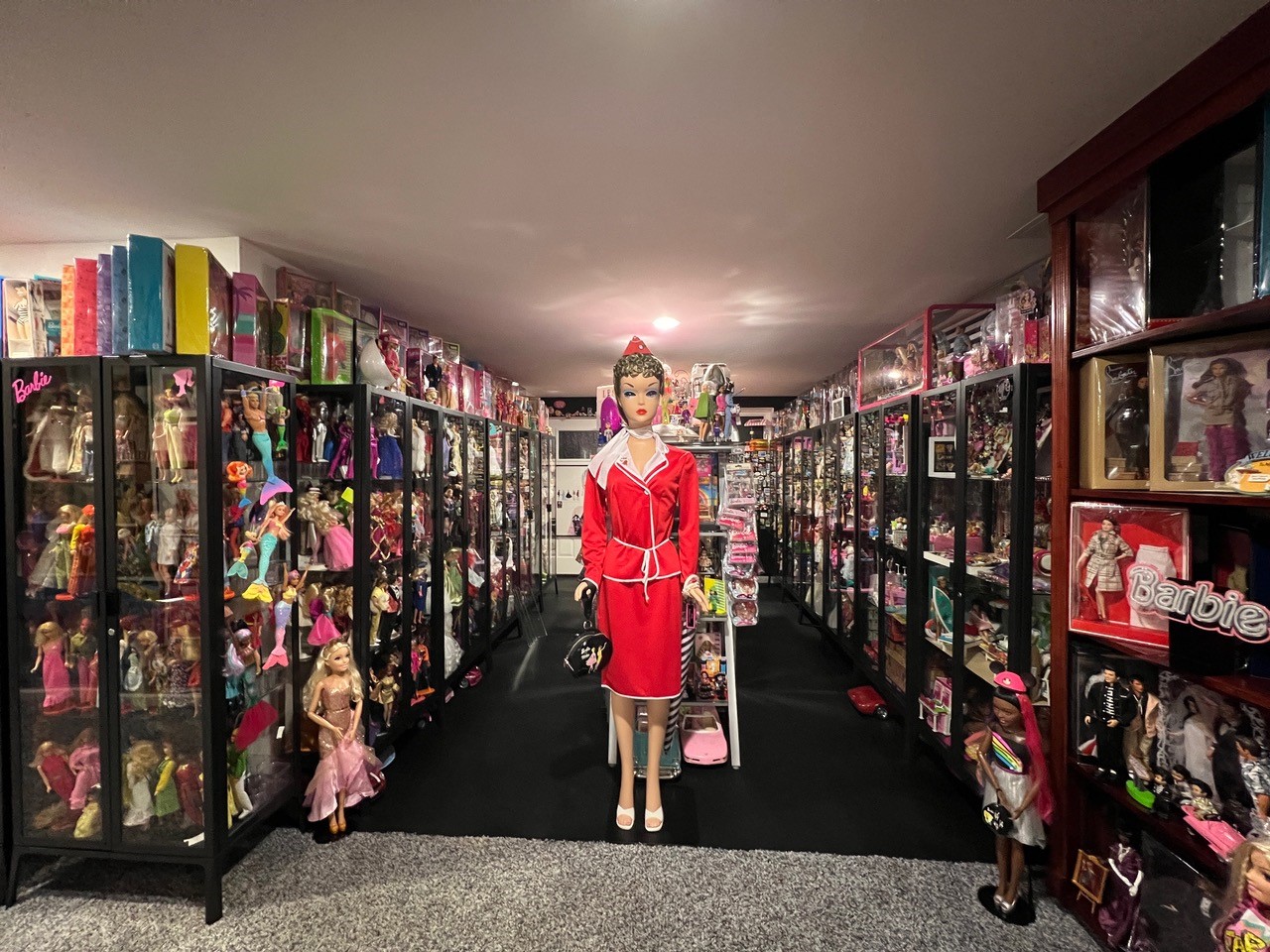 Barbie Collector Has a Basement Full of Dolls
Leslie's journey with collecting began in the mid-90s. Mattel came out with a line of Barbie dolls that were connected to designers such as Ralph Lauren and Donna Karan, and Leslie found herself drawn to them. Her first purchase was a Donna Karan Barbie from Bloomingdales. It was around this time that Leslie had a daughter, so she started purchasing dolls for both herself and her daughter. She collected dolls from old movies and tv shows, such as Munsters, The Addams Family, and Grease.
Leslie really began to feel that she was a collector when she was selected to be a part of the Collector Advisory Panel at Mattel. She got to travel to their headquarters and meet designers. She also started going to conventions. Her collection really started to take off! A favorite item in her collection is the first issue of Barbie from 1959. She also loves a 6' tall Barbie mannequin that she acquired.
Leslie's collection is on display in her 2,000 square foot basement, and it's so full that she's not quite sure how many items she has total. She estimates that it is in the thousands! Besides dolls, she also owns the cars, the dream houses, doll cases, jewelry, paper dolls, and informational books. She has a lot of copies of the magazine entitled Barbie Bazaar. Everything is on display in display cases and on shelves. "During COVID, I was able to organize it more," Leslie shares. All of the vintage items from the 50s, 60s, 70s, and 80s are organized by year. The rest are organized by themes, such as movies, tv shows, famous women, artists, designers, and more.
Most of Leslie's collection was purchased when the items first came out, and the value has risen significantly, partially due to the COVID-19 pandemic. During that time, many took a renewed interest in collecting and the values of the dolls rose, especially the vintage ones. "Each generation wants to buy what they had as a kid. The 80s and 90s are popular now."
Besides dolls, Leslie has always had an interest in old toys and NASCAR memorabilia. She has an entire room in her house dedicated to NASCAR items, and the walls are covered with signed memorabilia.
About Collectibles Insurance Services
Collectibles Insurance Services has been protecting collections since 1966 and all coverage is provided by a carrier with a group rating of "A" (Excellent) by AM Best, the leading rating agency for the insurance industry.

Comprehensive coverage includes, but is not limited to: accidental breakage, burglary, fire, flood, loss in the mail, theft, natural disasters, and other causes of loss unless specifically excluded from the policy. Deductibles start at $0 for collector policies and we provide coverage for the market value of your collection for losses in excess of $50.

Additionally the protection extends At home and away, and we don't require collection itemization and serial number nor extensive paperwork and red tape.