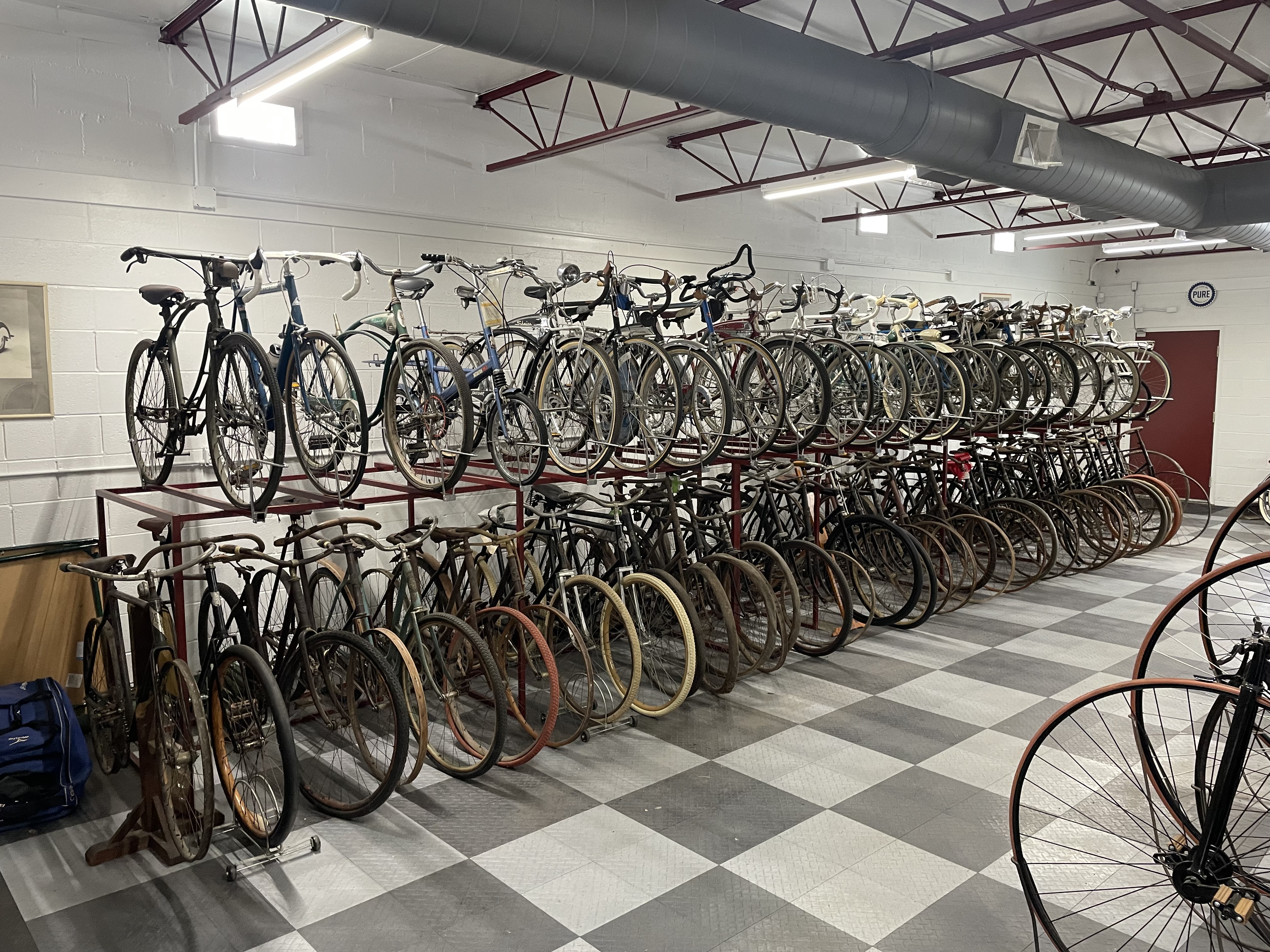 Collector Has Over 200 Bikes in His Collection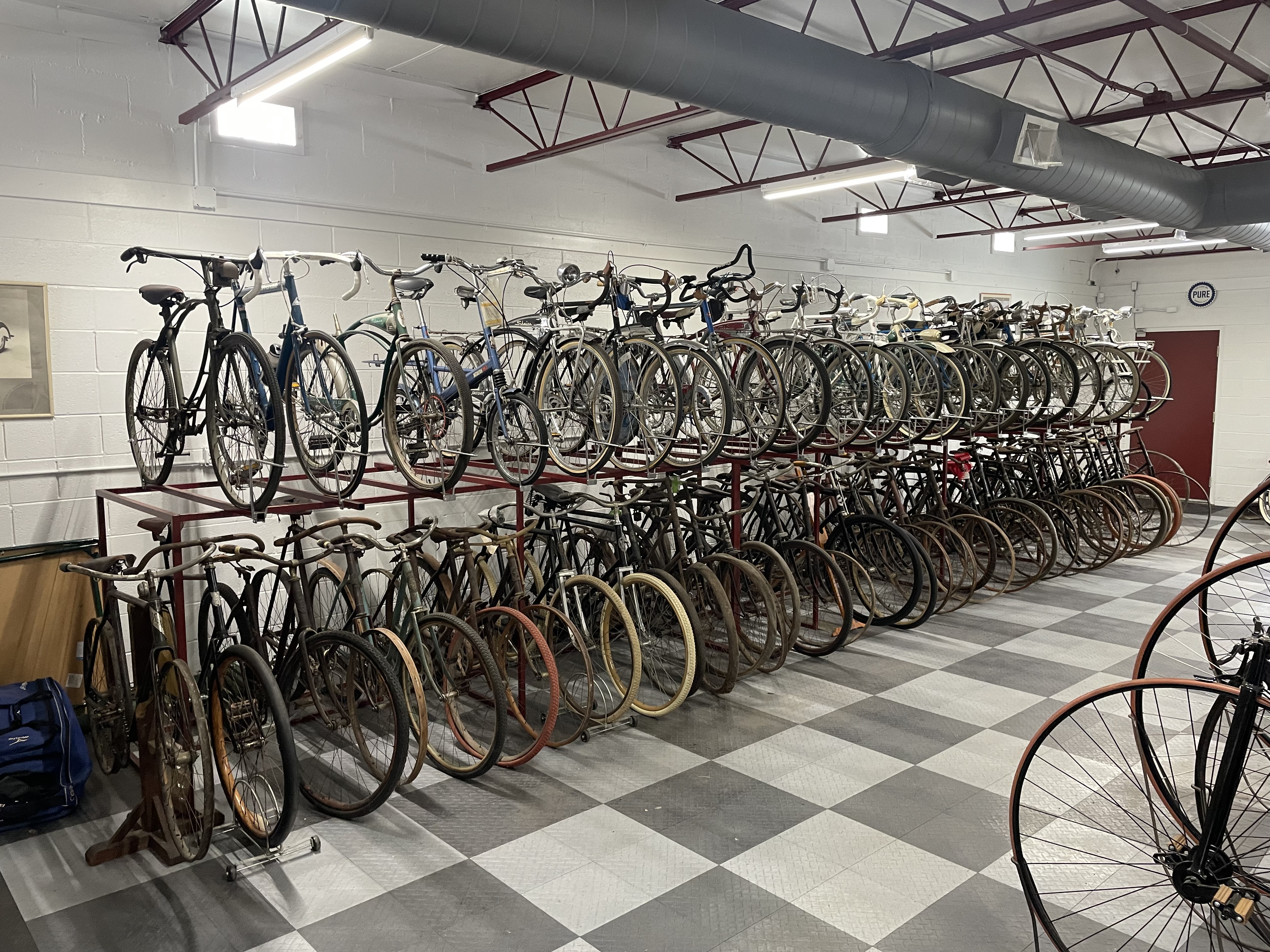 Collector Has Over 200 Bikes in His Collection
John Grace's interest in collecting bicycles started in 1983, when his father started collecting bikes. "My dad wanted to find a bike like the one he had as a kid, so we looked at bike shows, garage sales and old bike shops," explains John. "My brother and I went with him, and we were exposed to a whole new world! There were so many interesting designs and mechanical innovations." Today, both John and his brother own bike collections.
For his collection, John tends to focus on several brands that he really likes, as well as specific time periods. While his dad was focused on the 1940s and 1950s, John and his brother were fascinated with high wheelers and turn of the century bikes. He found these bikes to be very ridable – a plus, since he tends to actually ride the bikes he collects. The brothers often take part in various parades and events. "It opened us up to a whole new activity," shares John. "I even met my wife through collecting." John's wife's father is one of the founding members of the Wheelmen, a club for bicycles made prior to WWI. She participated in many events, but after she and John met, she got more involved in collecting.
John's favorite piece in his collection of over 200 bikes is his 1889 Columbia Light Roadster High Wheeler. It has a 53" front wheel and is the bike he has ridden the most frequently. "I have completed about a dozen centuries on it. A century is when you ride 100 miles in a day." The oldest bike in his collection is a 54" 1882 Columbia Expert, and the most recent is a Recumbent which he purchased in 2000. The first bike that John ever restored was an 1899 Columbia Chainless Bicycle, which he purchased from a shop in Pittsburgh.
When it comes to value, John has everything from a $10 bike to a $9,000 bike. Overall, bikes tend not to lose or gain significant value. "In a 20-year span, they've gone up, but from year to year there aren't any significant changes," explains John. He watches auctions often so that he can keep track of the value of his collection for insurance purposes. The most valuable bike John owns is actually his wife's Star bicycle. It's a high-wheel safety where the large wheel is in the back and the small wheel is in the front. This designed is to help prevent the rider from going over the handlebars.
John notes a few other unique bikes in his collection. He has a restored 1941 Elgin Twin Bar, which is a very special bike. It was only built for four years. It's art deco in style and has a unique frame, with continuous tubes that loop from the headset to the rear wheel and then back to the headset to form the frame. This bike was sold by Sears right before World War II. "Sears bikes sold before the war were called Elgins, and after the war they were called J.C. Higgins," shares John. He also has an 1890 Columbia Light Roadster Hard Tire Safety Bike and a 1908 Columbia Men's and Ladies shaft drive with dual suspension and 2-speed rear hubs, which is a unique feature.
John and his wife Dorothy keep a handful of bikes at home in Michigan, but the bulk of their collection is displayed in a building located in a nearby town. Everything is laid out chronologically and then by brand. John likes things in chronological order so that he can walk people through the evolution of the bicycle through time.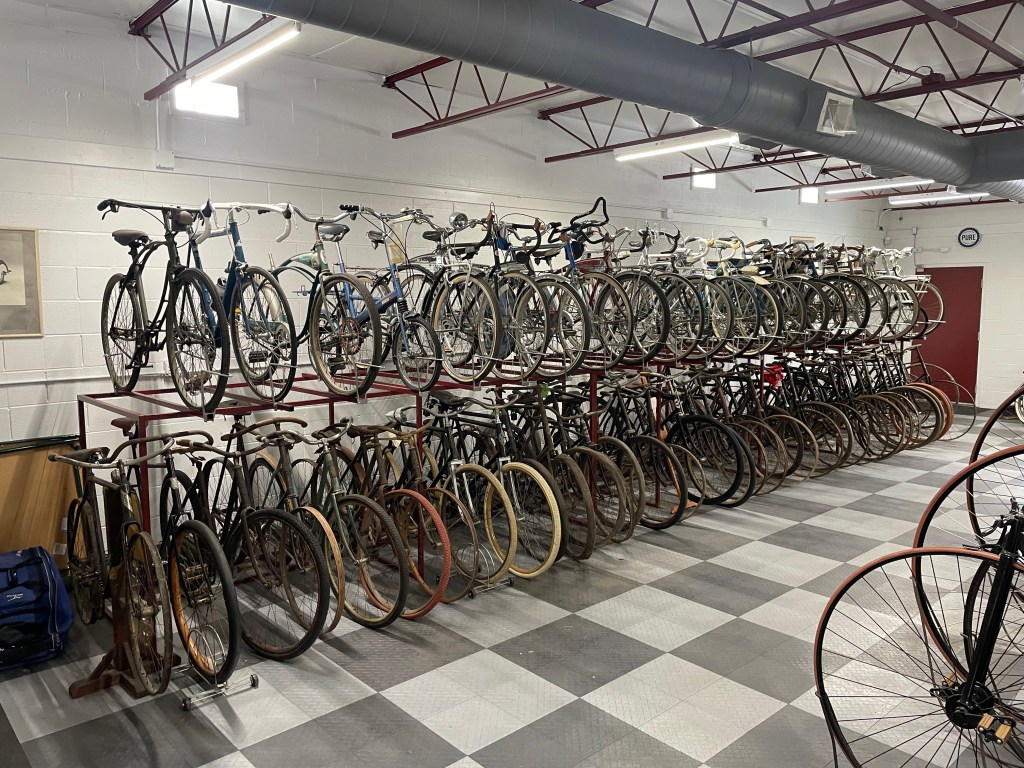 About Collectibles Insurance Services
Collectibles Insurance Services has been protecting collections since 1966 and all coverage is provided by a carrier with a group rating of "A" (Excellent) by AM Best, the leading rating agency for the insurance industry.

Comprehensive coverage includes, but is not limited to: accidental breakage, burglary, fire, flood, loss in the mail, theft, natural disasters, and other causes of loss unless specifically excluded from the policy. Deductibles start at $0 for collector policies and we provide coverage for the market value of your collection for losses in excess of $50.

Additionally the protection extends At home and away, and we don't require collection itemization and serial number nor extensive paperwork and red tape.