The Best Baseball Cards to Buy in 2023
The Best Baseball Cards to Buy in 2023
Collecting baseball cards has become a timeless pastime! From the early days of finding trading cards in packagers of cigarettes to the extensive hobby packs and popular rookie cards that are available today, these sports cards have managed to become a valuable and popular collectible item.
The pandemic is a contributing factor when it comes to the renewed interest in collecting baseball cards. With more time on their hands, baseball card collectors purchased, organized, sorted, and had their collections graded. In fact, PSA was so overwhelmed with grading submissions that they had to temporarily suspend their services.
Today, adding the right baseball cards to your collection is a worthy investment opportunity, as the value is expected to continue to grow in the future. But what cards should you be adding to your collection? Which cards are the most valuable? How can you determine whether you have a valuable card? Which baseball card brands are the best option? Which rookie cards should you be keeping an eye out for?
For the answers to these questions, look no further! Continue reading to learn all about baseball cards, their value, and what you should be adding to your collection.
How do you value baseball cards?
Wondering how to determine the value of your baseball card collection? There are several factors to consider when valuing a card, and we explain each one in detail below. Read on to get a better understanding of the value of baseball cards!
Cards with Famous Players
When valuing a baseball card, the most obvious question to ask is, "Who is featured on the card?" Cards featuring famous or popular players will fetch a higher price than lesser known ones. Has the player been inducted into the Hall of Fame? If they have been, their card is much more likely to have a high value.
You can also keep an eye out for players who have won Most Valuable Player (MVP), Gold Glove, Cy Young, and the Silver Slugger Award. Finally, rookie cards tend to be more valuable then cards from other years.
The Card's Condition
Cards that are in good condition are more valuable than those in poor condition. Crisp edges, sharp corners, and clear printing (not faded) are a few things to look out for. Read on to learn more about grading, which measures the condition of the card in an objective way.
High Value Score
Graded cards are cards that have been examined by a rating agency such as PSA and assigned a score between 1 and 10, with 10 being "Gem Mint" condition and 1 being "Poor." Graded cards are worth than ungraded cards more due to the fact that their condition has been measured and guaranteed.
Limited Availability
Rarity plays a big role when it comes to the card's value. The less there are of a particular card, the more valuable it will be. Factors that impact the rarity of a card include the year it was manufactured and the number of cards produced. Vintage cards are in high demand and they are rare due to their age, making them quite valuable.
Best individual baseball cards to buy right now
Looking to add individual cards to your collection, but not sure where to start? Here are some of the best single baseball cards to add to your collection.
1909-11 T206 White Border Honus Wagner
Valued around $1.75 million, this vintage card is the most valuable on the market today. Only 50-75 of these cards are estimated to exist. In the days when the card was produced, Wagner actually stopped the American Tobacco Company from making the card because he didn't like that children had to purchase cigarettes to obtain it. This is another factor contributing to the card's scarcity.
2009 Bowman Chrome Mike Trout Autograph Refractor
After winning two MVP Awards and an AL Rookie of the year, Mike Trout is one of the best players in the game today. Many people believe that he will one day be inducted into the National Baseball Hall of Fame.
His autographed card recently sold for a pretty penny: $38,600 on eBay.
2019 Bowman Chrome Draft Adley Rutschman Auto 1st RC
A top draft pick in 2019, Adley played 123 games with 66 teams, and he hit 23 home runs in the process. Selected as an All-Star, he is currently the second ranked prospect in the MLB. The highest price that this Adley Rutschman card has fetched is $1,225.
Rookie Cards
Ever popular, rookie cards of all kinds are a top collectible item. Some of the hottest rookie cards of the moment are listed below:
Seiya Suzuki – Chicago Cubs
Spencer Torkelson – Detroit Tigers
Reid Detmers – Los Angeles Angels
Spencer Strider – Atlanta Braves
Bobby Witt Jr. – Kansas City Royals
Jeremy Peña – Houston Astros
Steven Kwan – Boston Red Sox
What brands produce baseball cards?
There are many top brands in the baseball card industry. Read on to learn about the top six brands that are known for their baseball cards.
Panini
Though established in 1961, they didn't enter the card industry until 2009. Panini is currently the largest brand of sports cards in the world.
Topps
Topps started producing cards in 1951. They produce cards for many different sports, but they are most known for the baseball cards. Through an exclusive licensing agreement, only Topps can use baseball team names and logos on their cards, which nearly gives them a monopoly on baseball cards. Topps cards have come to be viewed as standard in the industry.
Bowman
This company released their first set of trading cards in 1948. For a while they struggled to compete with Topps, and in 1989 Topps acquired the brand.
Upper Deck
Founded in 1989, Upper Deck's massive popularity led to them branching out into other sports besides baseball, including hockey, basketball, and football.
Fleer
Founded in 1929, this company is still producing cards today, and they are best known for their baseball cards. Like other companies, they have found success with other sports, notably basketball cards.
Donruss
Founded in 1989, the company took a hiatus from 1998 – 2001. This company was eventually bought by Panini in 2011.
Best baseball card packs to buy right now
Buying brand-new packs of baseball cards? You may be wondering which are the best packs to buy these days. Here you'll find a list of some of the best baseball card packs to buy right now.
2022 Bowman Baseball
Bowman is a big name when it comes to baseball cards, and their 2022 collection is in high demand. Purchasing a pack of Bowman cards is a great way to add to your collection.
2022 Topps Heritage
Topps cards are known for having a classic, vintage appearance that is reminiscent of the early days of the hobby. Nine cards come in each pack, and a hobby box contains 24 packs. Keep an eye out for one autograph or one relic card in your hobby box. These affordable cards are sure to make a great addition to your existing collection.
2022 Topps Inception
While less affordable than Heritage, Topps Inception is known for its high-end cards. This set contains many autographs, material cards, and rare parallels. These high-quality cards feature close-up photos of the players.
2022 Bowman First Edition
This card pack is full of baseball's top prospects and rare cards. A pack has 10 cards and hobby boxes contain 24 packs per box.
2022 Topps Gypsy Queen
These cards are designed in a stunning, retro style that evokes a sense of nostalgia. The set contains rare parallels and autographs, as well as plenty of rookie cards. There are six cards per pack, 24 packs per box, and eight boxes per case.
2022 Topps Series 1
A popular collection in the hobby, these cards contain some great inserts, rare refractors, and throwback cards. There are 14 cards in a pack and 24 packs in a hobby box.
2022 Topps Opening Day
Finally, you'll find that Topps Opening Day cards are an inexpensive option. There are 7 cards per pack and 36 packs per hobby box. These boxes sell for just $50. In these packs you'll find relics, autographs, and great inserts.
Where to find the best baseball cards to collect?
Wondering where to buy baseball cards? There are many places where you can acquire new sports cards to grow your collection. Read on to learn more about our favorite places to buy.
Online Hobby Shops
Similar to a real hobby shop, and online hobby shop will have a wide selection of cards to choose from, from modern baseball cards to vintage trading cards.
Online Auction Platforms
Browse sites such as eBay, ShopGoodwill, PropertyRoom, and MySlabs, where you can bid on a variety of baseball cards.
Consignment Sites
Check Out My Cards (COMC), StarStock, and Alt are all places where you can browse consignment options.
Retail Stores
Physical retail stores, such as Target and Walmart, are a great place to find new cards for your collection.
Baseball Card Shops
Though not as popular as in the past, there are still some of these in existence. At baseball card-specific shops, you are sure to find the best selection of cards.
Online Classifieds
Check out sites such as Craigslist and Nextdoor to see if anyone is selling baseball cards from their collection.
Mobile Apps
Online apps such as OfferUp and Mercari are a great place to make a baseball card purchase.
Garage Sales & Thrift Stores
While you might have to do more searching, garage sales and thrift stores are a great place to stumble on a hidden treasure, like someone's old baseball card collection being sold at a low price.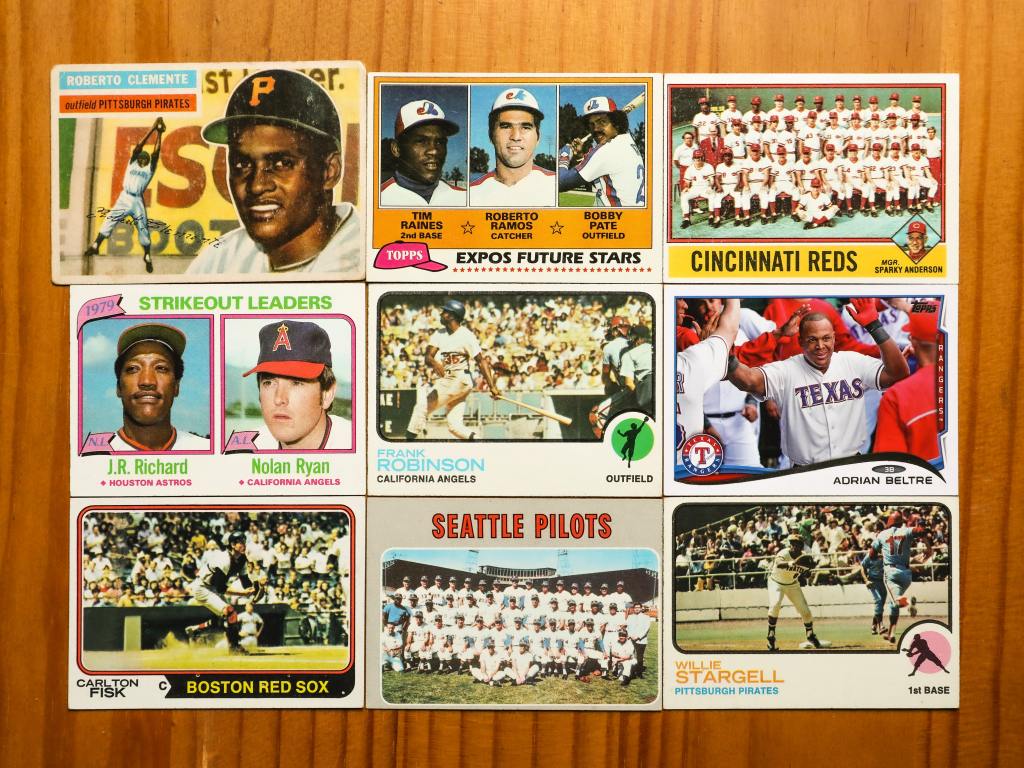 FAQs
Still have questions? Here's a recap of what we just shared!
What are the best baseball cards to buy?
Purchase cards with popular players, and remember that rookie cards are very popular. Also consider the condition of the card, which is indicated by the card's grade. Rare cards are also a great investment.
What brand of baseball cards should I buy in 2022?
Top packs to buy include 2022 Bowman Baseball, 2022 Topps Heritage, 2022 Topps Inception, 2022 Bowman First Edition, 2022 Topps Gypsy Queen, 2022 Topps Series 1, and 2022 Topps Opening Day.
What are the hottest baseball cards right now?
A few top-selling cards include 1909-11 T206 White Border Honus Wagner, 009 Bowman Chrome Mike Trout Autograph Refractor, and 2019 Bowman Chrome Draft Adley Rutschman Auto 1st RC.
Rookie cards are also hot right now, and top cards include Seiya Suzuki of the Chicago Cubs, Spencer Torkelson of the Detroit Tigers, Reid Detmers of the Los Angeles Angels, Spencer Strider of the Atlanta Braves, Bobby Witt Jr. of the Kansas City Royals, Jeremy Peña of the Houston Astros, and Steven Kwan of the Boston Red Sox.
Should I invest in baseball cards?
Your baseball card hobby can definitely be considered an investment, but be sure to do your research so that you know what you are buying! Again, rare cards featuring popular players will have the most value. Also, remember to get your cards graded. Keep an eye on online auction sites to see what specific cards are selling for now.
Sources
https://moneymade.io/learn/article/best-baseball-cards
https://bargainbunch.com/best-baseball-card-packs-to-buy-2022/
https://clutchpoints.com/psa-reopens-grading-submissions-with-change-that-wont-please-sports-card-collectors
https://ballcardgenius.com/where-to-get-baseball-cards/
https://moneymade.io/learn/article/best-baseball-cards
https://www.rookieroad.com/baseball/top-6-best-baseball-card-brands-9007331/
About Collectibles Insurance Services
Collectibles Insurance Services has been protecting collections since 1966 and all coverage is provided by a carrier with a group rating of "A" (Excellent) by AM Best, the leading rating agency for the insurance industry.

Comprehensive coverage includes, but is not limited to: accidental breakage, burglary, fire, flood, loss in the mail, theft, natural disasters, and other causes of loss unless specifically excluded from the policy. Deductibles start at $0 for collector policies and we provide coverage for the market value of your collection for losses in excess of $50.

Additionally the protection extends At home and away, and we don't require collection itemization and serial number nor extensive paperwork and red tape.