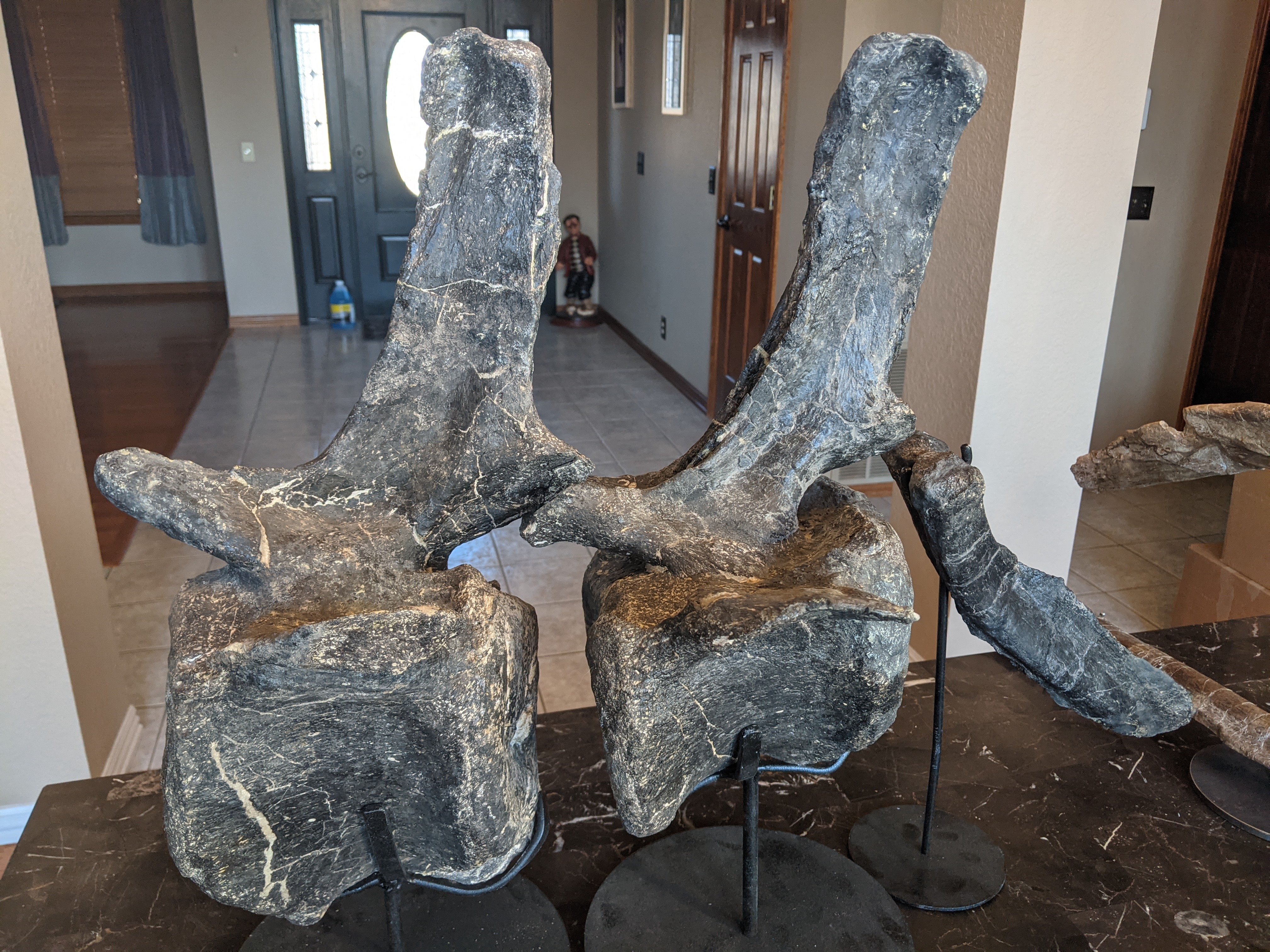 A Private Collection of Dinosaur Fossils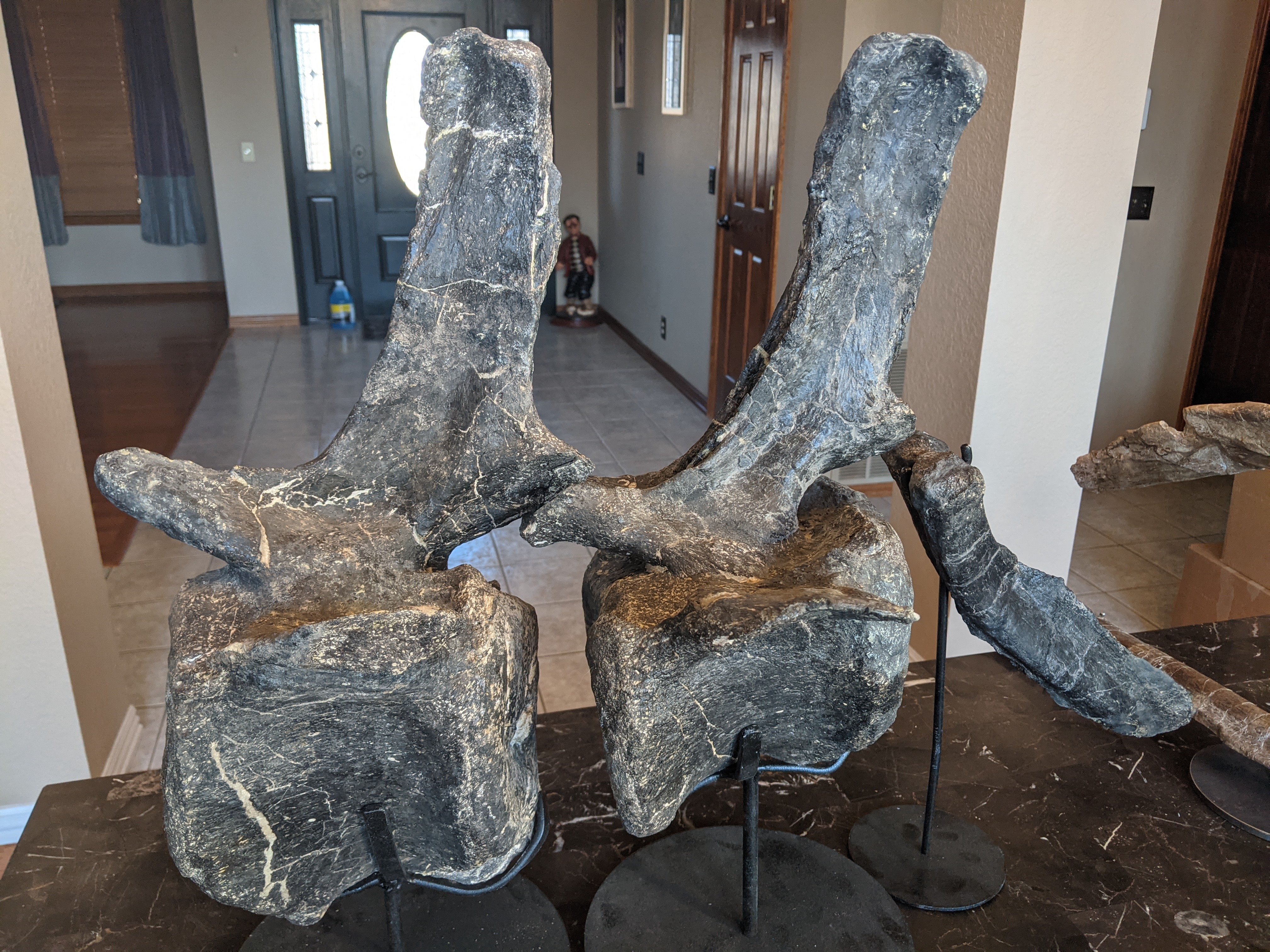 A Private Collection of Dinosaur Fossils
Matt and Laurie have always been interested in fossils, but it was around 2015 that a desire to collect was sparked. "We lived in Tucson and had been attending the annual Tucson Gem, Mineral, and Fossil show," explains Matt. "In 2015, we came across a femur bone from a t-rex – it was really cool!" They purchased the femur bone, and a collection was born!
Over time, the collection grew and broadened to include a variety of fossilized bones from different species and a variety of body parts. The couple is especially fascinated to see that despite there being many different animals, there are always similarities between them. "It's neat to see similar bones from different animals and see the size differences," shares Matt. "The other thing that is interesting for me is that the same types of bones in these dinosaurs from millions of years ago are the same type of bones in our body. There is still a lot of similarity in the types of bones and joints!"
When it comes to dinosaurs, there are three ages: the Cretaceous period, which took place about 145 to 66 million years ago; the Jurassic period, which took place between 200 to 145 million years ago; and the Triassic period, which took place 250 to 200 million years ago. The Cretaceous period is where most of Matt and Laurie's fossils are from. "Movies show all the dinosaurs together, but that really wasn't the case. [For example], a stegosaurus came nearly 80 million years before a t-rex."
A favorite item in the collection is actually a group of items: a collection of bones from an apatosaurus – a long necked dinosaur that stood between 70 feet long and 20 feet tall. "We've got a large femur and a couple of large vertebrae from the spine. The size is what makes those impressive. The femur itself is almost 6 feet long!" Another notable item is a pair of unhatched hadrosaur eggs. "It's unusual to find unhatched eggs," shares Matt. "At some point, I will get them scanned to see if there's anything inside of them." It's highly unlikely, but every so often an egg is found with embryonic bones inside. However, it's most likely all rock.
There are more than 40 pieces in this collection, and they are all displayed in the front room of Laurie and Matt's home. Many of the larger bones have stands made for them, while the rest are on display on shelves. "We try to keep similar families of animals together in the display."
At around $10,000, the t-rex femur is the most expensive fossil they have purchased to date. They have made purchases that have spanned from a couple hundred to several thousand dollars. The least expensive are the smaller vertebrae and arms or leg bones, which they purchase for around $200. Today, the value has soared. The collection is now worth well over $100,000.
This collection is quite special because of how rare it is to find a private collection of dinosaur fossils. "You rarely see a room full of dinosaur bones in someone's house," explains Matt. "You may occasionally come across an individual one here or there. They are not everywhere. [This collection] is unique! You're looking at something that typically you would only see in a museum, and I get to hold them and touch them and look closely at them."
About Collectibles Insurance Services
Collectibles Insurance Services has been protecting collections since 1966 and all coverage is provided by a carrier with a group rating of "A" (Excellent) by AM Best, the leading rating agency for the insurance industry.

Comprehensive coverage includes, but is not limited to: accidental breakage, burglary, fire, flood, loss in the mail, theft, natural disasters, and other causes of loss unless specifically excluded from the policy. Deductibles start at $0 for collector policies and we provide coverage for the market value of your collection for losses in excess of $50.

Additionally the protection extends At home and away, and we don't require collection itemization and serial number nor extensive paperwork and red tape.