Collector Works to Restore, Conserve, and Display Movie Props
Collector Works to Restore, Conserve, and Display Movie Props
Tom Spina is more than a collector of movie props: he is a restorer and a conservationist. You may not realize the amount of effort that goes into keeping movie props in excellent condition, but for Tom, this is his life's work! His company, Tom Spina Designs, restores, conserves, and displays movie props in all their glory.
We had the opportunity to chat with Tom about his work – read on to learn more about the fascinating world of movie props!
COLLECTIBLES: Tell me a bit about your work restoring and displaying movie props. What is involved?
TOM SPINA: For me, movie props are the closest you can get to these films and actors. There has been a great buildup of recent interest in collecting original props and memorabilia related to films and TV shows. I have always found that to be the most interesting avenue of collecting! Nothing yet for me has matched the feeling of being around something that was used in a movie that you love.
The work that we do fits hand in hand with that growth in collecting. It is exciting for us as fans and as collectors ourselves to be around this stuff. It's cool to take something that needs restoration or conservation, or that could be improved with a unique display, and give someone back something better than it was when it came to you, ready for future generations to enjoy.
C: Tell me a little bit about the world of prop collecting in general.
TOM: It's a really exciting area of collecting – something that is just growing at the moment. In the last few years, there has been a lot of new blood in the hobby, a lot of people collecting, and a lot of amazing collections being generated.
It's been cool over the past few years seeing these pieces be dug up. Things that you thought were lost forever are going to turn up now that people know there's an interest! It very much is a hobby that takes on elements of archaeology. There is a lot of fun to be had in the research – to see something new turn up and be able to trace the history of it, or even to talk to the person who made it and learn about how they made it.
C: How did you become interested in movie props?
TOM: I think a lot of movie prop collectors grow up loving films and usually toys related to them. A lot of folks my age grew up watching Star Wars and having the toys. I, like many, was also fascinated by Don Post studios masks. Don Post is the creator of the modern rubber mask. As a kid, I would go into the magic shop and see these masks on the wall and dream about getting enough money on my paper route to buy some. A lot of what I personally collect is related to Star Wars or monsters. I love creature masks and everything that goes into creating creatures for movies. You can't grasp all of the effort that went into making every character costume, creature, puppet, and prop in a movie.
In the mid-90s I started to realize there are really props out there from the movies, and they aren't unattainable. I started to meet other collectors online, and that was a big change for me. The internet and online forums allow you to connect with other collectors and meet others who share the passion. Connecting with others made me realize that there are props to be found and it's not unreasonable to think you might own something from your favorite movie someday. Screen-used stuff is really my ultimate goal, and that's my direction in collecting.
C: What are the top three coolest movie props you've ever worked with?
TOM: I'm a huge fan of Jim Henson and his work. My first internship in the business was with the Henson company. Years later, we had the opportunity to work with the Museum of the Moving Image – an amazing museum in Queens, New York. They've got an absolutely incredible Jim Henson exhibit. We consulted on the pieces that were coming in, and we did a whole range of conservation on the pieces from that exhibit. There was Skeksis from the movie, The Dark Crystal. This particular Skeksis was the puppet that Jim Henson used in the film. It's an amazingly intricate and detailed character. The costume is covered in macrame and beading. That is definitely a top piece!
We also did work on Muftak, which is a furry creature from the Star Wars cantina, for some dear friends. That's the scene that made me want to do what I do for a living. It's my favorite scene in film, and it makes me want to collect. The original costume for that creature came through, and I was thrilled to work on that costume. It was a challenge because it was a mix of foam and latex elements. We had to really dig into our experience to make a great form to fit underneath this thing and support it. We did some cleaning and restoration as well. We used a surprisingly varied number of techniques for what looks like a simple character.
Another cool piece is from the film An American Werewolf in London. We got to restore the full, wearable final look of the werewolf, and it was just absolute movie history to be around! Rick Baker received an Oscar for the film and went on to win another six or seven after that. To handle something made by one of your idols – it's a crazy responsibility and opportunity. I consider myself one of the luckiest kids alive!
C: Why is conservation/restoration such an important part of collecting props?
TOM: There's a responsibility that comes with owning these pieces. These are history, and they are truly works of art by some of the greatest artists of our time. It's very easy to assume that these pieces are always going to be as you remember them, but they are often made from natural materials with a lifespan. They age and change from being flexible to brittle. Thinking about conservation early and taking some basic precautionary steps can make a huge difference in the way a piece lasts for the future. That could be as simple as using muslin garment bags, thinking about the temperature and UV exposure, and using padded hangers. All of these little steps go a long way!
C: What is your favorite aspect of working in this business?
TOM: It has got to be the weirdos that this business attracts and getting to work around them! Also, just being around the stuff. All of us in the shop are fans of movies, television, puppetry, and art. To be here and have amazing costumes from amazing movies come through and to get to preserve them for the future is the coolest thing in the world. We get to play a small part in helping maintain the legacy of this art!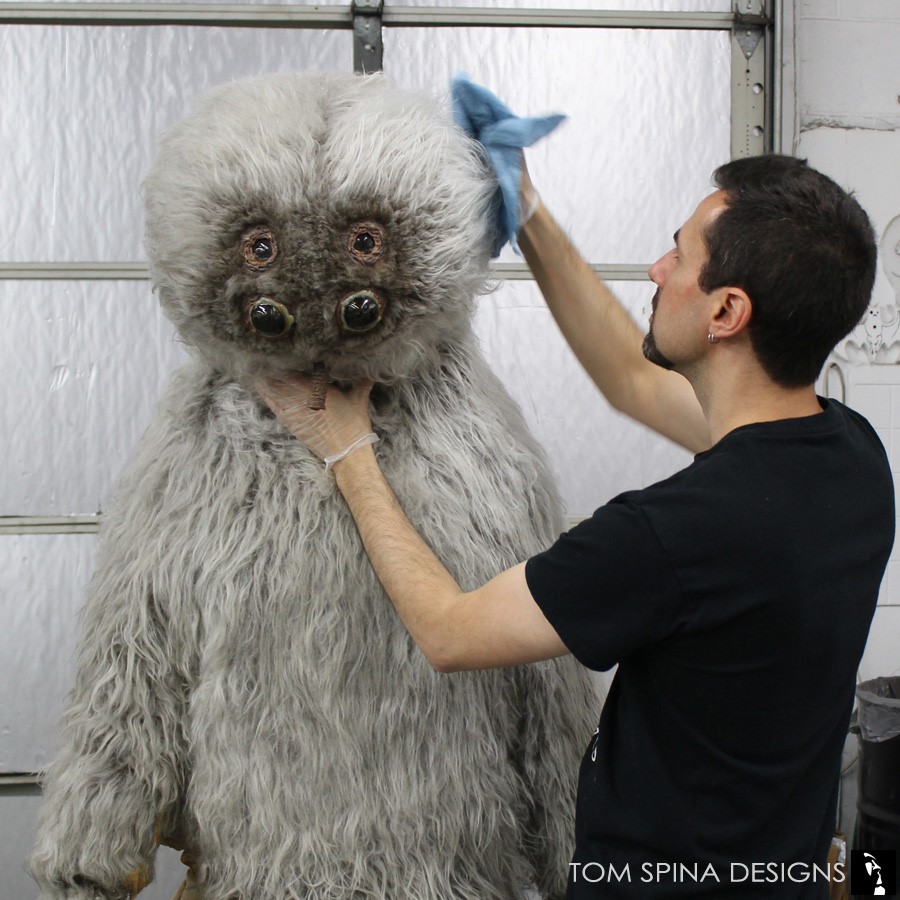 About Collectibles Insurance Services
Collectibles Insurance Services has been protecting collections since 1966 and all coverage is provided by a carrier with a group rating of "A" (Excellent) by AM Best, the leading rating agency for the insurance industry.

Comprehensive coverage includes, but is not limited to: accidental breakage, burglary, fire, flood, loss in the mail, theft, natural disasters, and other causes of loss unless specifically excluded from the policy. Deductibles start at $0 for collector policies and we provide coverage for the market value of your collection for losses in excess of $50.

Additionally the protection extends At home and away, and we don't require collection itemization and serial number nor extensive paperwork and red tape.