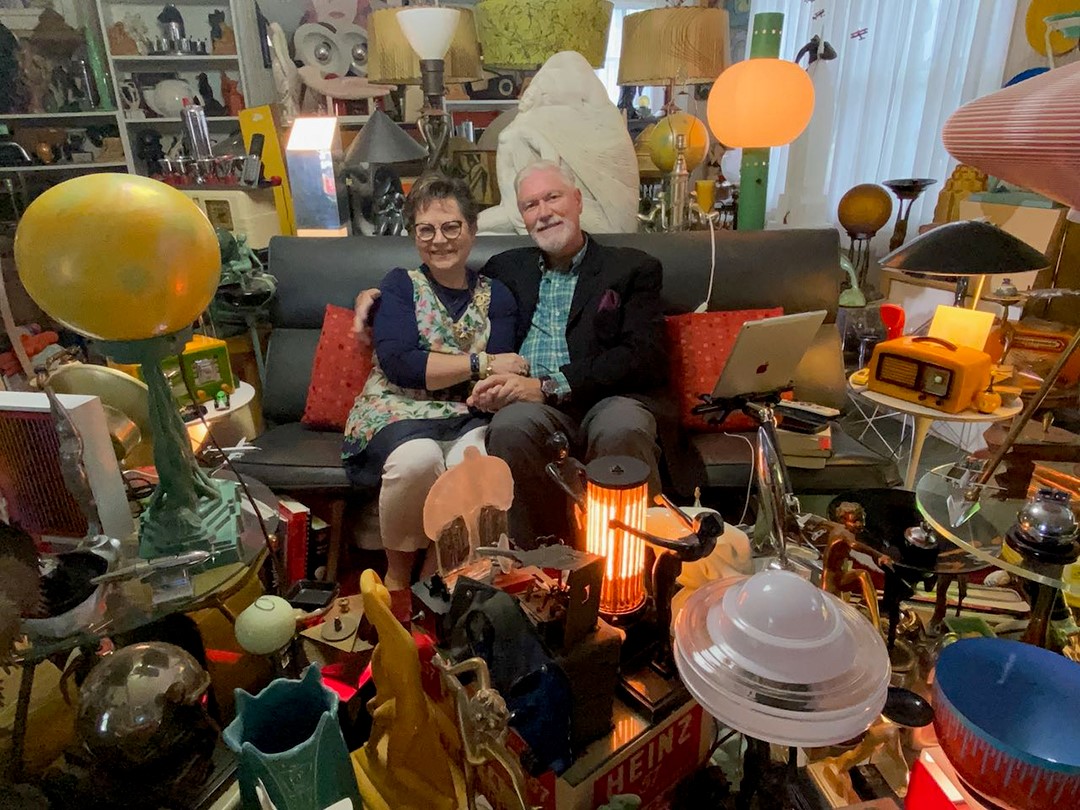 Husband and Wife Collecting Duo Share a Passion for Antiques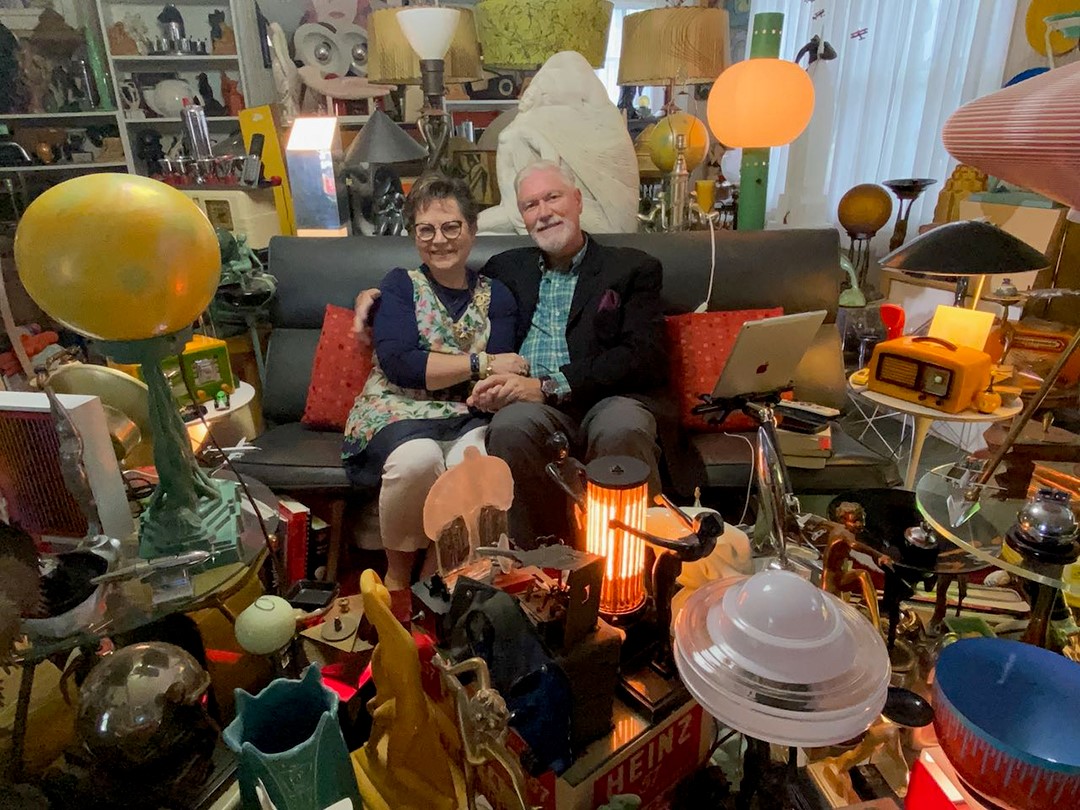 Husband and Wife Collecting Duo Share a Passion for Antiques
Tim and Jamie Saloff both share a passion for collecting that is heavily influenced by the older generation, as Tim was partially raised by his grandparents, and Jamie's older parents declared she was a 'do it yourself grandchild.' "Before we were married, we started collecting some things," shares Jamie. "My cousins taught us some basics about 20th century antiques. They had gone overboard with collecting, filling their home with amazing things. We were hooked!"
Although the Saloffs had been collecting for a while, when Tim picked up a carved, April Green art deco lamp with a "Cowan Pottery" sticker on the bottom, he wanted to know more. Shares Tim, "I went to the public library and found a reference about a fellow collector from Cleveland who had collected Cowan. Upon his death, he donated hundreds of pieces of the pottery to the Rocky River Library system. As it happened, the library's curator was giving a talk the next morning, so I drove over. After his talk, the curator recognized my interest and took me into their meeting rooms in the bowels of the library building. Every closet was filled floor to ceiling with Cowan Pottery, and he just kept opening door after door after door. I was bugging out because of all the great pieces!"
From there, a love of collecting grew. Over time, the couple migrated to better and better designer pieces. When their sons were young, they would go out on the weekends to visit antique shops, flea markets, and antique shows to add to their burgeoning collection. The boys took an interest as well. "Gradually, our collection became more like my cousins'," shares Jamie.
The collection may have grown from Cowan Pottery, but it quickly expanded to many other 20th century items. "We have a very eclectic and very diverse collection!" shares Tim. It's hard to choose favorites, but Jamie mentions an art deco 'Petipoint' iron, designed by Clifford Brooks Stevens for the  Waverly Corp. The iron has Machine Age fins on it like wings. "It looks like it could take off!" She also adores a small blue Westclox 'Stellar' clock. The star and moon hands circle the Earth on a deep blue, star-filled background. Tim loves his Catalin radios, which have beautiful marbleized cases that tend to glow when lit up. "I love putting them on the bookshelf and displaying them!"
Tim loves the Cowan Pottery, which includes their production pieces, but they were known for their figural nude flower frogs and many artist designer pieces, which were offered only in limited editions. He notes that after Cowan closed its doors due to the Great Depression, many of their artists and designers went on to become famous in their own right, creating some of their best works. Some of his favorites are pieces by those artists. One of them is a head that was displayed at the 1939 World Fair by Edris Eckhardt entitled 'Sea.' "Waves of water from which starfish and fish leap out, is her hair. Her skin is the sand," shares Tim. "It's just an awesome design!"
What's unique about this collection is that everything is on display in their home. Even when their sons were young and lived at home, only two or three pieces have ever been broken over the years. Jamie and Tim's philosophy of putting everything on display stemmed from a sad incident with a dear friend's collection. This friend had her entire collection packed away in boxes, only to discover one day that the boxes were empty – her son had sold the collection for drug money. "It was just horrible!" shares Tim. "We decided then and there that we were going to display our stuff and enjoy it."
Tim and Jamie have very high standards for quality when it comes to collecting. "We've seen people buy damaged items," shares Tim, "and you always have to compromise if you want to trade or sell it later. If we desire an item, we look until we find one in great shape." They also believe it's very important that anyone selling online learns to properly pack the pieces to help them survive shipping. "It's heartbreaking when a piece survived 100-120 years, and it arrives in a thousand pieces after 3-4 days of transit!" shares Tim. "This happens far too often. This is avoidable with care and understanding."
They believe in the importance of knowledge when it comes to collecting. Shares Jamie, "Knowledge is key! So often I see individuals who throw out or give away valuable items. For example, they don't know something like a Bakelite [plastic] bracelet might be worth more than grandma's favorite necklace. I recommend finding a reputable appraiser before tossing vintage items." Shares Tim, "The research is what I love! Invest in books, print or online. I probably have 750 research books I've bought over the years and read cover to cover and refer to often. Learn about what you are buying. There's a myriad of material online now that didn't exist when we began collecting. You can now do so within your own level of comfort.  
Tim tries to look at the collection as an investment. "I have always tried to pay less than half of the market value when I collect. If they go up in value, then great, but if they go down, then I'm still ahead." Over the course of 40 years, Tim has typically succeeded in his goal of paying less than half the value. "I once paid $1 for a piece of TECO Pottery – even though at the time I didn't know it had value, I just liked it. Today it's worth $2,000! Everyone wants that kind of find, but they don't come around often. I bought my first rare, red Catalin radio for $12. Only later did I learn of its value."
This collection of 3569 carefully catalogued pieces has afforded Jamie and Tim many opportunities, including compiling a book entitled, The Collector's Encyclopedia of Cowan Pottery, speaking at events,and writing price guide sections for a variety of sources. Jamie realized how incredible their personal collection was on a trip to a London museum. "They had items on display that we had on our book shelves," Jamie explains. "I realized that we had some really good items!"
Tim says "Above all, enjoy collecting! It doesn't matter what you have available to spend; it's about the search and journey along the way. We started when we didn't have much money, but it was fun and a family affair. Educate yourself on what you like, buy things that bring you joy, and you'll never go wrong!"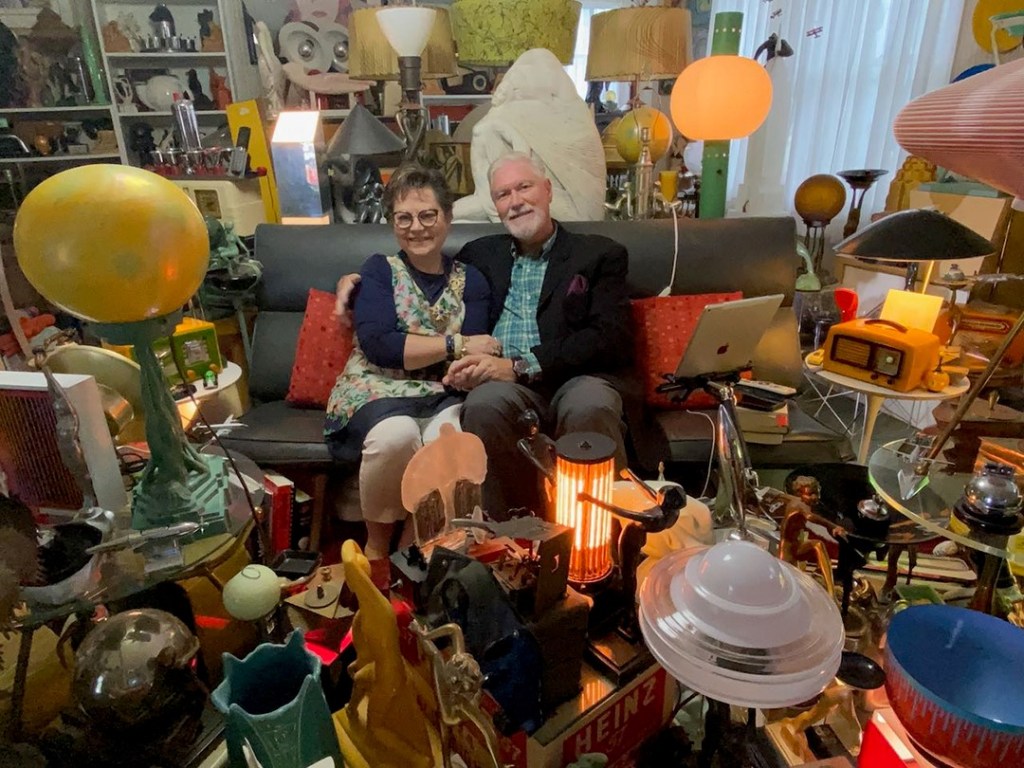 About Collectibles Insurance Services
Collectibles Insurance Services has been protecting collections since 1966 and all coverage is provided by a carrier with a group rating of "A" (Excellent) by AM Best, the leading rating agency for the insurance industry.

Comprehensive coverage includes, but is not limited to: accidental breakage, burglary, fire, flood, loss in the mail, theft, natural disasters, and other causes of loss unless specifically excluded from the policy. Deductibles start at $0 for collector policies and we provide coverage for the market value of your collection for losses in excess of $50.

Additionally the protection extends At home and away, and we don't require collection itemization and serial number nor extensive paperwork and red tape.