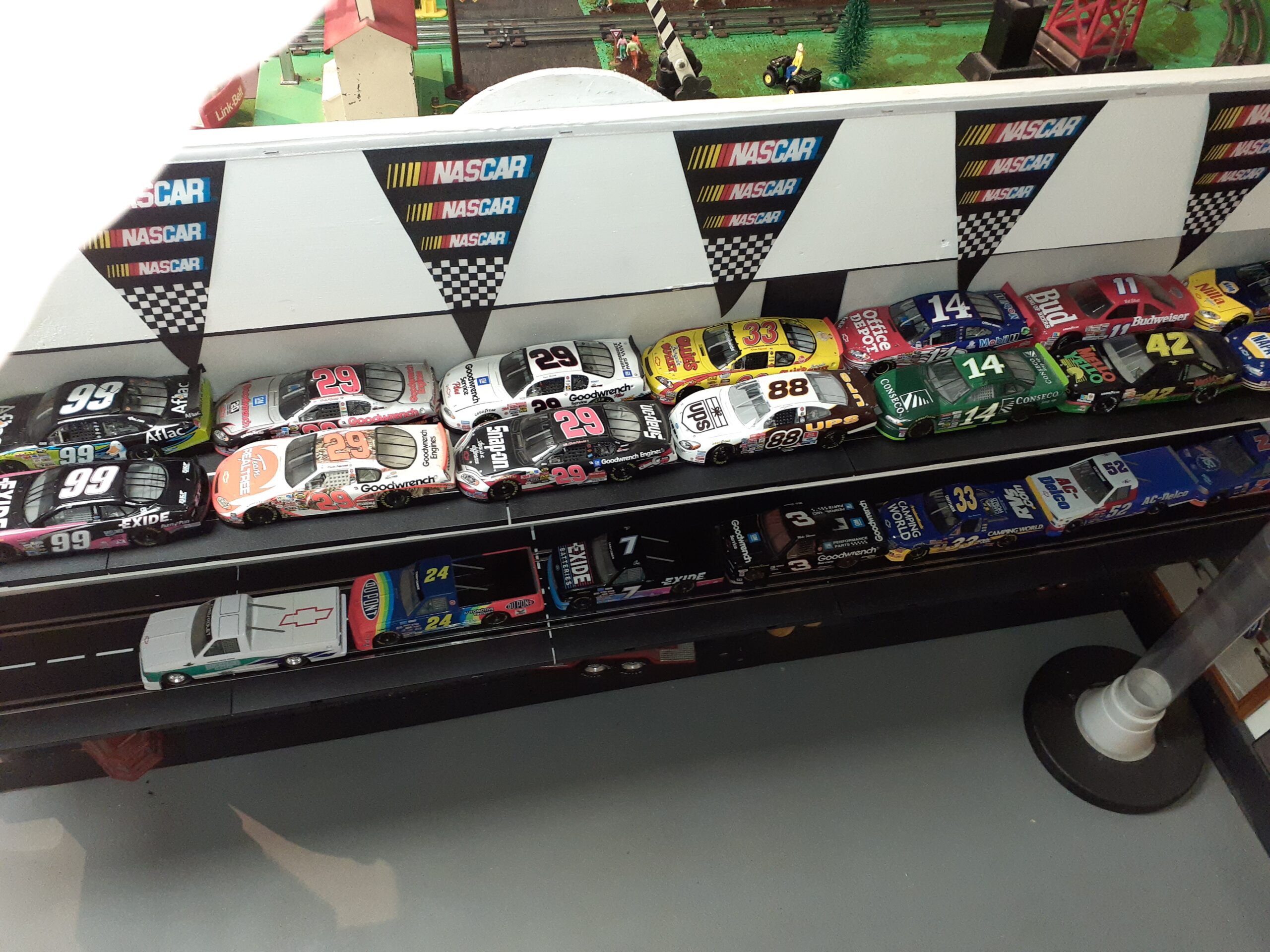 A Private Museum of NASCAR Memorabilia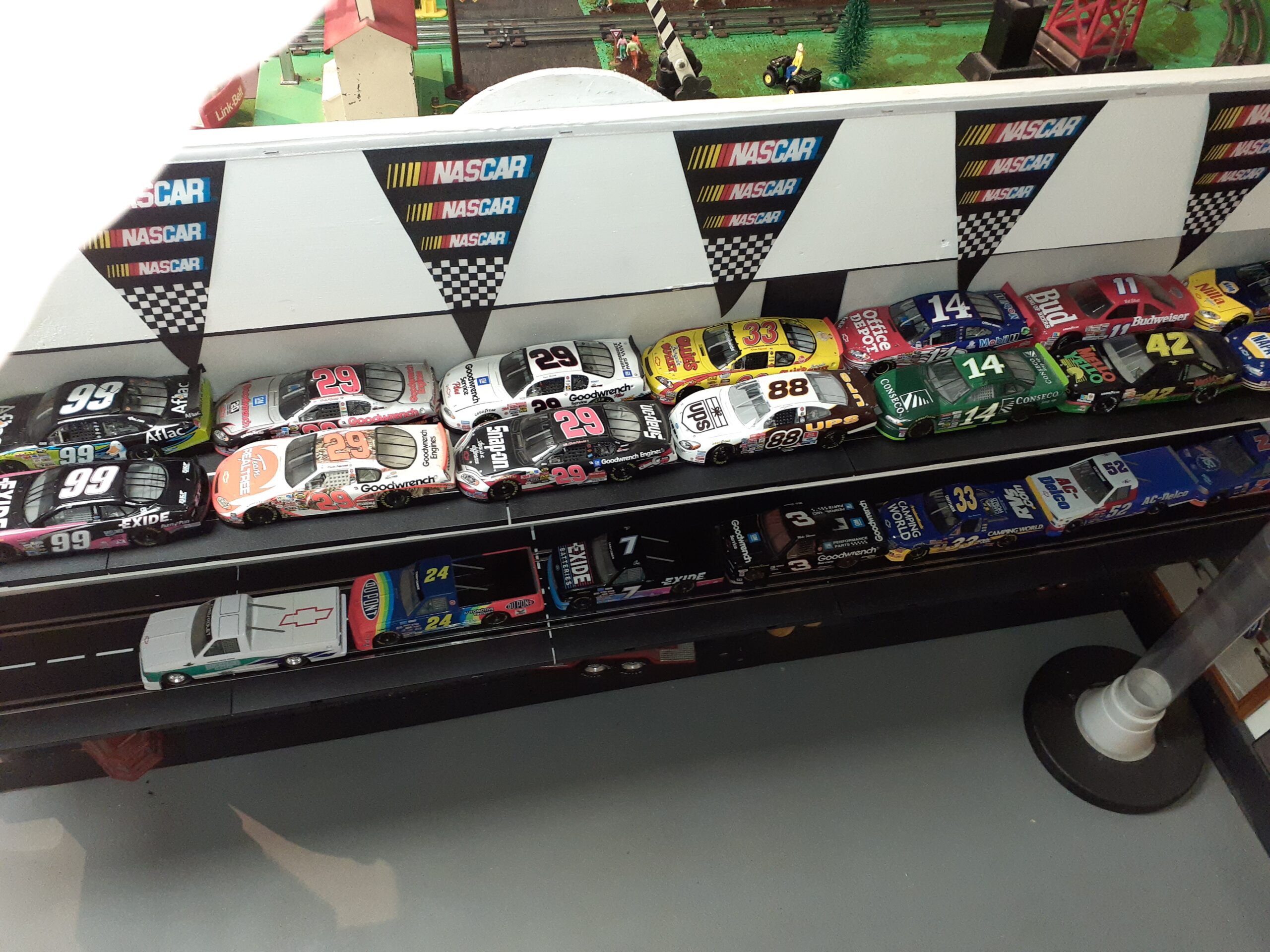 A Private Museum of NASCAR Memorabilia
About 35 years ago, Robert Barker's love of collecting began when someone gifted him a diecast car as a Christmas gift. The car was sponsored by Snickers and is still sealed in the plastic wrapper. Today, he has over 400 diecast cars, as well as lots of NASCAR-related memorabilia. "I raced for 25 years myself, and retired from that three years ago," Robert shares. From this racing career, he obtained a lot of photos and autographs from other NASCAR drivers, as well as trophies.

After about ten years, he started realizing that he had quite the collection! People are in disbelief when they walk in and see the large museum he has acquired over the years – which is displayed on shelving in his 40-by-40 foot basement. "We have a 10-foot by 10-foot slot car track and a racecar!"

As a big Jeff Gordon fan, he has a couple hundred pieces of memorabilia, including mugs, cupholders, plates, and so much more – all taking up about eight shelves. "I have a tire off of Jeff Gordon's car as an end table." He also has an extremely rare Jeff Gordon Cabbage Patch doll, still sealed in the original box.

A favorite piece in the collection of nearly 2,000 pieces – and also the most valuable item – is an autographed visor from Jeff Gordon's helmet. Besides the autograph, the visor has the race in which the helmet was used and the date. This is a rare and hard to find item, which is why it is so valuable.

Another hard-to-get item is the sheet metal from cars – such as a door of a racecar. Robert's collection has plenty of sheet metal, all of which he displays by mounting it on the wall.
Overall, the collection has truly grown to include a vast variety of items! There are NASCAR banners and flags, a pedal car from the 1950s, over 100 hats from different racetracks and different drivers, NASCAR moonshine and soda, NASCAR-themed board games, race helmets, and so much more. Everything in the display area is checkered, including the floor, the bar, and the barstools. Topping it all off is a collection of about 30 NASCAR models that Robert has built over the years.

Overall, Robert estimates his collection to be worth well over $25,000, but he considers this collection to be priceless. "It would be hard to replace this stuff if anything ever happened to it!"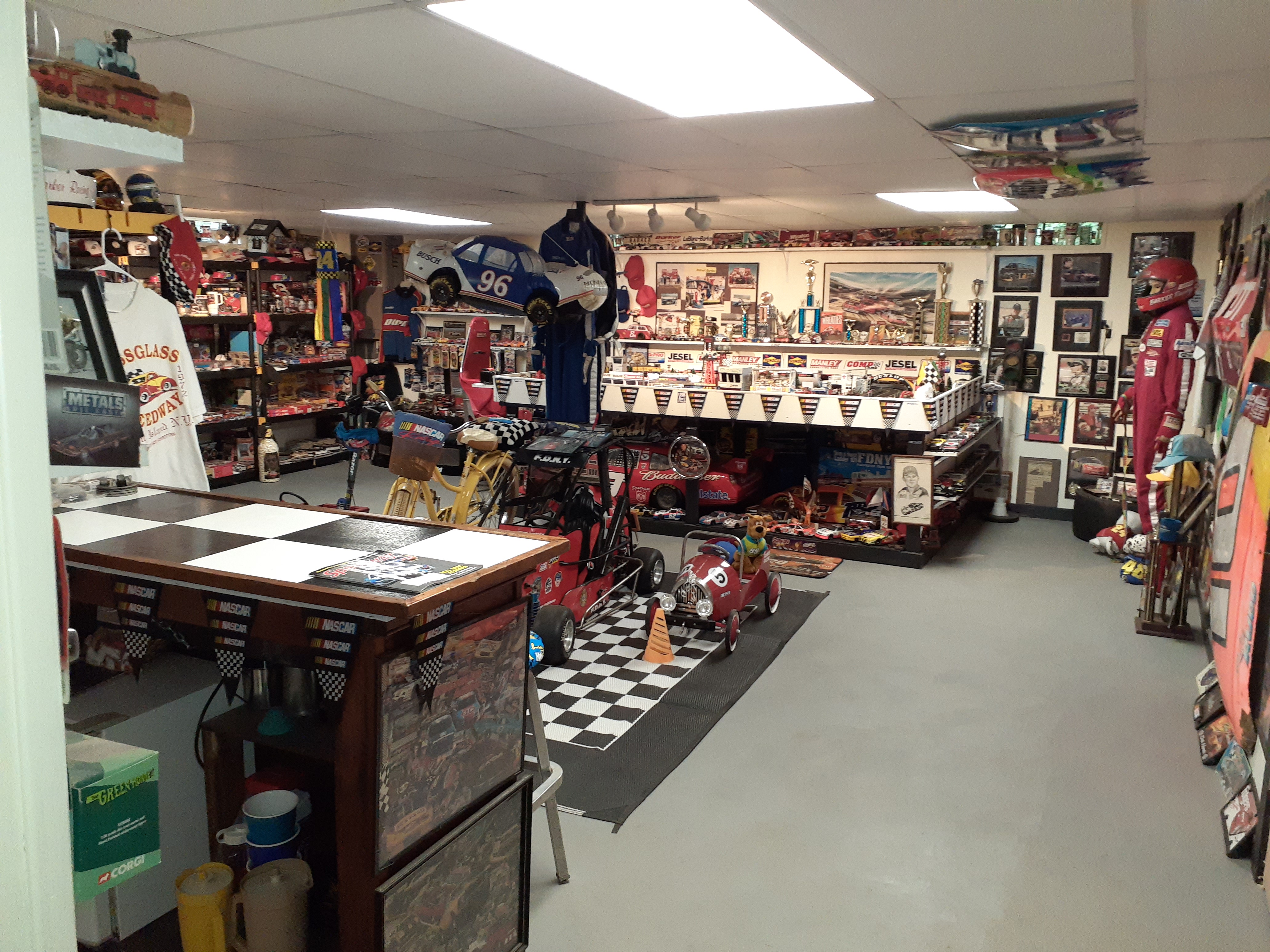 Collectibles Insurance Services was founded by collectors, for collectors! Homeowners insurance often falls short when it comes to providing coverage for collections, so that's where we step in. We help insure collections of all kinds — from LEGOs to sports memorabilia, and comic books to toys, and so much more.
Find out what types of collections we insure or get a quote today!
About Collectibles Insurance Services
Collectibles Insurance Services has been protecting collections since 1966 and all coverage is provided by a carrier with a group rating of "A" (Excellent) by AM Best, the leading rating agency for the insurance industry.

Comprehensive coverage includes, but is not limited to: accidental breakage, burglary, fire, flood, loss in the mail, theft, natural disasters, and other causes of loss unless specifically excluded from the policy. Deductibles start at $0 for collector policies and we provide coverage for the market value of your collection for losses in excess of $50.

Additionally the protection extends At home and away, and we don't require collection itemization and serial number nor extensive paperwork and red tape.