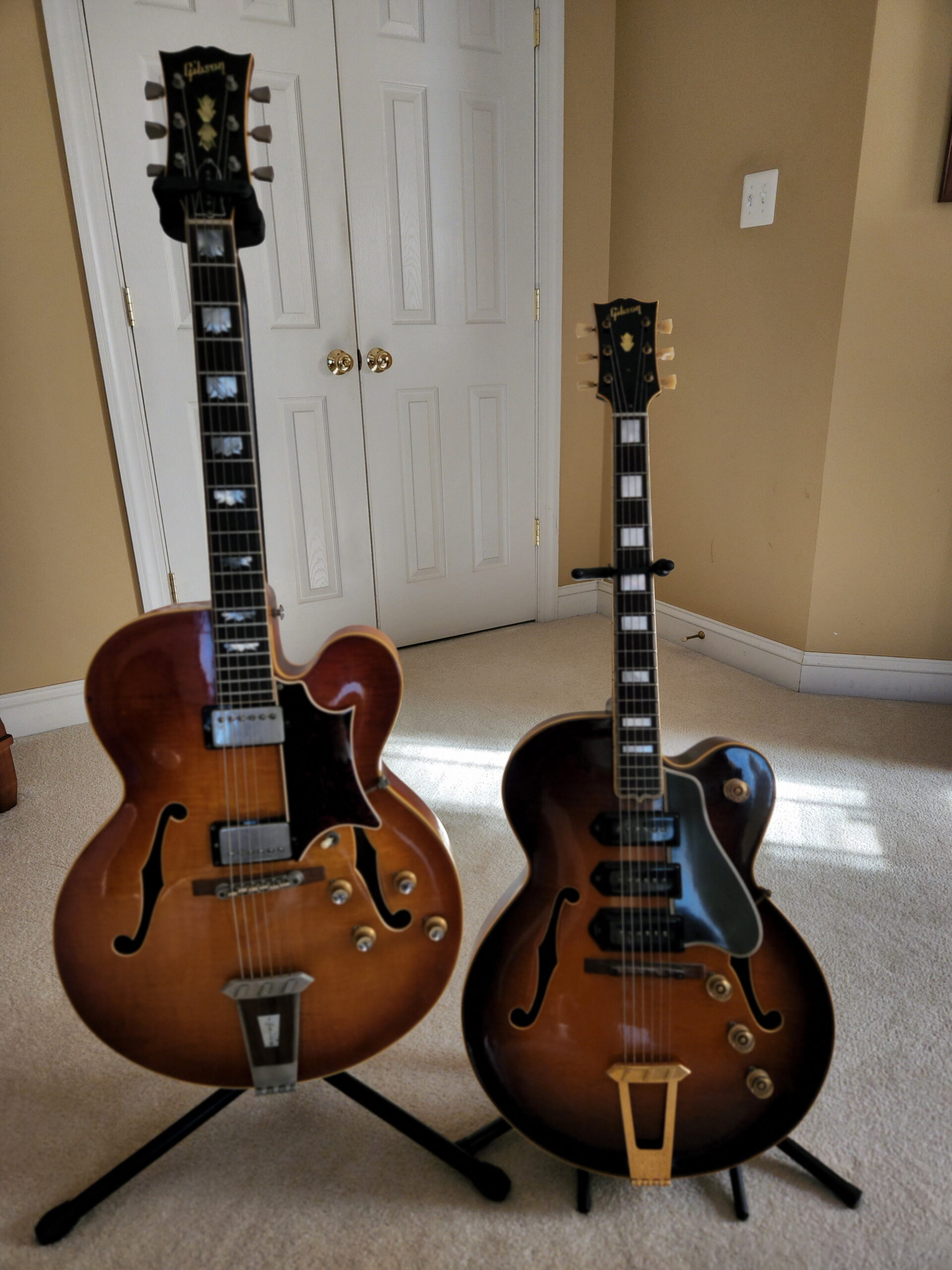 Collector Has Almost 200 Guitars, Including Classic Gibson Models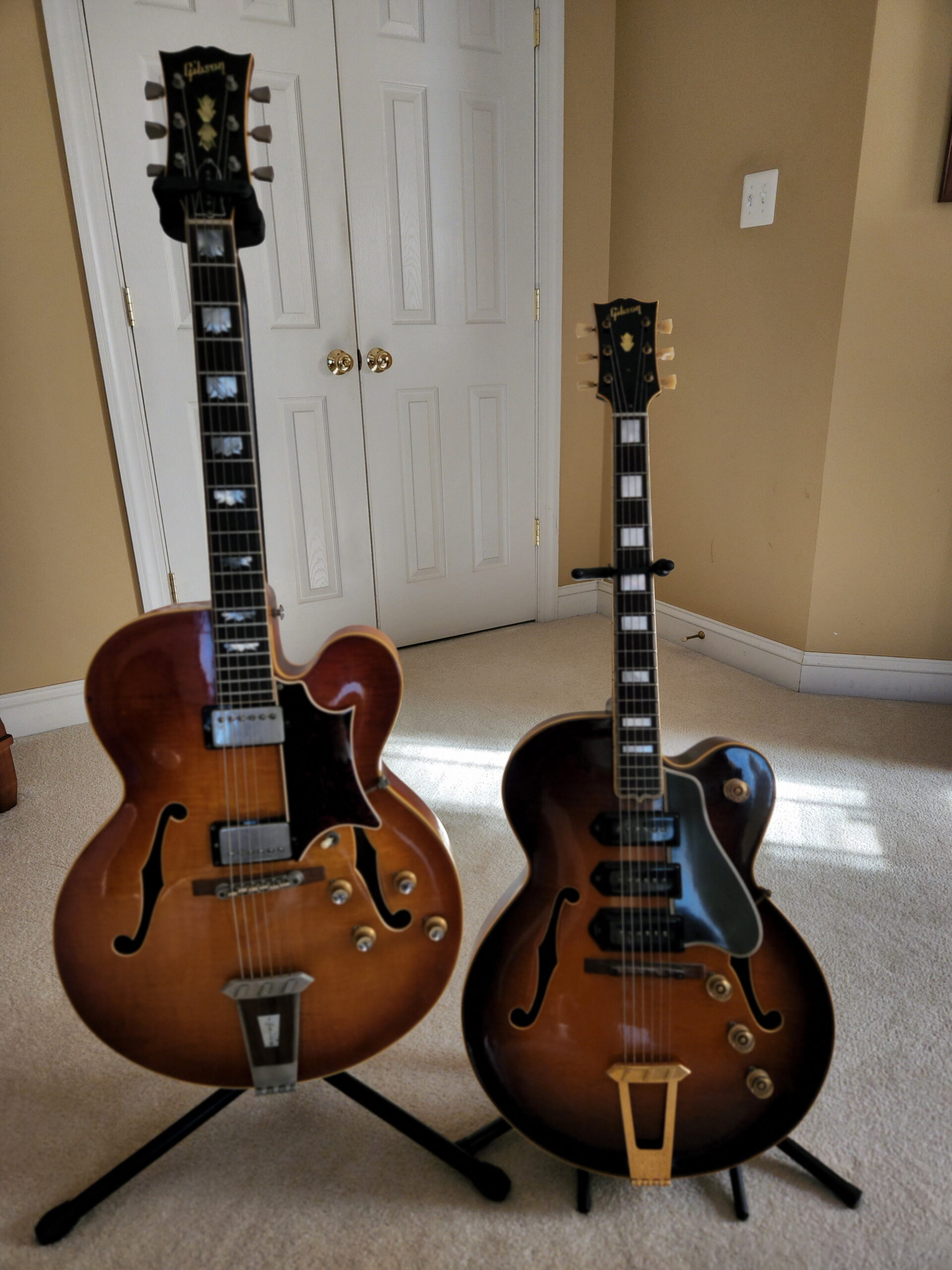 Collector Has Almost 200 Guitars, Including Classic Gibson Models
Lee Jones' collecting journey began in 2004, when he was diagnosed with stage IV colon cancer. At the time, only 7% of people with this type of cancer lived beyond five years. Says Lee, "I realized that if I ever wanted to get guitars, now was the time to do it!" With his decision to take as much time off from work as he needed to get better, Lee now had lots of free time, and a passion for collecting was born.
"As I was recovering from chemo or surgery, I would go on eBay looking for interesting guitars," shares Lee. "It kept my mind occupied and enabled me to get through a very emotional time." From his many guitar orders, Lee got to know the FedEx and UPS delivery men quite well. It even got to a point where every time she heard the doorbell ring, Lee's wife was petrified that another guitar was coming! "If she answered the door, the delivery person would have a, 'please don't hurt me' look," recalls Lee.

Lee now owns around 200 guitars. "I'm one of those people that has a collecting mentality," he explains. In the beginning, he would purchase Gibson guitars, and then eventually he moved on to Fender and other guitars that he had never heard of before. Lee explains that the time period of 1969 or earlier is when classic Gibson guitars of higher quality were made. "There are some classic Gibson guitars that I really enjoy. One's a 1964 Gibson Tal Farlow Custom." He also owns a 1951 Gibson ES5. Both guitars are beautiful and in excellent condition. "Those are really something special that you don't see every day. They are probably worth about $7,000 each."

Lee also once purchased some reissued classic Gibson guitars. "I read an article in Vintage Guitar magazine that Gibson was doing some reissues of their Les Paul guitars. Les Paul was a well-known designer and jazz guitar player – he helped Gibson design these guitars. Gibson started reissuing these classic models, so I started buying!" There were 1957, 1958, and 1959 reissues that were made in much the same way that guitars were back then. To top it off, they weren't factory-made – they were custom made.

Lee admits that his collection isn't very organized. "The only organization is that the acoustic guitars are all up in one bedroom with a humidifier and dehumidifier depending on the season." Acoustics can expand and contract based on humidity, so it's important to keep them in the right environment to avoid cracking. Most of the electric guitars are down in the finished basement, and there are some in a closet in a guest bedroom. "I don't have them displayed because the safest way to keep the guitars is in their cases!" explains Lee.
Lee's kids have no interest in guitars, so when he wants to keep the numbers in his collection under control, he sells.

When he sells, he uses a website called Reverb, but he's not always guaranteed to get the price that he originally paid. Though a few of his guitars have appreciated in value, some of the guitars have not gone up. Despite this, Lee considers each of the guitars in his collection to be special in their own way. "I always hate selling something because I'll never see it again!"
Collectibles Insurance Services was founded by collectors, for collectors! Homeowners insurance often falls short when it comes to providing coverage for collections, so that's where we step in. We help insure collections of all kinds — from LEGOs to sports memorabilia, and comic books to toys, and so much more.
Find out what types of collections we insure or get a quote today!
About Collectibles Insurance Services
Collectibles Insurance Services has been protecting collections since 1966 and all coverage is provided by a carrier with a group rating of "A" (Excellent) by AM Best, the leading rating agency for the insurance industry.

Comprehensive coverage includes, but is not limited to: accidental breakage, burglary, fire, flood, loss in the mail, theft, natural disasters, and other causes of loss unless specifically excluded from the policy. Deductibles start at $0 for collector policies and we provide coverage for the market value of your collection for losses in excess of $50.

Additionally the protection extends At home and away, and we don't require collection itemization and serial number nor extensive paperwork and red tape.