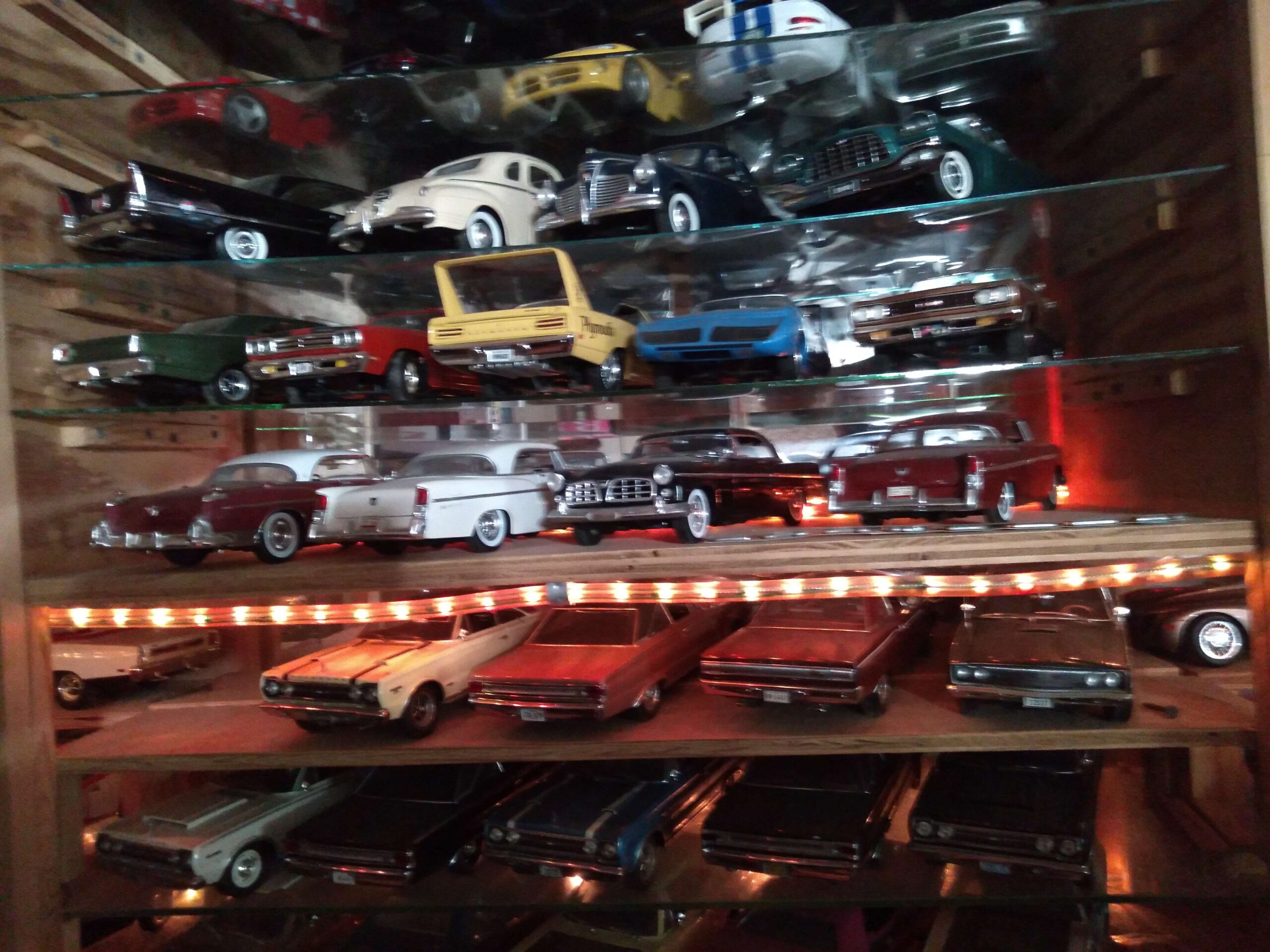 Collector Has Over 700 Diecast Cars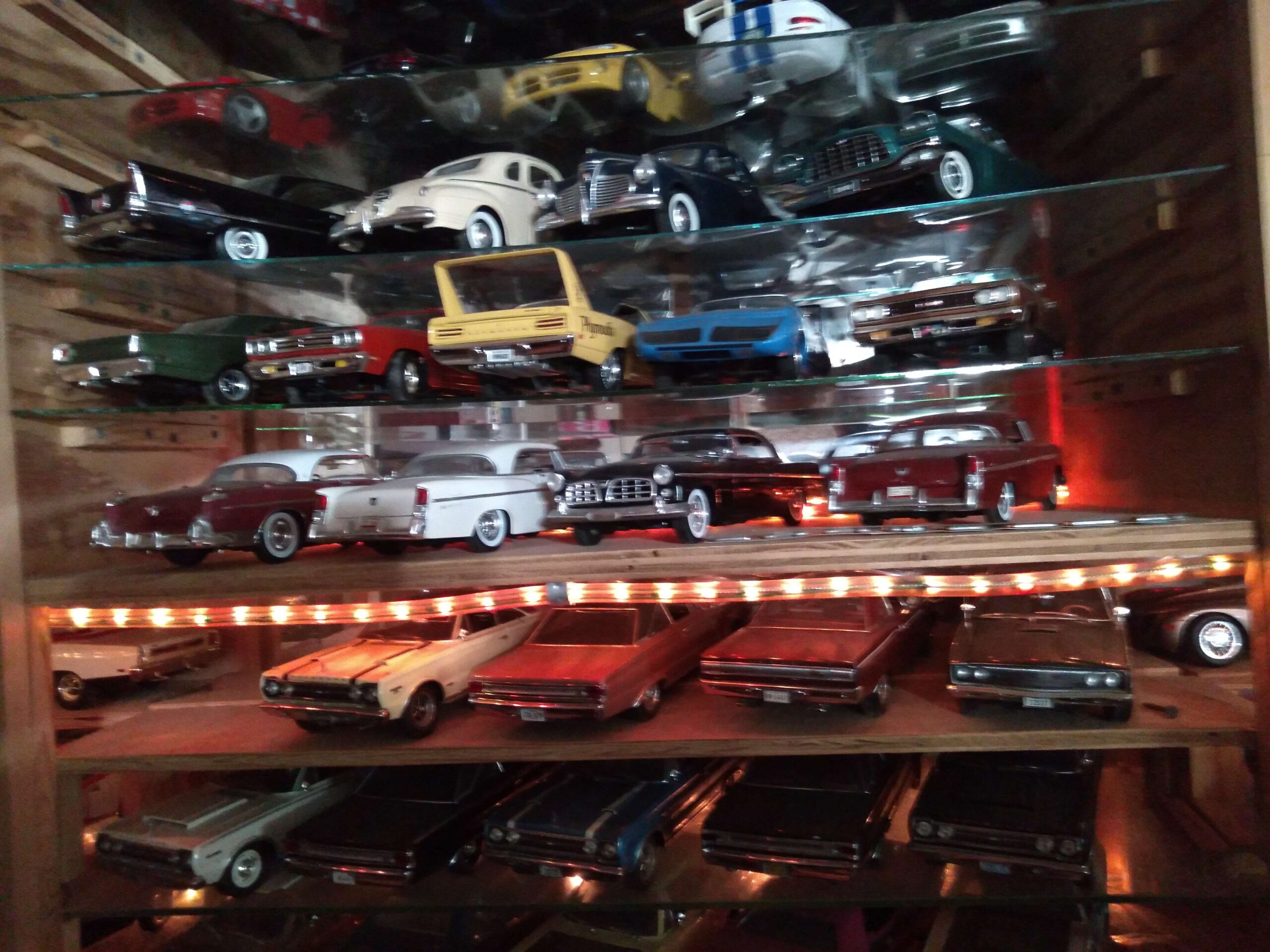 Collector Has Over 700 Diecast Cars
"My wife says I have a disease!" says Timothy Wagner of his still-growing collection of over 700 diecast cars. This large collection stems from a genuine passion for real vehicles. Many of the cars in Tim's collection are based on real-life vehicles that have special meaning to him.

The first car in Tim's collection was a red 1956 Chrysler New Yorker. This was the same car that his grandparents owned when he was a teenager – a car in which he drove his grandfather to the hospital when he was just 15 years old. Tim loved this car, but, "My mother had the audacity to tell me I was too young to have a car, and so she sold it for $300," shares Tim. "I cried!"

Tim is a collector of mostly Chrysler products, as well as Plymouths, Dodges, and some racecars. His most prized car is a 1967 Plymouth Belvedere Sox and Martin car signed by racecar driver Ronnie Sox. "I was into drag racing as a kid," he shares. Another prized possession is a 1968 Roadrunner model, of which he owns both the model and a real full-size car. "I've had this car for 35 years, and I love it!" He also has a 1965 Ford Galaxy model that a friend is helping him change to a convertible. His mom owned a 1965 Ford Galaxy 500 convertible for 14 years when he was a kid.

Tim's collection has grown in value. He purchased many of his model cars for under $50, and now they are worth well into the $200 range. "All my Sox and Martin cars were bought for under $100, and they are now worth over $200." He has a whole collection of just 1/18 scale diecast cars valued at $25,000.

Tim has become interested in collecting diorama figurines to go with the diecast cars. "They are plastic figurines called Diorama Classics. They help set up the scenery for the cars in my collection!" He has a glass case with about five cars in it, and they are the cars that he stages with the figurines.

Most of his cars are on display in Tim's family room, which his family refers to as the "toy room." He built wooden shelving on which to store the cars and is in the process of lighting them. The cars are sorted by type – Plymouth, Dodge, Chrysler – and then there is a section with trucks and a few other odd items that defy categorization. "My daughter and my son always give me diecast for Christmas and birthdays, so I end up with a lot more of them. They just keep growing!" In addition to the cars, Tim's "toy room" also has a track with a Lionel train that runs around it.

Tim's collection has become an outlet for his love of cars. "It gives me the chance to have [model-versions of] the cars that I would've loved to have but couldn't," shares Tim. "I've had over 290 full-size cars, but now I'm down to just seven full-size cars and two trucks. My wife says I've got enough!"


Collectibles Insurance Services was founded by collectors, for collectors! Homeowners insurance often falls short when it comes to providing coverage for collections, so that's where we step in. We help insure collections of all kinds — from LEGOs to sports memorabilia, and comic books to toys, and so much more.
Find out what types of collections we insure or get a quote today!
About Collectibles Insurance Services
Collectibles Insurance Services has been protecting collections since 1966 and all coverage is provided by a carrier with a group rating of "A" (Excellent) by AM Best, the leading rating agency for the insurance industry.

Comprehensive coverage includes, but is not limited to: accidental breakage, burglary, fire, flood, loss in the mail, theft, natural disasters, and other causes of loss unless specifically excluded from the policy. Deductibles start at $0 for collector policies and we provide coverage for the market value of your collection for losses in excess of $50.

Additionally the protection extends At home and away, and we don't require collection itemization and serial number nor extensive paperwork and red tape.