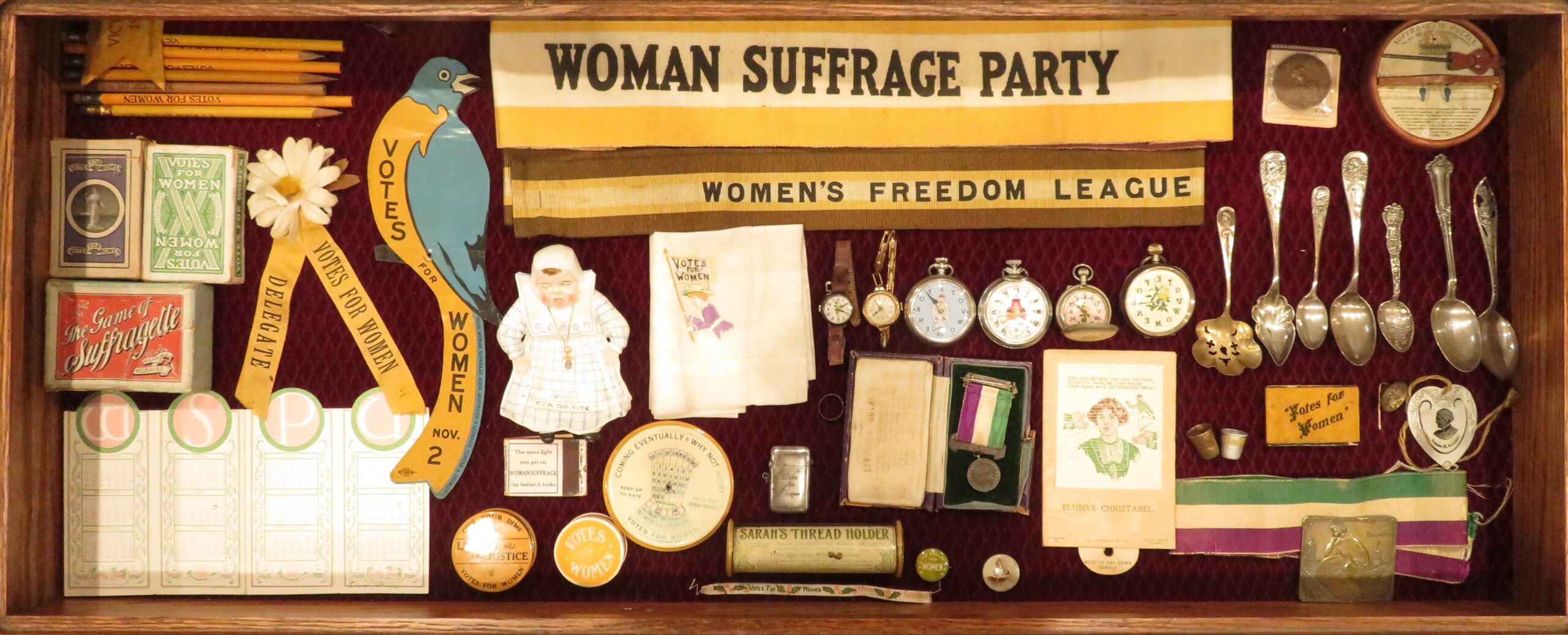 Each Item in This Women's Suffrage Collection Tells a Story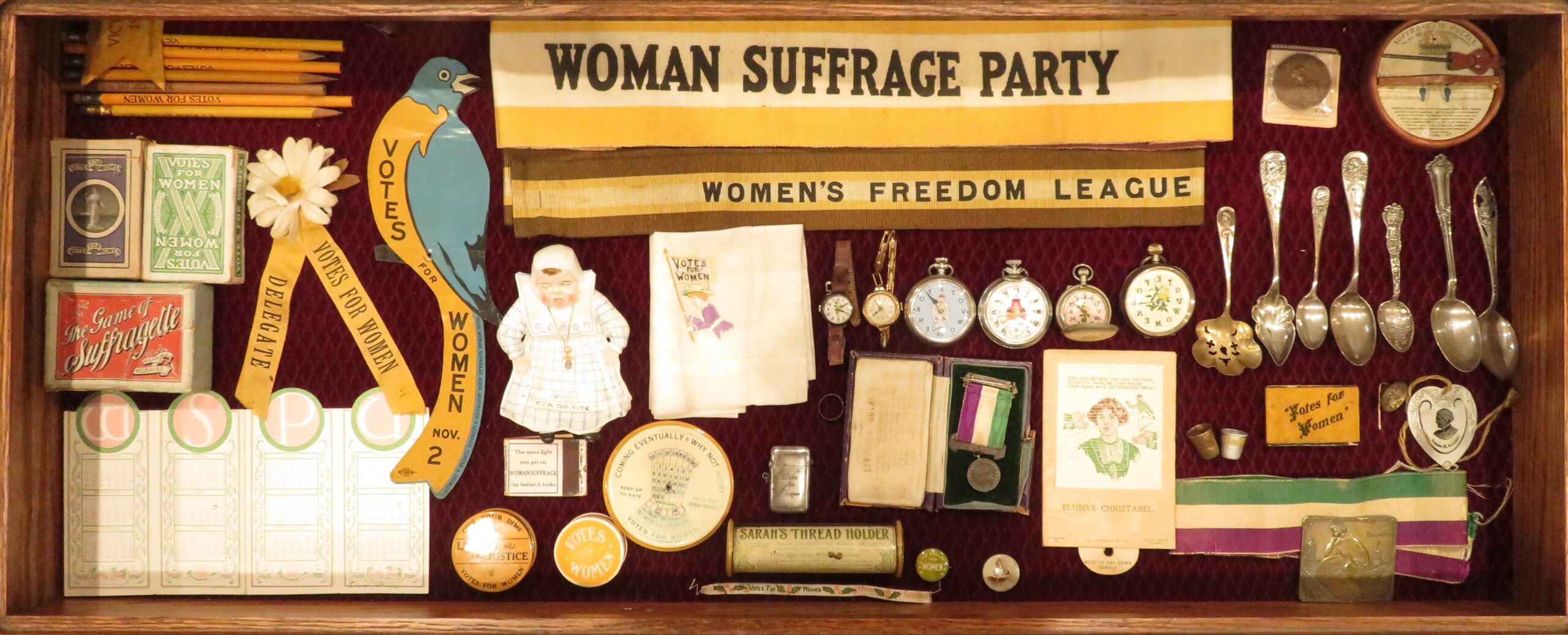 Each Item in This Women's Suffrage Collection Tells a Story
Some collections are more than what they seem at face value, and this is true of Ken Florey's collection of women's suffrage memorabilia. Ken is drawn to collecting such items because of the story that unfolds with each piece. His collection is the largest accumulation of women's suffrage memorabilia gathered by a private collector, and it consists of items such as posters, buttons, china, prisoner's medals, postcards, sashes, pennants, sheet music, and more.

Ken's interest in collecting such items was sparked in the 1980s, when he was the Vice President of the Ephemera Society of America, which has a conference every year. At the time, there was a periodical called AB Booklist, a trade publication for antique book dealers. Every year, an issue would be published in conjunction with the annual convention. One year, they wanted to do a special issue on women, and Ken was asked to do an article on women's suffrage.

Ken had a friend with an extensive collection, so he used this as a source for the article. "I became so attracted to the items and the stories behind them," shares Ken. He began to collect for himself, focusing on buttons, sashes, and ribbons. As his collection grew, so did his definition of memorabilia. Today, he has about 4,500 different items in his collection. Besides his passion for the history behind each object, Ken also loves the connections that develop from collecting. "I formed some lifelong friendships," he says. "My collection is more than just collecting objects. It's getting in touch with other people, it's forming friendships."

Ken considers himself to be a collector since childhood. "There are two kinds of people in the world: collectors and non-collectors. When I was a kid I collected comic books, stamps – all kinds of things. As I grew older, my toys changed." Before he got into suffrage, he was collecting political items and buttons. He has since sold these political collectibles to focus solely on suffrage. His collection dates back to the 1850s, with most of the buttons and ribbons dating from the end of the 19th century to the early 20th.  In America, most of the objects were produced from 1907 or 1908 to about 1917.
Ken's favorite piece from his collection is an item called a hunger strike medal. "It's a medal that was given in England to women who underwent hunger strikes in prison and were force fed," explains Ken. "There are only about 100 of these medals. Each medal hangs from a ribbon and on the back has a name." Lavander Guthrie is on the back of Ken's medal. Research revealed that Guthrie was not a major participant in the suffrage movement. When she got out of prison she was given this medal and then dropped out of the movement and then sought out a means to make a living for herself, including becoming an actress under the name "Laura Grey." The medal, "is the most prized piece in my collection," Ken says.

Another portion of the collection that Ken values is some special china that came from a very wealthy socialite named Mrs. Alva Belmont, who bankrolled much of the suffrage movement. "In 1913 she held the famous Council of Great Women Conference at her estate," Ken explains. "She had ordered from England a complete set of china for this meeting. She also used the china in a lunchroom that she ran. To have these pieces is just wonderful!"

Ken also has a small cardboard poster that advertises a meeting in Connecticut. The poster shows some of the local suffragists and one of the photos on the poster is a woman with several of her children. The woman is Katharine Hepburn, the mother of the actress, and one of the children pictured is the actress herself. He also has a paper invitation, dated 1870, inviting people to a meeting to form the American Women's Suffrage Association. Julia Ward Howe, who wrote "The Battle Hymn of the Republic," was an ardent suffragette, and she composed a personal, penciled note on the back of this invitation to a "Mr. Weiss," asking him to attend. Finally, another notable item is a 19th century ribbon autographed by Susan B. Anthony.


Collectibles Insurance Services was founded by collectors, for collectors! Homeowners insurance often falls short when it comes to providing coverage for collections, so that's where we step in. We help insure collections of all kinds — from LEGOs to sports memorabilia, and comic books to toys, and so much more.
Find out what types of collections we insure or get a quote today!
About Collectibles Insurance Services
Collectibles Insurance Services has been protecting collections since 1966 and all coverage is provided by a carrier with a group rating of "A" (Excellent) by AM Best, the leading rating agency for the insurance industry.

Comprehensive coverage includes, but is not limited to: accidental breakage, burglary, fire, flood, loss in the mail, theft, natural disasters, and other causes of loss unless specifically excluded from the policy. Deductibles start at $0 for collector policies and we provide coverage for the market value of your collection for losses in excess of $50.

Additionally the protection extends At home and away, and we don't require collection itemization and serial number nor extensive paperwork and red tape.