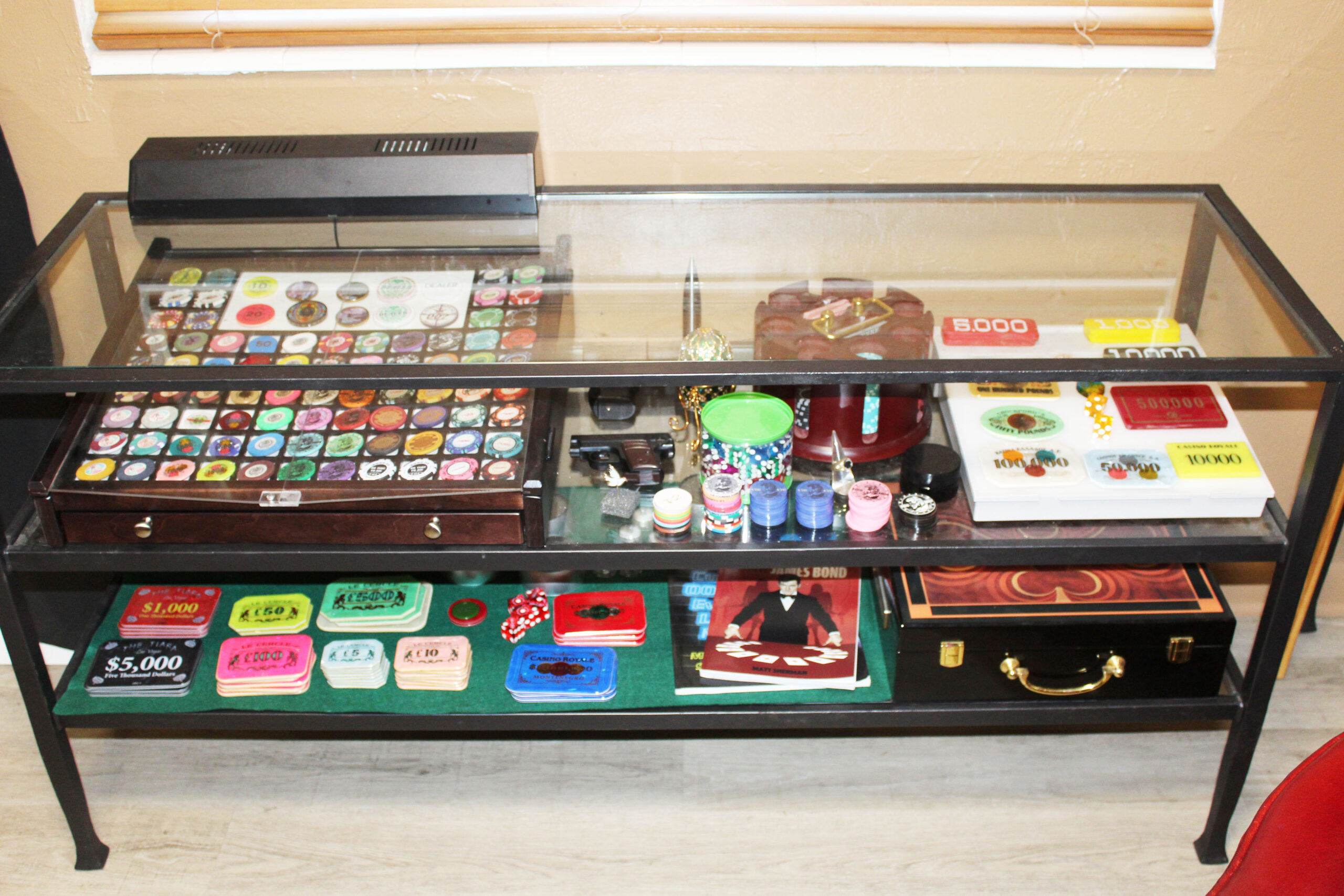 An Incredible Collection of Movie Props from Bond. James Bond.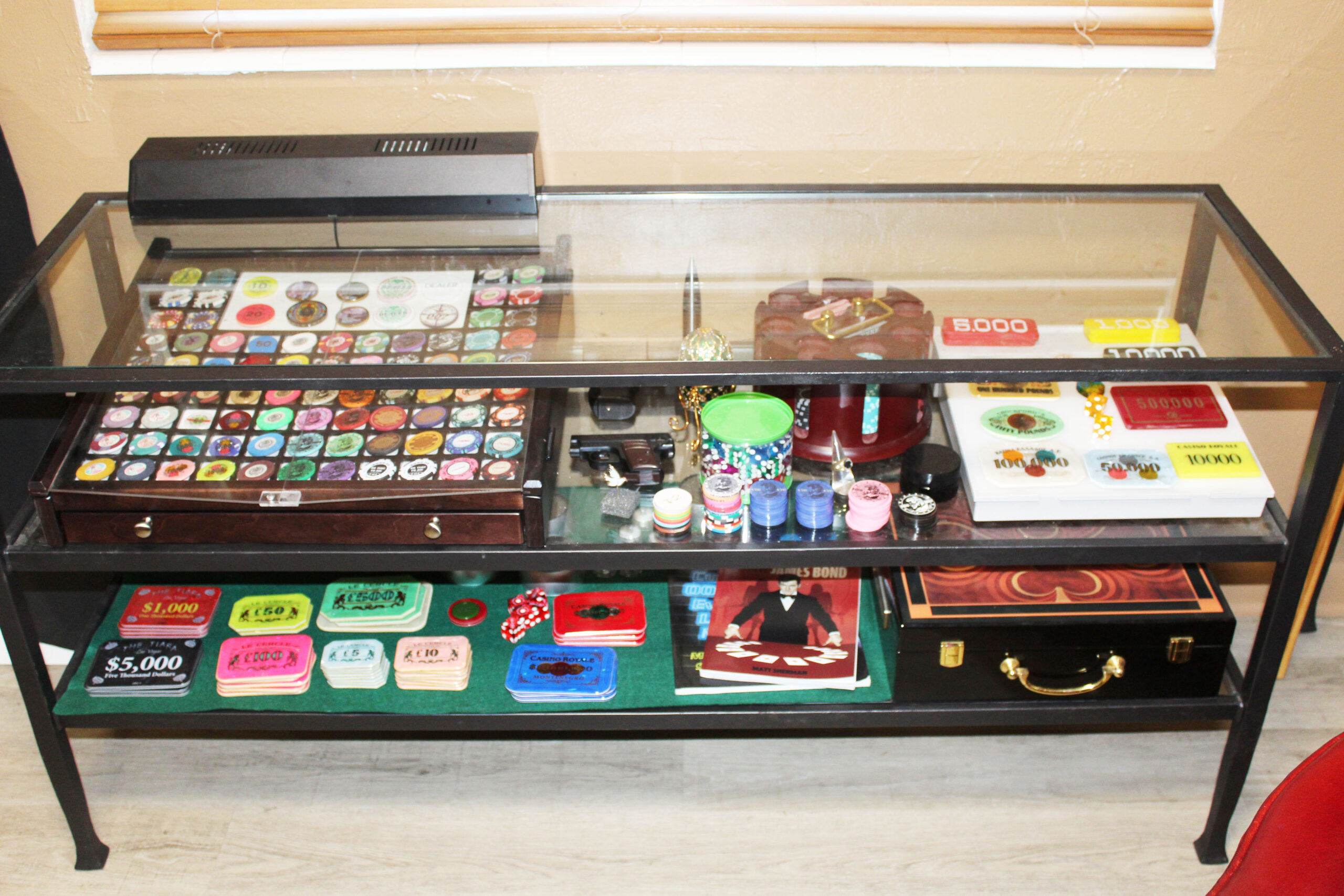 An Incredible Collection of Movie Props from Bond. James Bond.
The first movie that Matt Sherman remembers seeing was the James Bond movie, The Spy Who Loved Me, in 1977. He soon discovered paperback James Bond novels in a store and began to collect them. Over 100,000,000 copies of these books have been sold, and they have been printed in over 20 languages. Eventually, he got tired of waiting for new books to come out, so he sold some of his books to invest in movie props. Getting props from the earlier films was challenging, as these movies were released before the days when a prop from popular film would be auctioned off for big bucks. People weren't yet thinking of props as collectibles!

With the ability to find auctions on the internet, Matt began to collect other Bond items. Today, this collection is modestly sized, containing about 300 items total. "There are two kinds of collectors," Matt explains. Some collect everything they can get their hands on. Others will buy, sell, and trade to get better items. Matt is the latter. "Most of my items are genuine props from the films."
Over half the world's population has seen a Bond movie. There have been 26 James Bond films released since 1962, with the 27th, No Time to Die, coming in October. Matt has props from 18 of these movies. The most coveted are the "screen-seen" props, which appeared on camera. Matt's first purchase involved the vehicles that appear in the films. "At the Ian Fleming Foundation, they curate and restore actual vehicles. As a fundraiser, they would mount and frame parts of the James Bond vehicles."

These days, Matt's main collecting emphasis has been Bond casino items. "I have over 200 plaques and chips from Bond casinos and films," he shares. These are screen-used plaques, which were a bit costly because they are difficult to find. The most valuable item is a plaque from the 1999 Bond film The World Is Not Enough, starring Pierce Brosnan. This was the central plaque on the head table when they played $1 million on one high card draw. Its value is at least five figures. "Bond collecting is like collecting from the Star Wars films," shares Matt. "There's a lot to collect. [There are] clothes, posters, props, perfumes, colognes, and makeup. There are still bargains to be found. I occasionally find a genuine prop for $30 or $40." The most he has spent on a single purchase is about $5,000.
Matt finds it difficult to name a favorite item from the collection. "For me, it's like choosing my favorite child!" Still, there are a few standout items. "I have a letter from her majesty Queen Elizabeth. I wrote to her, and she sent me a reply and she acknowledged my fandom." Die Another Day had an ice motif, and the villain had a palace of ice and an ice motel. Matt has an ice gun from this movie, one of a limited number made for the lead actors and film producers. "I also appreciate my Casino Royale plaques," he shares. "They were made by the casino company that made all the casino plaques for the last century, and this was the only non-casino plaque they made."

Everything from this collection is on display in Matt's home. "One of the reasons I reduced the number of collectibles I had is that I wanted them all on display – not boxed up." He's also not concerned about touching and handling the items. "I have glass shelves, and everything is out for display. I allow friends to handle them. They are accessible and within easy reach." He also has different shelves for different Bond actors, such as Daniel Craig and Pierce Brosnan, and all the casino items are grouped together. He has a holding case of at least 100 different poker chips so that people can see them all in one case.

Bond collectors are a small group compared to collectors of other movie props – such as Star Wars and Star Trek. This creates a community where everyone knows each other and shares collectibles. "My wife and I have been running James Bond fan conventions for about twenty years," says Matt. This includes fan tours, where people are taken directly to film locations. Unlike Star Wars and Star Trek, Bond movies were often filmed on-location rather than in the studio. Collectors will often return from these tours with pieces of a vehicle or other items from the location. "Fans delight in finding things on location – it's a piece of movie history that you got to have by visiting the site," shares Matt. "It's very unique to James Bond."

When asked about his favorite Bond actor, Matt explains that his opinion aligns with that of many other fans. "Sean Connery was a terrific actor, and if he hadn't done the first films they would not be doing them years later." But he also enjoys actor Timothy Dalton. "Timothy Dalton read the books and looked like the character, and he tried to bring that to his portrayal." Overall, he believes that Sean Connery was the best for introducing Bond to the world, while Timothy Dalton was most like the Bond of the books.

Matt's collection is the biggest and best Bond casino collection because of the effort he has put into pursuing collectibles from around the world. In addition to collecting, Matt has several books in print, including James Bond's Cuisine: 007's Every Last Meal: Every Bite and Sip of the World's Greatest Agent and Playing Games with James Bond.
You can learn more about the fan events Matt hosts at BondFanEvents.com.


Collectibles Insurance Services was founded by collectors, for collectors! Homeowners insurance often falls short when it comes to providing coverage for collections, so that's where we step in. We help insure collections of all kinds — from LEGOs to sports memorabilia, and comic books to toys, and so much more.
Find out what types of collections we insure or get a quote today!
About Collectibles Insurance Services
Collectibles Insurance Services has been protecting collections since 1966 and all coverage is provided by a carrier with a group rating of "A" (Excellent) by AM Best, the leading rating agency for the insurance industry.

Comprehensive coverage includes, but is not limited to: accidental breakage, burglary, fire, flood, loss in the mail, theft, natural disasters, and other causes of loss unless specifically excluded from the policy. Deductibles start at $0 for collector policies and we provide coverage for the market value of your collection for losses in excess of $50.

Additionally the protection extends At home and away, and we don't require collection itemization and serial number nor extensive paperwork and red tape.