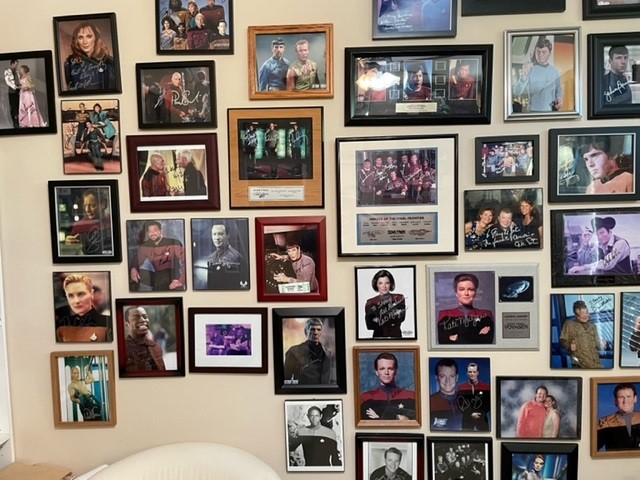 Over 200 Autographs from Star Trek, Gilligan's Island, and More!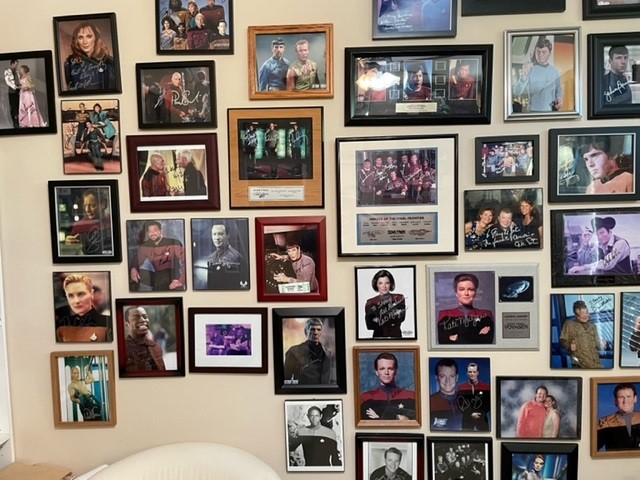 Over 200 Autographs from Star Trek, Gilligan's Island, and More!
Stacey Cook has always been interested in movies, television, sports, and entertainment, and she started collecting autographs from a young age. But the collecting bug truly caught on in college, when she lived in a sparse apartment in need of decoration. Stacey attended conventions and celebrity events on the weekends and began to collect autographs – especially from Star Trek.
When she graduated college with a degree in Radio and Television Broadcasting, she started meeting celebrities at work and her collection grew even further. "At wrap parties, I would ask for autographs," Stacey explains. "I have an assortment of autographs from people I've met in person at work!"

Eventually, she began to collect autographs from the entire cast of different shows. "I started carrying one photo with the entire cast to events. The first time I completed a cast photo, I realized that I was a serious collector now," she shares. After a few sets of full cast photos, she realized that she needed to get insurance for her growing collection.

Today, Stacey's collection has a lot of autographs from the sci-fi genre and is mostly composed of autographs from Star Trek. "My Star Trek collection is extensive and took over twenty years to collect." She also notably has a photo signed by the cast of Gilligan's Island, among other tv shows and films. What makes her collection unique is the sheer number of autographs that she has from older celebrities who have passed away. "I have autographs from so many older celebrities that you can't get autographs from anymore. I think that makes it a really cool collection!"

Another unique fact about Stacey's collection is that she has a lot of autographs from popular celebrities in unpopular roles. "I like to get autographs from actors in other roles because those pictures are rare," explains Stacey. "William Shatner has done Twilight Zone. DeForest Kelley, who played Dr. McCoy in the original Star Trek series, was in a bunch of Westerns. To get them in something they are not known for holds special appeal to me."

The very first autograph in Stacey's collection was actually from DeForest Kelley. "He died three years after I got that first autograph. He was my first autograph that I was really proud of." The most valuable item in the collection is a plaque with the original series cast of Star Trek, all signed in the same color at the same time. "I think that one's worth $3,500 or more," shares Stacey. "I have ones that are very similar, but they are worth a bit less due to the signatures not being in the same color."

Most of the collection is comprised of personal autographs that were collected by meeting the celebrity in person. About half of the collection is personalized, with a greeting written specifically for Stacey, and half is not. "I started to ask for two autographs from each person – one personalized and one not. The ones that aren't personalized are what someone else would want if the collection got passed on."

Overall, this collection contains over 200 pieces. Stacey started out by displaying her collection on the walls of her home office, but it got so big that eventually, she had to display some in her work office. Everything is organized by genre – there's a Star Trek wall, a sci-fi wall, an action-adventure wall, a sitcom section, and so on. She also has action figures and toys that are autographed by celebrities. "Sometimes I'll be walking through an antique bookstore and I'll see an action figure or a toy from the 70s. When I grab one of those, the first thought in my mind is getting it signed!"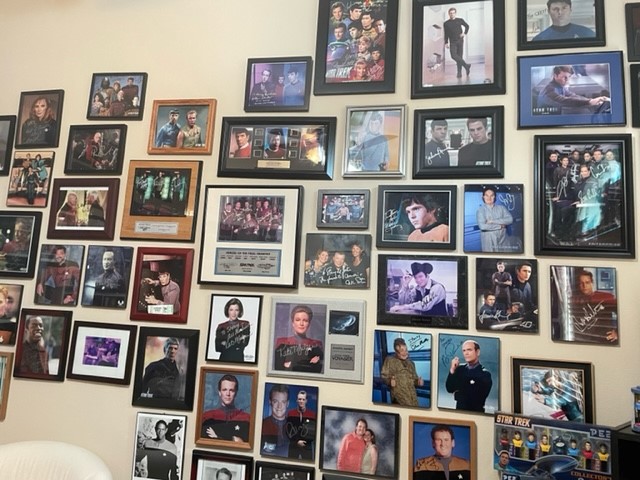 Collectibles Insurance Services was founded by collectors, for collectors! Homeowners insurance often falls short when it comes to providing coverage for collections, so that's where we step in. We help insure collections of all kinds — from LEGOs to sports memorabilia, and comic books to toys, and so much more.
Find out what types of collections we insure or get a quote today!
About Collectibles Insurance Services
Collectibles Insurance Services has been protecting collections since 1966 and all coverage is provided by a carrier with a group rating of "A" (Excellent) by AM Best, the leading rating agency for the insurance industry.

Comprehensive coverage includes, but is not limited to: accidental breakage, burglary, fire, flood, loss in the mail, theft, natural disasters, and other causes of loss unless specifically excluded from the policy. Deductibles start at $0 for collector policies and we provide coverage for the market value of your collection for losses in excess of $50.

Additionally the protection extends At home and away, and we don't require collection itemization and serial number nor extensive paperwork and red tape.