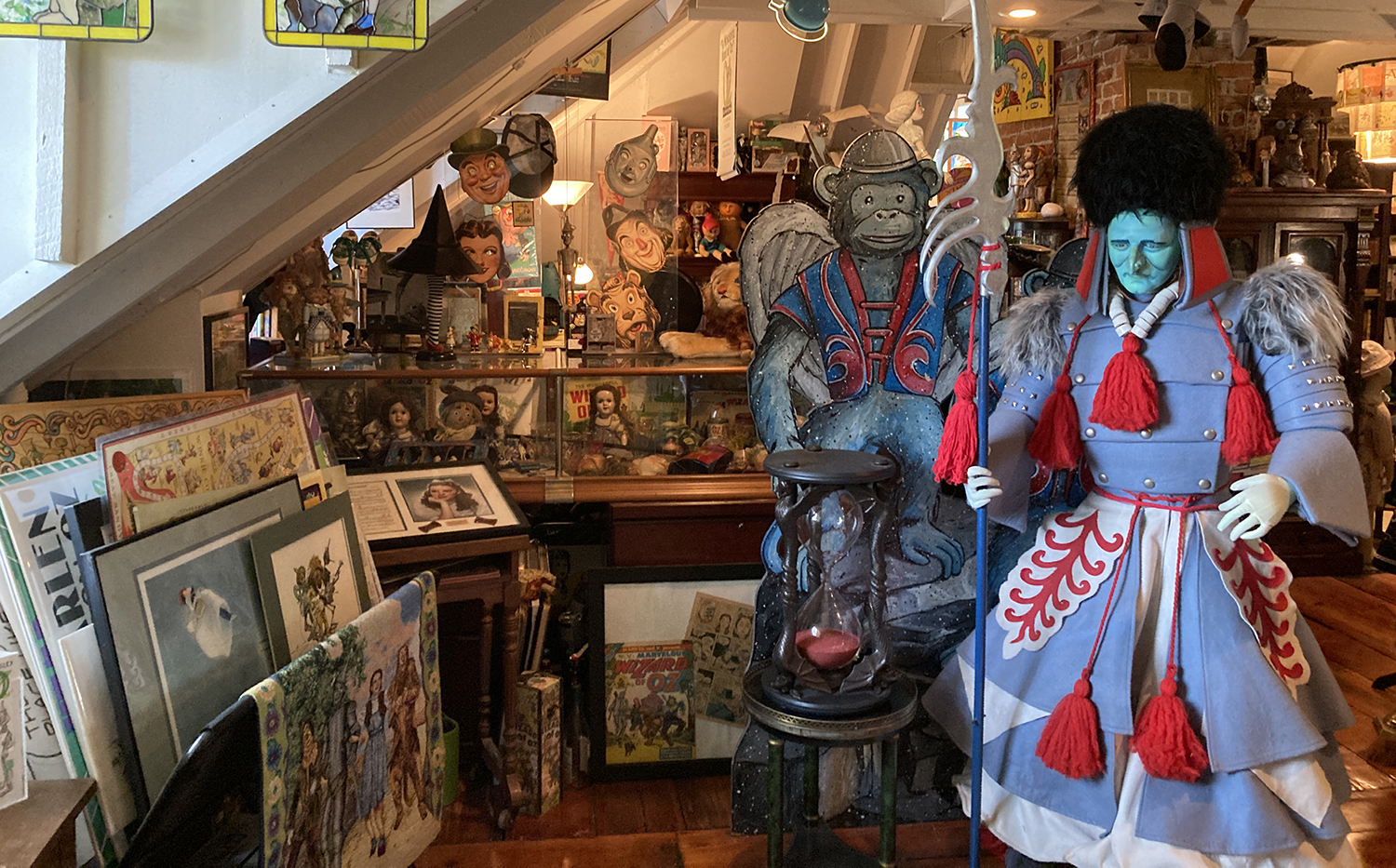 Collector's Third Floor is a Museum of Wizard of Oz Memorabilia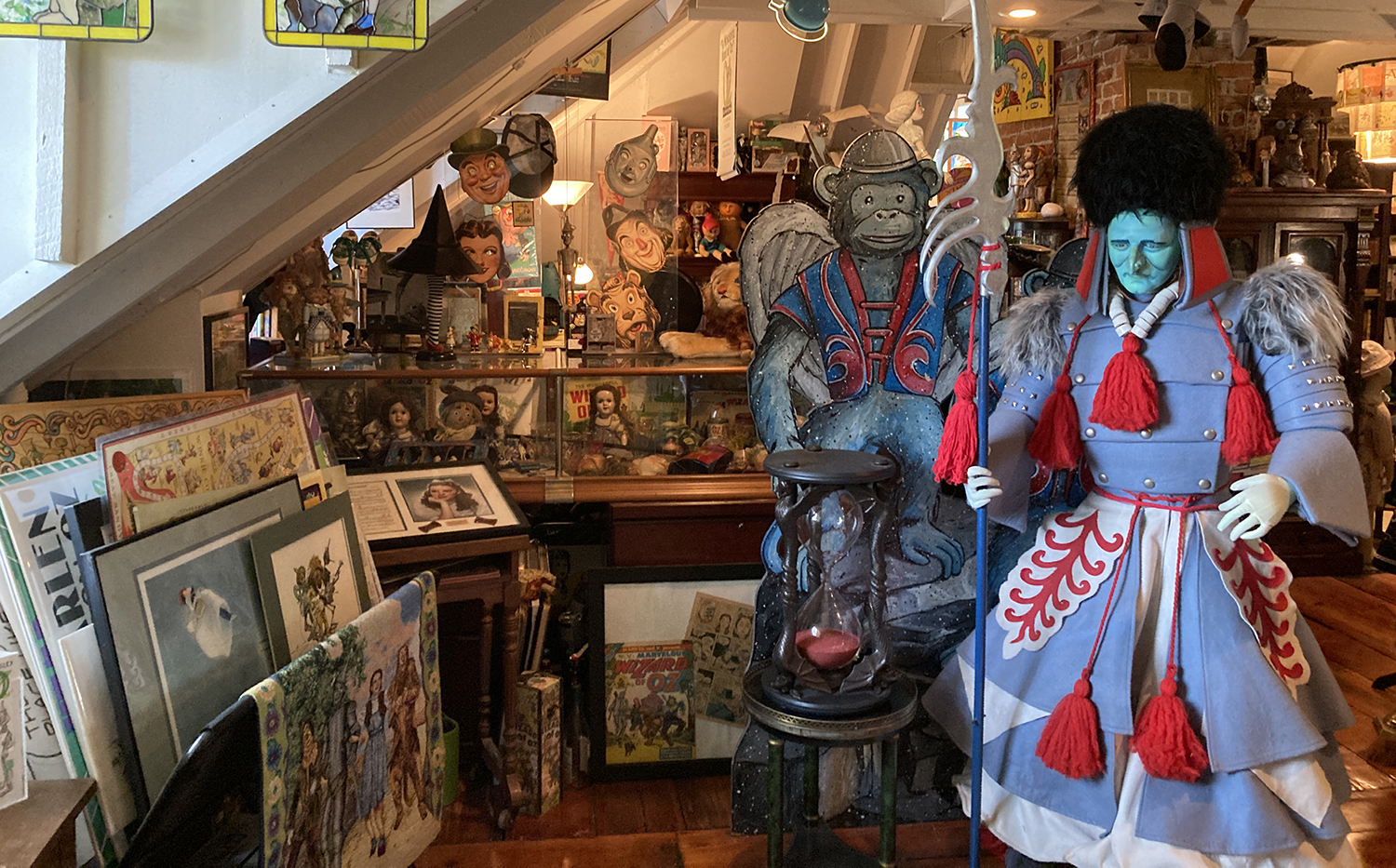 Collector's Third Floor is a Museum of Wizard of Oz Memorabilia
It all began when Jane Albright was a child. Her household had a shelf of twelve books from L. Frank Baum's Oz series. Jane was driven to read the entire series. By borrowing from neighbors, she was able to read 35 books and sought to gather all 40 titles from the collection. In order to meet other fans of the series, 13-year-old Jane became a member of the International Wizard of Oz Club in 1971. In college, her focus began to shift from a child reader to an adult collector when her collection won a book collecting contest at Kansas University in 1977. The prize included a year-long display on campus, which introduced her to the fun of sharing Oz with the public. But it was a fellow collector who really helped spark the collecting bug. "I met a friend who collected all of the Oz memorabilia. Seeing his collection of dolls and toys and autographs – that took my collection, [which was at first focused only on books], in a much broader direction. And now I love it all!"

Today, Jane is the owner of an exceptionally varied collection of Oz memorabilia. She has everything from rare books, to merchandise from the 1939 film, to original published art, international materials, and much, much more. The very first non-book item in the collection was actually a peanut butter pail! The pail bears the slogan, "Oz, the delicious peanut butter spread!" This pail was discovered at an antique show that Jane attended with her mother. The lid had been painted, and she ended up picking off the paint with a paring knife to discover the Oz design underneath. Jane also began to collect handmade Christmas ornaments. "I have an upside-down tree, shaped like a tornado, that's [decorated] with all of my Oz ornaments, nutcrackers, [and more]!"

While she has some incredible figurines, including some made by Goebel (the company that produces Hummel figurines), Jane prefers to collect things that were originally designed for people to use. This includes things such as books, toys, sheet music, record players, a 1921 Oz board game with characters made of pewter, and cookie jars. "It's a treat to find these things that have survived through the years," Jane shares. "I have an old doll of my favorite Oz characters, the Patchwork Girl, made from silk quilts. She's so old but such a beautiful doll that some mother made for her child long ago."
Another notable item is a life-size Winkie guard. Originally made for a 1989 Oz display at Macy's Herald Square, the Winkie was purchased at auction then rode across country in the passenger seat of a friend's car, Jane recalls with a laugh. Behind this Winkie guard stands a wooden cutout of three flying monkeys. A full-size replica of the MGM film's hourglass rests below his spear.

When asked about her favorite item, Jane can't narrow it down to one. "I have favorites in different categories." She treasures a book that L. Frank Baum printed and hand-bound in 1898. Of her international items, it might be the first Russian translation of The Wizard of Oz from 1939, or perhaps the set of dolls from the 1985 Disney film Return to Oz. The Ideal dolls are a stand-out item from the MGM film merchandise collection. Shares Jane, "A piece that's not precious to others may be [precious] to me because of the story behind it. Many favorites were gifts from dear friends."

Upon entering Jane's home, you would never recognize that she is an avid Oz collector. Her collection isn't on display until the third floor of her home, where it then takes up the entire level of the house. "A lot of people are understandably limited to a curio cabinet," Jane shares. "They are stopped in their tracks when they see [my collection]." The collection is loosely organized. When Jane first moved into her current space, everything had a place, but as her collection grows, she hasn't been able to stay true to her original vision of organization. "A lot of it starts to spill everywhere!" she shares. She does keep her rarest books together in one area, making it easier for her daughter to know where the most valuable items are. She's also taken an extra step to protect things from sunlight by putting UV filtering film over her third-floor windows.

Besides being displayed in her home, Jane's collection has been featured in countless exhibits in toy museums, doll museums, art museums, history museums, and libraries. Notably, this includes a Christmas room that she set up to be displayed at the Great Overland Station in Topeka, Kansas. She also regularly rotates themed displays through one case in the Oz Museum in Wamego, Kansas. The current theme is "Maps of Oz." Though many collectors don't enjoy the risks that come with exhibiting their prized possessions, Jane is always game for an opportunity to share her collection with others. "I am especially motivated to help the general public understand how big the Oz story is in American Pop culture," she says. "When I can do a big exhibit, I tend to jump at the chance."

Jane also serves as the president of the International Wizard of Oz Club – the same one that she joined at the age of 13. "The club was founded in 1957," shares Jane. "At the moment, we have about 700 members. Thanks to social media and Facebook, Oz fans can find one another online and are part of huge Facebook groups. Now that we can do things virtually, we have the opportunity to meet and interact with each other."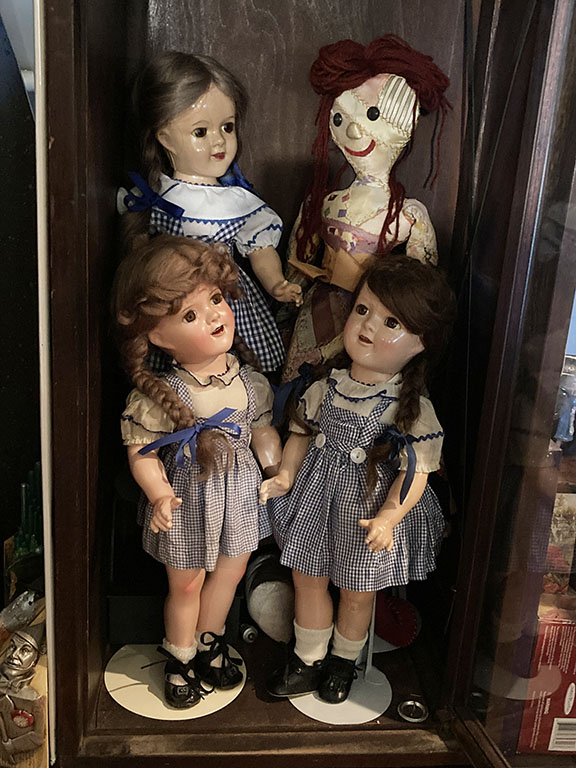 About Collectibles Insurance Services
Collectibles Insurance Services has been protecting collections since 1966 and all coverage is provided by a carrier with a group rating of "A" (Excellent) by AM Best, the leading rating agency for the insurance industry.

Comprehensive coverage includes, but is not limited to: accidental breakage, burglary, fire, flood, loss in the mail, theft, natural disasters, and other causes of loss unless specifically excluded from the policy. Deductibles start at $0 for collector policies and we provide coverage for the market value of your collection for losses in excess of $50.

Additionally the protection extends At home and away, and we don't require collection itemization and serial number nor extensive paperwork and red tape.