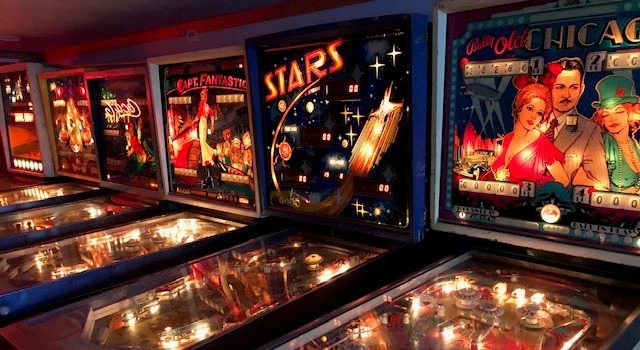 A Collector of Collections: Arcade Games, Coca Cola, Big Bird, and More!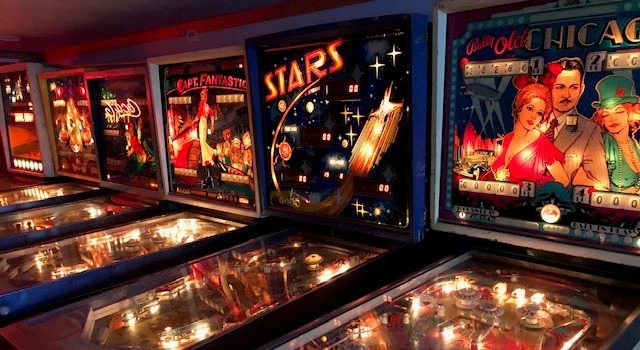 A Collector of Collections: Arcade Games, Coca Cola, Big Bird, and More!
Randy Feldman has always considered himself a collector. As a child he enjoyed accumulating items such as stamps and coins. While he definitely caught the bug early, it wasn't until a much later – when he moved out of his parents' house and got out on his own – that Randy truly started to collect. His increased financial resources meant that he was able to begin making more purchases for his many collections.
So what does Randy collect? He and his wife have an extensive assortment of Coca Cola items, which began with the purchase of a small sign and has grown into a home full of Coca Cola trays. He also collects Nascar, pinball machines, jukeboxes, gumball machines, M&M point-of-purchase displays, signage from Palisades amusement park, and recently, he began collecting vintage stereo systems. His daughter also has a Pez collection.
"I have one piece that I'm extremely proud of," says Randy. It's a signed picture of Big Bird and Oscar the Grouch that was done by Caroll Spinney, the puppeteer behind the Big Bird. He wore the costume and voiced the character. Randy acquired this piece during a public workshop in 2009 where the cast of Sesame Street shared stories and answered questions about their experience. "It was a dynamite evening," says Randy. "My major was Radio and Television, so it was perfect. That is one of my top three pieces."
Another treasured portion of the collection are Randy's advertising signs from Palisades Amusement Park. In 1973, this New Jersey park was torn down to build an apartment complex. The signs were designed to be used on a trolley and displayed as ads within the park. Randy and his wife have about a half a dozen of these framed pieces in on display in their living room.
Overall, Randy estimates that there are at least 3,000 items between him, his wife, and his daughter. This collection is curated, and about 95% of it is on display throughout his home. "If we can't display it," Randy shares, "we won't buy it." The house is essentially a mini museum, filled with everything that he's gathered over the years.
One of the largest items on display is a 5-foot tall blue M&M named Clyde. It's displayed in the corner of the living room next to the entertainment center. When people see it for the first time, they typically ask where it came from. "I bought it on eBay," says Randy. He worked out with the seller that they would meet at the Molly Pitcher Rest Stop on the NJ Turnpike. The seller pulled up in his pickup truck and Randy pulled up in his station wagon. They had to physically transfer this giant blue M&M from truck to car and, "Not one person gave us a second look!" The M&M is named Clyde after Clyde Frazier of the Knicks basketball team.
Randy mentions that while he often makes purchases for his collection on eBay, it's important to know exactly what you're buying. He also points out that eBay has brought down the cost of collecting, thus decreasing the resale value of some pieces. The reason for this is because it has made so many collectibles more accessible. If you're on the hunt for a particular item, it's easy to just look it up on eBay – no need for an extensive hunt through antique stores. Another online tool that he finds helpful is Facebook, which is his resource for finding other collectors. "I'm able to talk to people on Facebook that still collect what I collect," says Randy.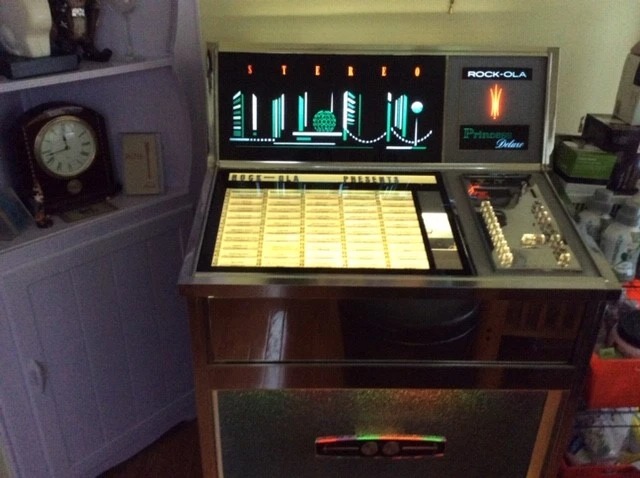 About Collectibles Insurance Services
Collectibles Insurance Services has been protecting collections since 1966 and all coverage is provided by a carrier with a group rating of "A" (Excellent) by AM Best, the leading rating agency for the insurance industry.

Comprehensive coverage includes, but is not limited to: accidental breakage, burglary, fire, flood, loss in the mail, theft, natural disasters, and other causes of loss unless specifically excluded from the policy. Deductibles start at $0 for collector policies and we provide coverage for the market value of your collection for losses in excess of $50.

Additionally the protection extends At home and away, and we don't require collection itemization and serial number nor extensive paperwork and red tape.