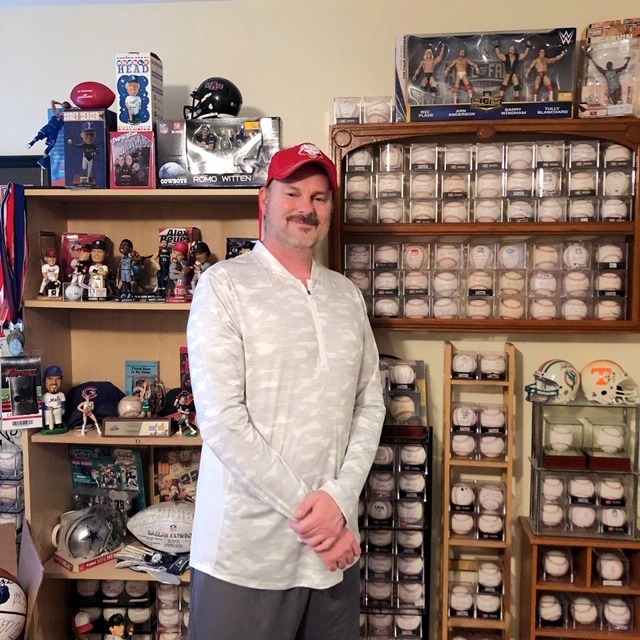 For Sports Memorabilia Collector, Life Consists of "Family, Work, and Sports"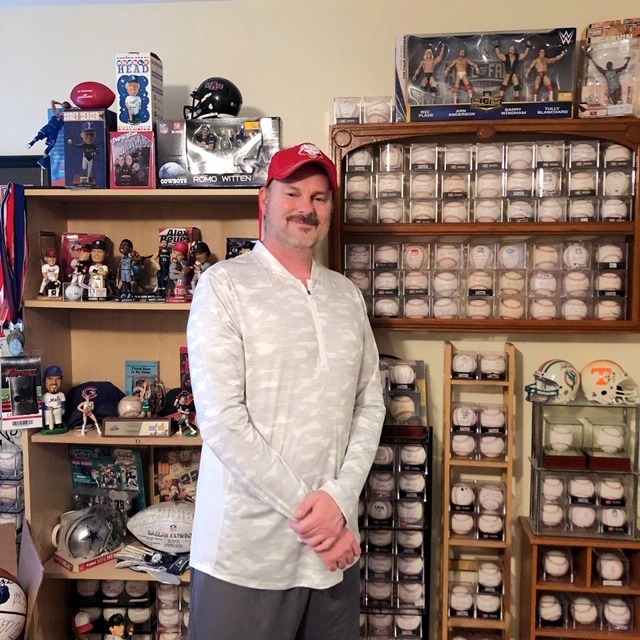 For Sports Memorabilia Collector, Life Consists of "Family, Work, and Sports"
Rodney Hannah is the proud owner of a "massive" collection of sports memorabilia. This includes autographed baseballs, baseball cards, and autographed photos and jerseys. With sports being his only hobby, Rodney's life consists of "family, work, and sports."
"I started collecting baseball cards at age six," he shares. "I can remember buying my first pack in 1973, and I just kind of got hooked." A sports fanatic from his childhood, he collected cards until about 1989, and then he stopped for a while, mainly due the realization that everything was mass-produced. "Thankfully, I didn't sell everything – I just put it away in boxes." About ten years ago he caught the bug again, and now his collection has grown to include approximately 100,000 baseball cards, 400-450 baseballs, 30-40 jerseys, and around 50-100 signed photographs.
Rodney and his 13-year-old son love to attend NBA games and baseball games, where they get in-person autographs. Both father and son enjoy the hobby together. Rodney says that he knew from an early age that he loved collecting. "I never threw anything away – I saved ticket stubs to Cardinals games and any autographs I got." His favorite item in his collection is a Mickey Mantle signed baseball, which he got autographed in person.
The most valuable piece is a poster autographed by Michael Jordan. This is a literacy poster that was posted in libraries in the late 1980s. "There are very few in existence," says Rodney. "I've only seen 4 or 5 others that are signed and authenticated." Other notable items in the collection include a jersey signed by Bill Russell of the Boston Celtics, a Larry Bird autographed jersey, a baseball signed by Ted Williams, and a collection of Hall-of-Famer signed baseballs.
About 90% of Rodney's collection is displayed at his home in a special room. The remaining 10% is displayed in his office. The cards are organized by year, and the Hall-of-Famer baseballs are grouped together, but everything else is displayed in no particular order. For insurance purposes, he photographs every new purchase that he makes. In fact, he has an entire Facebook page dedicated to his cards and memorabilia so that he can keep a record of everything.
About Collectibles Insurance Services
Collectibles Insurance Services has been protecting collections since 1966 and all coverage is provided by a carrier with a group rating of "A" (Excellent) by AM Best, the leading rating agency for the insurance industry.

Comprehensive coverage includes, but is not limited to: accidental breakage, burglary, fire, flood, loss in the mail, theft, natural disasters, and other causes of loss unless specifically excluded from the policy. Deductibles start at $0 for collector policies and we provide coverage for the market value of your collection for losses in excess of $50.

Additionally the protection extends At home and away, and we don't require collection itemization and serial number nor extensive paperwork and red tape.