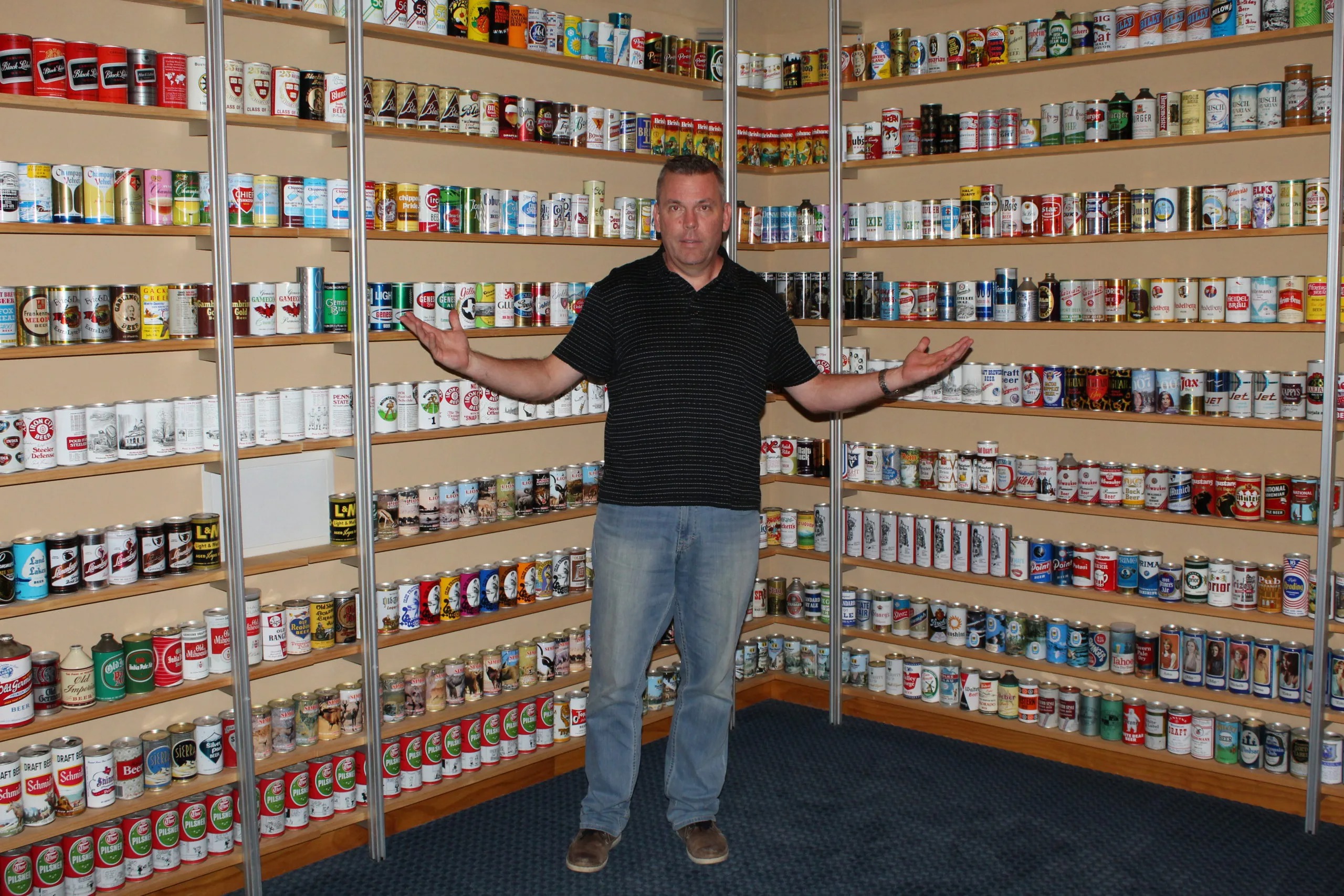 Can't Contain This Collector's Passion in Just One (Beer) Can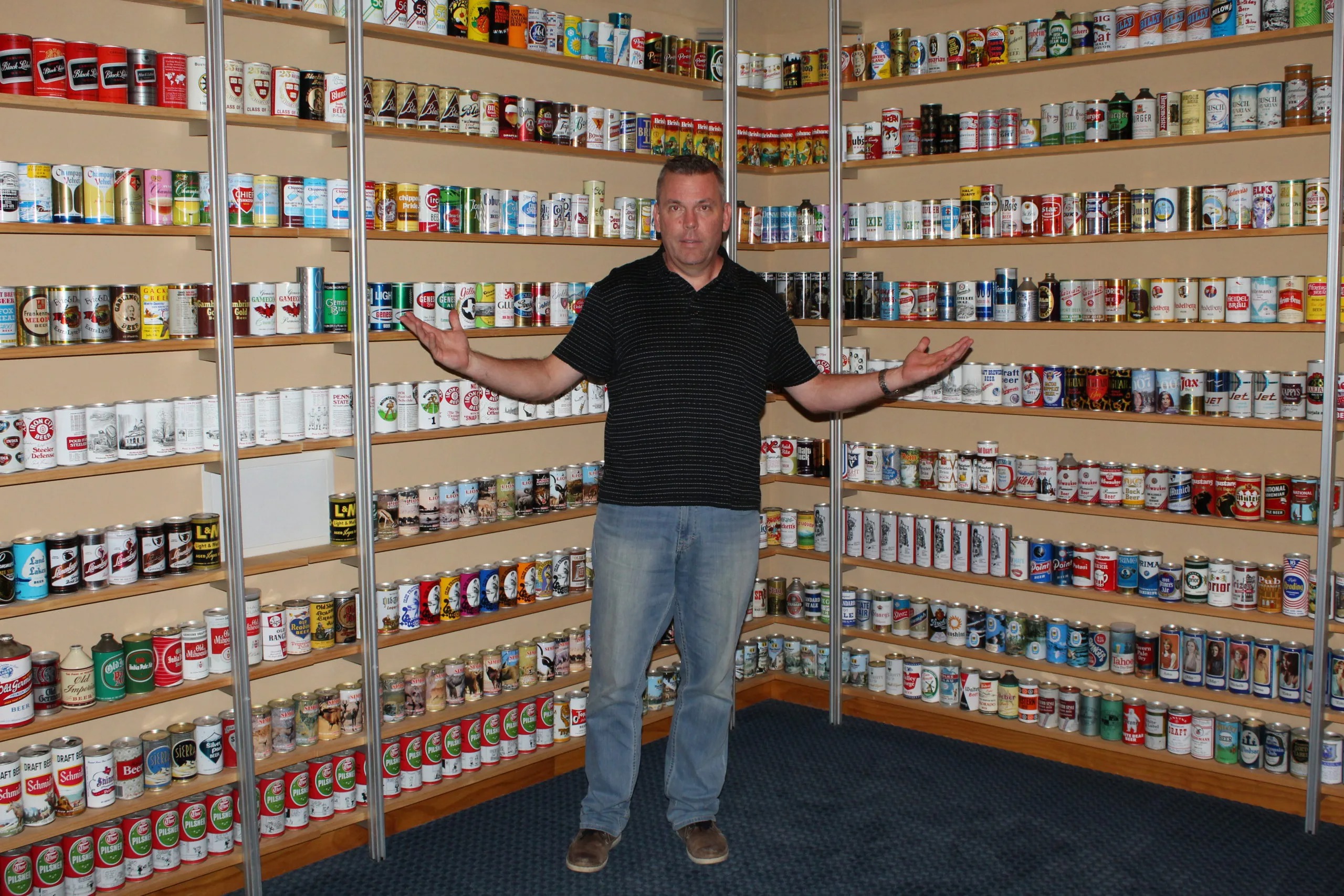 Can't Contain This Collector's Passion in Just One (Beer) Can
Ever since he was just a boy, Jason Haupt has been collecting beer cans. Though he grew up in South Florida, his parents are originally from England. His father was an airline employee, which meant annual trips to the "homeland" to visit friends and family. Jason remembers an informal rule of drinking in England—if you stood taller than the bar, you could order a drink. He grew taller than that bar at age 12 and became mesmerized by the graphics on the different beer cans. His collection had begun.
Jason's collection represents not only his childhood but a connection to his familial roots in England. He began transporting the cans home from England—one or two, then three or four, then 12 at a time – increasing his collection quickly over the years.
Jason quickly realized that he needed to preserve the top of the beer can. His dad and his friends would play soccer, and Jason would drain the beer from the cans for them using an old-fashioned can opener Jason would get to keep the cans.
Back in Florida, Jason and his dad would go to flea markets. Dad would look for tools, and Jason would look for beer cans. His collection began to balance more between foreign and domestic cans.
In 1992, after college, Jason had been living in North Carolina. A Category 5 hurricane, Hurricane Andrew, scored a direct hit on Jason's parents' home. His parents sought refuge from the storm in Jason's bedroom, the center of the house. The storm destroyed half of the cinderblock home, but not Jason's room, nor his collection. In fact, not one can rattled off the shelf. Jason had two immediate questions after the storm passed by: "Are you guys okay?" and "How's my collection?" Soon after Hurricane Andrew, Jason discovered Collectibles Insurance Services. He has been a customer ever since.
Jason's favorite can in his collection is a Playmate can from the Sunshine Brewing Company in Reading, Pennsylvania. Sunshine's Playmate beer was quickly accused of trademark violation by Playboy, and the brewing company had to cease production. Jason acquired one of the two variants of the Playmate can, which offered a unique zip top-pull tab. It is in pristine condition and is valued at around $1,500.
His total collection numbers about 775 cans and is valued at $45,000. His renovated attic – his "man cave"—is where he displays the cans alphabetically.
Some of his most unique cans include: a Prince Charles and Lady Diana wedding beer can; James Bond 007 cans (worth between $700-$1,000 each); a Pikes Peak flat top can (his most valuable, worth $2,000); a Burger sparkling ale; and Old India pale ale cone tops.
Jason now looks for cans graded A1+ or better. Also, he acquires cans that maintain the top in place for better valuation. He refers to two main publications to determine his beer can's value: Beer Cans Unlimited (formerly the Beer Can Collector's Bible) and the United States Beer Can Books.
Jason took a brief hiatus from collecting after college but rediscovered his passion in the mid-to-late 2000s. He is selling many of his foreign cans to focus on his domestic collection.
When he was 14 or 15 years old his collection peaked at a whopping 10,000 cans. The Miami Herald even wrote an article about him, as he had the largest collection in South Florida.
One thing is for sure. Jason's knack for finding new additions to his beer can collection is, well, uncanny.
About Collectibles Insurance Services
Collectibles Insurance Services has been protecting collections since 1966 and all coverage is provided by a carrier with a group rating of "A" (Excellent) by AM Best, the leading rating agency for the insurance industry.

Comprehensive coverage includes, but is not limited to: accidental breakage, burglary, fire, flood, loss in the mail, theft, natural disasters, and other causes of loss unless specifically excluded from the policy. Deductibles start at $0 for collector policies and we provide coverage for the market value of your collection for losses in excess of $50.

Additionally the protection extends At home and away, and we don't require collection itemization and serial number nor extensive paperwork and red tape.