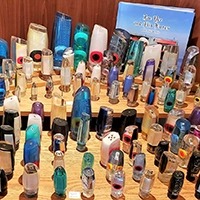 The Lure of Fishing Leads to Collection of Fishing Lures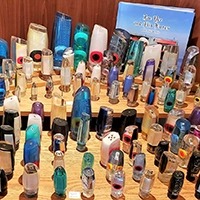 The Lure of Fishing Leads to Collection of Fishing Lures
Dan Magers loves to fish and, like many fresh and salt water enthusiasts, he uses lures to catch his prey. A quarter century ago, Dan became as fascinated with the lures he used as with the sport of musky fishing. After inheriting a case of lures from his grandfather, he started a collection of his own. As an Idaho, then a Montana resident, he began with old freshwater musky lures. Later he advanced his collection to include saltwater lures used by tuna and marlin fishing fans.
After paying what he calls "stupid money" for an old musky lure ($6,000 for a new in-the-box handmade lure from 1908), Dan realized he was a "collector." As such, he became an admirer of Joe Yee, the renowned Hawaiian lure crafter. Yee started making lures in the 1950s and crafted them his own way with the materials that were available in the Hawaiian Islands including surfboard resin, tire weights and shell. The fish heads that he hand carved, hand painted and then encased in resin are Dan's favorites. So expert is Dan on the Hawaiian lure craftsman that he wrote a limited-edition book, "Joe Yee and His Lures," which was published in 2015.
The most valuable items in his collection are the lures signed by Yee before being cast, then the fish heads, and then the real shell lures from Thailand, Indonesia, the Philippines, and Hawaii. These are made by extracting the glassy part of the inside of oyster shells or pearls and then pouring the pieces of shell into the lures. Dan owns about 150 such lures.
His collection traces the advance in lure technology from those made in the 1930s and 1940s for rowboats to the high-tech lures now used on high speed motorboats for deep sea fishing. Dan says he paid $40 to $50 for most of his pieces. "They are now worth 10 times that. The total value of my collection is about $125,000," he says.
He keeps his cataloged, labeled and numbered lure collection at home and organizes them by size for display purposes. Dan points out that making one-at-a time handcrafted lures takes a great deal of time. "It takes four to six hours to make a single lure, which is a tricky process. As a result, true lure craftsmen are becoming scarce," Dan laments. "Handmade lures still fish better, but few people fish blue water enough to know that, or to pay the premium they cost over mass produced foreign imports," Dan explains.
Dan also has a company, BFD Big Game Lures, which makes handmade lures. Profit is not Dan's objective; he does it because he loves the hobby and the evolution of the lure making business.
About Collectibles Insurance Services
Collectibles Insurance Services has been protecting collections since 1966 and all coverage is provided by a carrier with a group rating of "A" (Excellent) by AM Best, the leading rating agency for the insurance industry.

Comprehensive coverage includes, but is not limited to: accidental breakage, burglary, fire, flood, loss in the mail, theft, natural disasters, and other causes of loss unless specifically excluded from the policy. Deductibles start at $0 for collector policies and we provide coverage for the market value of your collection for losses in excess of $50.

Additionally the protection extends At home and away, and we don't require collection itemization and serial number nor extensive paperwork and red tape.