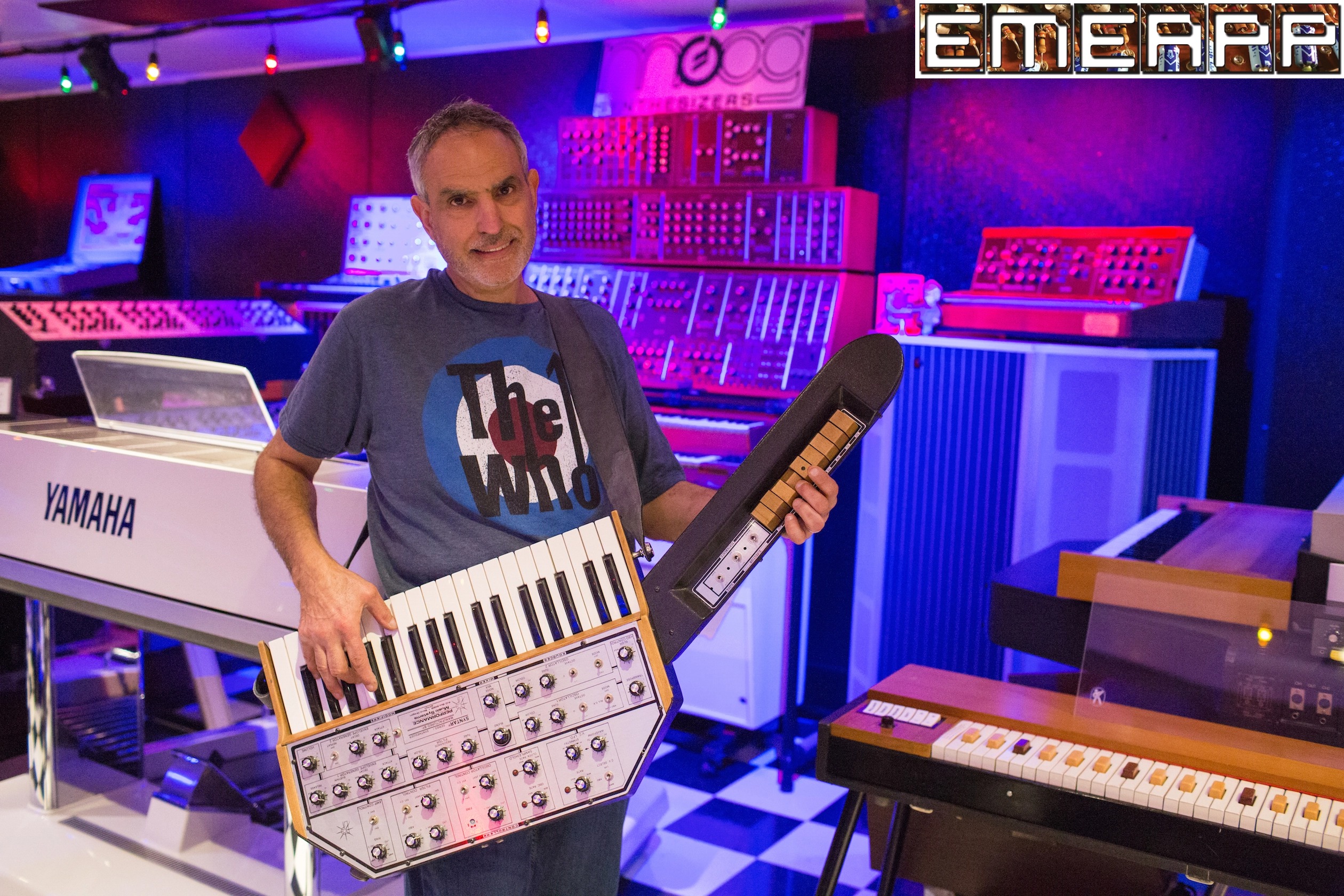 From One Minimoog Synthesizer to My Collection of Instruments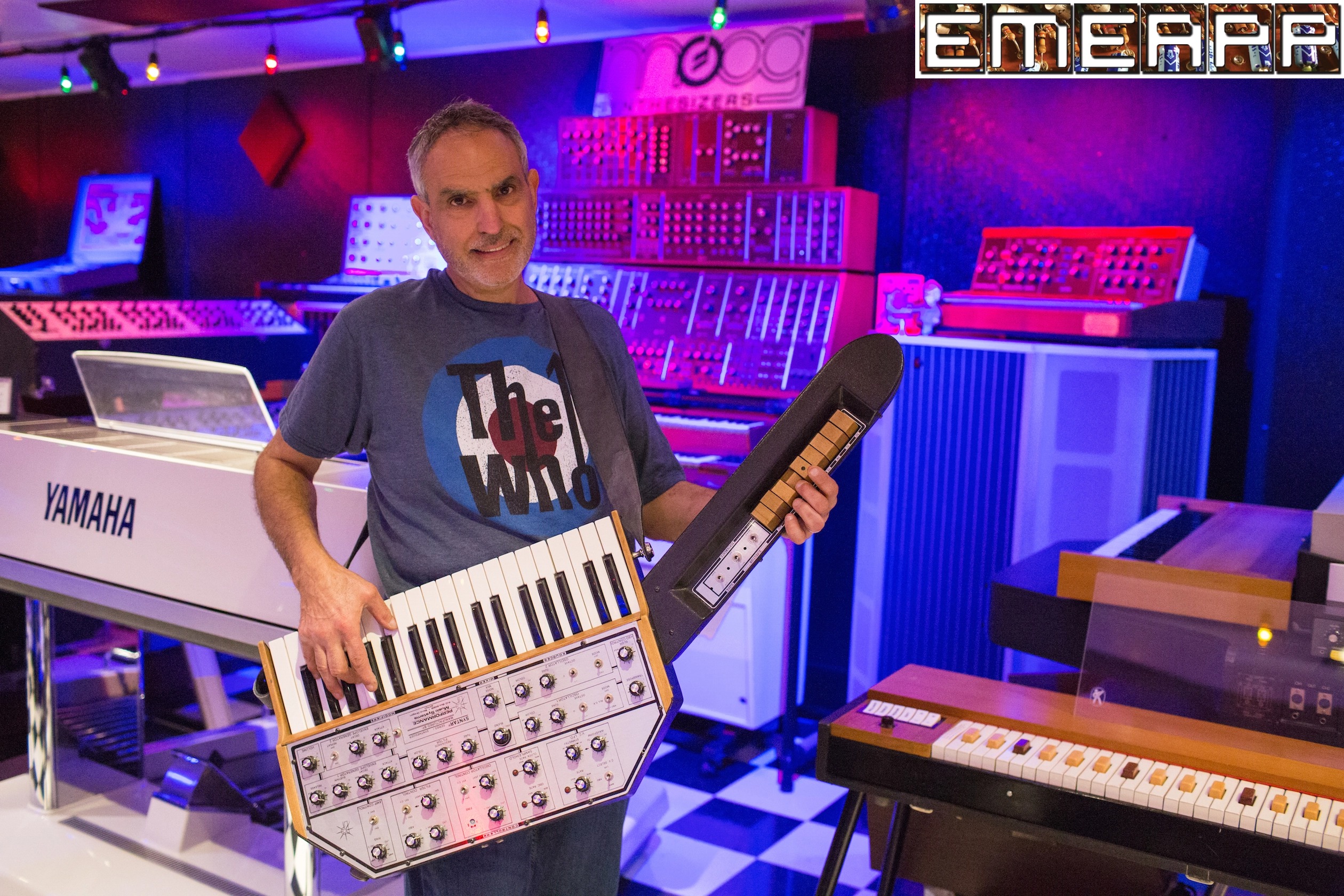 From One Minimoog Synthesizer to My Collection of Instruments
Vince Pupillo has always had an interest in electronic musical instruments, but it wasn't until 2005 that his collection started to flourish. "I owned and played a Moog Minimoog Synthesizer back in the 1970s, but that instrument had to be sold at one point to pay for college," Vince recalls. "I purchased another vintage Minimoog in 2005 though, and then began acquiring additional instruments after that." Vince's collection, some of which is now on exhibit at the Metropolitan Museum of Art, has items dating back to the early 1900s, with the 1929 RCA Theremin being his earliest item to date.
Yet Vince didn't consider himself a collector until seven years later, when he purchased the vintage synthesizer Yamaha GX-1. Vince points out, "That was a big deal, and the collection had already begun to resemble a real collection by that point."
Vince's collection now includes an array of vintage electronic musical instruments, including electric pianos, synthesizers, vintage theremins, effect pedals and processors, organs, mixers, PA systems, guitars, guitar amplifier systems, electronic percussion instruments, CDs, record albums, laser discs, paraphernalia associated with electronic music, as well as other electromechanical instruments. The collection also includes the earliest prototypes of the Minimoog Synthesizer, which Vince considers "the granddaddy" of all portable synthesizers.
Many of the items have famous artist origins, with amplifier systems once used by The Who, Pink Floyd, Frank Zappa, Yes, and many others. His synthesizers were also utilized by famous musicians including Queen, Jack Bruce, ELP, and Genesis.
Within Vince's vast collection, you can find subcollections of many important instruments through time. Included in these subcollections are some of the earliest Fender Rhodes pianos that Harold Burroughs Rhodes manufactured to teach veterans how to play music during World War II. Vince's collection spans to latter day versions of the Fender Rhodes, which include digital electronic (MIDI) capability and were built for Chick Corea.
When asked what Vince's favorite piece in the collection was, he responded without hesitation — the Keith Emerson Modular Moog, which is presently on loan with two other Emerson keyboards to the Metropolitan Museum of Art. "This is arguably the world's most famous and iconic electronic music synthesizer because of its towering appearance, its incredibly compelling sound, and also due to the way Keith Emerson used it, both musically and as a stage prop," Vince explains. "On top of that, the music of Emerson, Lake, and Palmer, and of Keith Emerson in general, is a deep favorite of ours. I have loved his music from the beginning so to have his synthesizer in the collection is beyond special for us. It's an honor and dream come true."
The Keith Emerson Modular Moog is also the most valuable piece in Vince's collection, with several thousand items ranging from small pieces that can easily be held in the palm of your hand to large items that require a forklift.
Vince's pieces vary in value, ranging from two to seven figures per item. The entire collection is worth several million. And yet, Vince still thought something was missing. Vince wanted to preserve the legacy of electronic music and share it with the world, ultimately hoping to make a difference in people's lives.
That's why in early 2018, Vince founded the Electronic Music Education and Preservation Project (EMEAPP), a 501(c)(3) nonprofit that provides education about, access to, and research on electronic music. Vince continues to curate the collection at EMEAPP to this day.
To learn more about Vince's collection or take a virtual tour, click here.
About Collectibles Insurance Services
Collectibles Insurance Services has been protecting collections since 1966 and all coverage is provided by a carrier with a group rating of "A" (Excellent) by AM Best, the leading rating agency for the insurance industry.

Comprehensive coverage includes, but is not limited to: accidental breakage, burglary, fire, flood, loss in the mail, theft, natural disasters, and other causes of loss unless specifically excluded from the policy. Deductibles start at $0 for collector policies and we provide coverage for the market value of your collection for losses in excess of $50.

Additionally the protection extends At home and away, and we don't require collection itemization and serial number nor extensive paperwork and red tape.