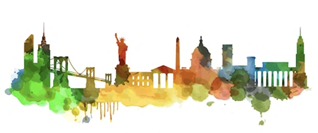 Top Summer Art Exhibits Around the U.S.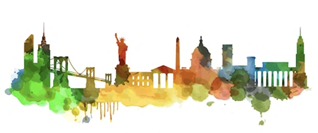 Top Summer Art Exhibits Around the U.S.
Around the nation—literally from San Francisco to Washington, D.C.—the summertime presents a prime opportunity for you to head out to your city's most respected collections of art and view exhibits that represent the pinnacle of mankind's ability for visual expression. This year is no exception, so we've rounded up a few of 2019's hottest upcoming exhibitions below for you to check out.
Basquiat's Defacement: The Untold Story at the Guggenheim in New York City
Jean-Michel Basquiat was an American-born painter of Haitian and Puerto Rican descent, whose mixed identity and passionate activism created the focal point for much of his art.
He died at the young age of 27 from a heroin overdose, but during his short-lived career, Basquiat was able to document the myriad social currents of the 1980s. The Guggenheim features these works through November 6.
The Life of Animals in Japanese Art at the National Gallery of Art in Washington, D.C.
The National Gallery of Art is no stranger to showcasing fantastic works from other cultures. Their upcoming exhibit of both real and mythological Japanese creatures, taking place until August 18, will feature roughly 315 works across multiple media.
The selection spans from the sixth century to the present day, and includes seven works that have been deemed "Important Cultural Property" by the Japanese government. Among the artists featured are Katsushika Hokusai, Utagawa Kuniyoshi, and Kusama Yayoi—whose Infinity Nets paintings have sold for upwards of $7 million.
"#WhatIsUtopia" at the Denver Art Museum
Denver-based painter Jonathan Saiz has taken a unique approach to his art, in the hopes of "democratizing" it. To this end, he's created 10,000 tiny drawings for his Denver Art Museum exhibit, which will be taking place through November 17. In addition to creating a strong social media conversation about his art (another part of that democratization process), Saiz intends to give away each of the drawings to collectors once the exhibit is finished. It's a unique approach that levels the playing field for newer collectors who may not have the capital to invest thousands of dollars for their first piece of art.
Fragments of a Crucifixion at the Museum of Contemporary Art in Chicago
Using the crucifixion of Christ as a symbolic focal point, this MCA Chicago exhibit, which takes place until November 3, explores the idea of spirituality in art. It touches on weighty emotions like agony and loss, but also shows how art can inspire and encourage love through the works of artists like Kerry James, Jenny Holzer, and Ana Mendieta — whose "Siluetas" often touched on emotional subject matter and whose tragic death in 1985 is still a matter of great controversy.
The Frank Stella Collection at the Los Angeles County Museum of Art
Frank Stella has been a driving force in abstract expressionist art for decades, blending sculpture and painting to create an impressive array of modern art and helping mold movements like minimalism into their current, well-respected form. The Los Angeles County Museum of Art has a great number of his works in its permanent collection (some of which haven't been in public view for more than 30 years) and will be displaying these groundbreaking pieces through September 15.
20th Century New Mexican Sculpture at the New Mexico Museum in Santa Fe
Instead of viewing art merely on walls, here you will find art in three dimensions. The museum is showcasing carved and cast sculpture in a range of media, genres and styles through July 28. New Mexico is justifiably proud of its artists and you can discover why—and learn how they have influenced the wider world of art—by viewing this three-dimensional exhibit in beautiful downtown Santa Fe.
African American Museum in Philadelphia Features Exciting History and Fascinating Art
This unique institution is the first built by a major U.S. city to exhibit and interpret the life and work of African Americans. There are four impressive exhibition galleries filled with a variety of art. Through September 9, a mixture of new and previous work of Sonya Clark will be featured. Clark's body of work is re-telling. While calling back redacted history, she uses music, light—and even hair—to view the past and present while providing clues to the future.
The Art of Protection
Hopefully, you'll have a chance to visit one of these famed institutions to view one of these stunning summer exhibits. Displays such as these are what a collector dreams of, so before you head out, be sure to read up on how Collectibles Insurance Services helps provide protection for artwork and other valuable collections in case you're in the mood to add to your own.
Sources
https://www.guggenheim.org/press-release/schedule-of-exhibitions-through-2020 https://www.nga.gov/exhibitions/2019/life-of-animals-in-japanese-art.html https://denverartmuseum.org/exhibitions/eyes-jonathan-saiz https://www.mcachicago.org/exhibitions/2019/fragments-of-a-crucifixion
https://www.lacma.org/art/exhibition/frank-stella-selections-permanent-collection http://sam.nmartmuseum.org/collections
https://www.aampmuseum.org
About Collectibles Insurance Services
Collectibles Insurance Services has been protecting collections since 1966 and all coverage is provided by a carrier with a group rating of "A" (Excellent) by AM Best, the leading rating agency for the insurance industry.

Comprehensive coverage includes, but is not limited to: accidental breakage, burglary, fire, flood, loss in the mail, theft, natural disasters, and other causes of loss unless specifically excluded from the policy. Deductibles start at $0 for collector policies and we provide coverage for the market value of your collection for losses in excess of $50.

Additionally the protection extends At home and away, and we don't require collection itemization and serial number nor extensive paperwork and red tape.