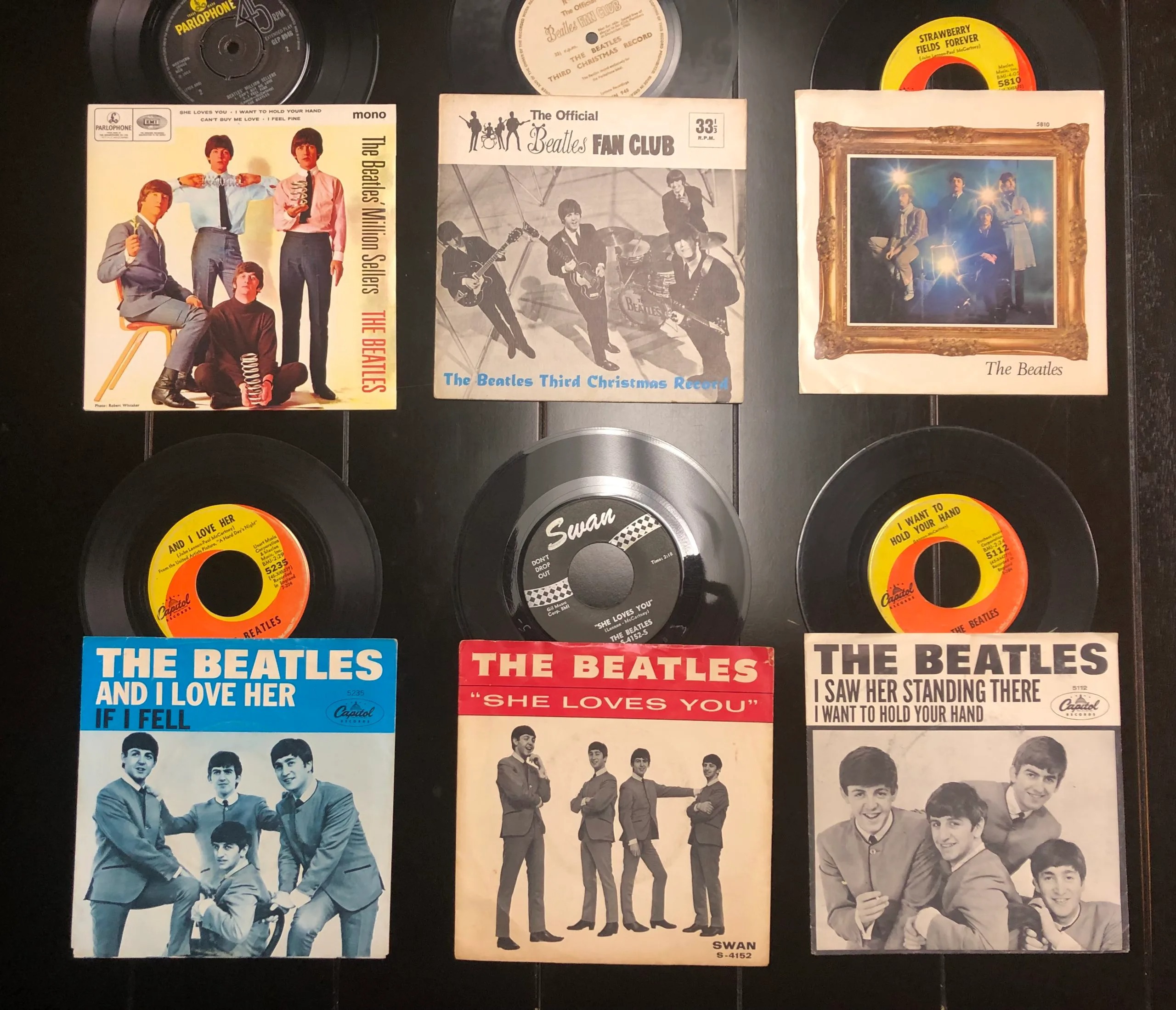 Teenage Beatles Fan Grows into a Life-Long Beatles Collector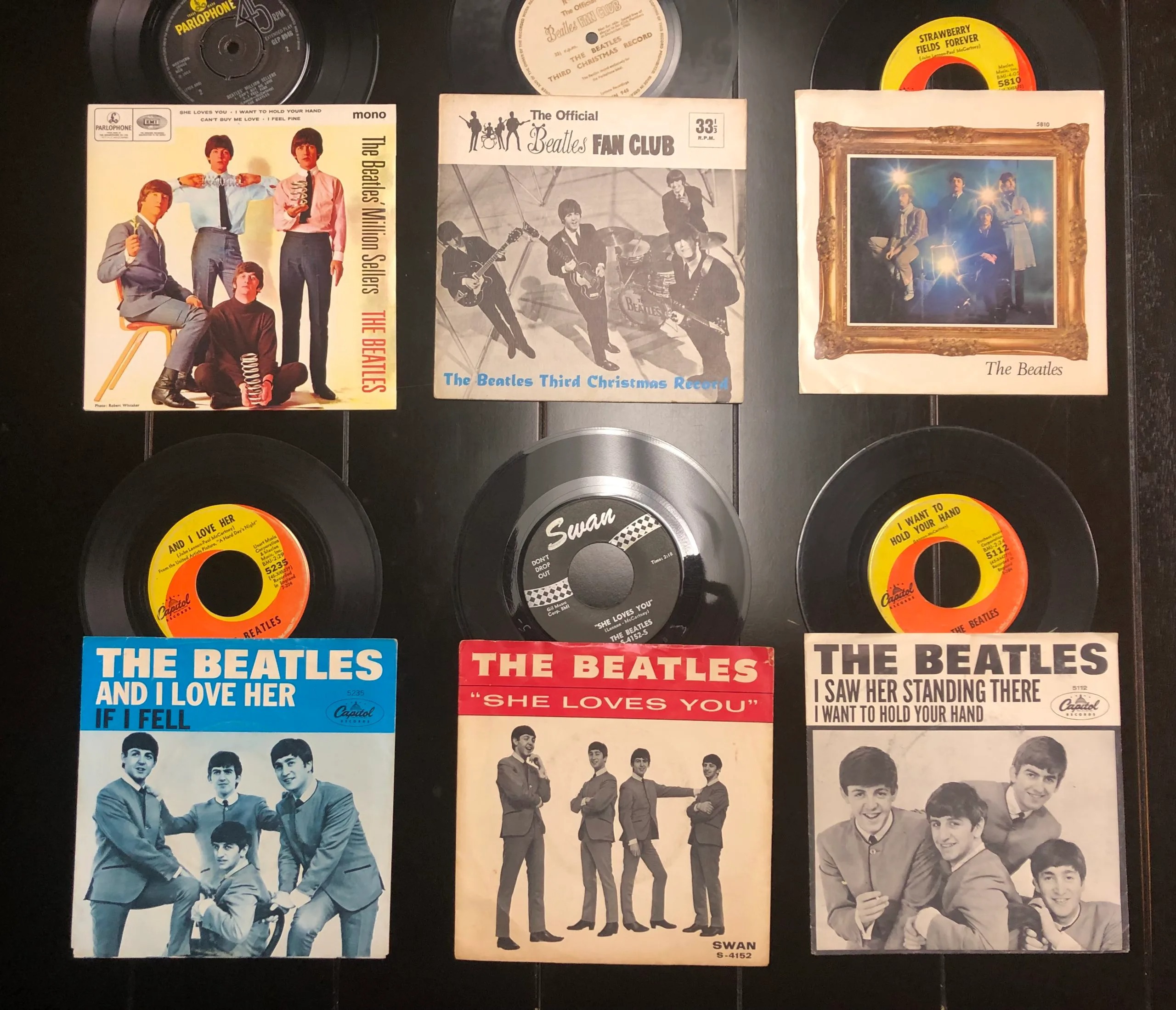 Teenage Beatles Fan Grows into a Life-Long Beatles Collector
When does a Beatles fan grow into a Beatles collector? Mark Lackey, who is retired from the military and is now a meteorologist residing in western North Carolina, had to give that question some serious thought. "I think my first Beatles (related) record purchased was the Capitol 45 RPM single, Listen to What the Man Said, in 1975. I paid $1 for it. I was a 12-year old die-hard fan of Casey Kasem's American Top 40 radio show and I loved Paul McCartney & Wings. By the following year, I purchased my first Beatles album, The Beatles 1967-1970. It was a double LP and therefore a big purchase for me," Mark explains.
To make that purchase (it turned out to be an investment), Mark had to save up his allowance for several weeks. At this point, he said he was a kid mainly interested in the musical acts of the current mid-seventies era, but he knew and liked several of the more popular later Beatles recordings. "My deeper interest in The Beatles was still a few years away," he said. "I remember for Christmas, an aunt got me the Ringo's Rotogravure album, which had the Top 40 hit, A Dose of Rock 'N' Roll on it, and I started to note that anything I'd heard with one or more of the Fab Four on it was something I enjoyed listening to."
But he still wasn't a collector. Mark obtained a copy of the soundtrack from the Sgt. Pepper's Lonely Hearts Club Band movie in 1978. "I recognized a few of those songs from my copy of The Beatles 1967-1970 and then one day, I figured out that ALL of the songs on that double soundtrack album were Beatles songs. I slowly got drawn in to not only the music of The Beatles, but all of this legend, lore, and pop culture that still surrounded them nearly a decade after they had broken up. I went to the library and checked out the Hunter Davies biography, The Beatles. I had been 'sucked in' at that point," Mark says.
"When I turned 16 in May of 1979, I got a job at a grocery store making $2.90/hr. I started saving to buy a car but that was slightly delayed because I also started buying up all The Beatles albums I could find. So it was about this time that I first considered myself somewhat of a collector—not a 'serious' collector—but someone with a more than average interest in getting ALL of The Beatles music available," he emphasizes.
"In early 1980, at the age of 16, I made my first 'expensive' Beatles purchase. It was a box set of all the stereo British albums called collectively, The Beatles Collection. I remember being crushed later in the year when my mother came into my bedroom to announce she had just heard on the news that John Lennon had been killed."
The first time Mark ever paid what he considered an "exorbitant amount of money for a single record" was in 1986. It was an original first pressing of John and Yoko's Two Virgins LP. He paid $65 for it (even though the original price tag sticker on it said $1.98).
During the eighties, Mark started getting serious about "filling the cracks" in his Beatles collection. "By the nineties, I decided to complete my collection of all of the 'post-Beatle' Beatles stuff because the talent didn't just end in 1970, right? So I starting acquiring all of the John Lennon, Paul McCartney, George Harrison, and Ringo Starr material. Getting 'everything' by Paul proved very difficult because so many things were limited releases."
An inventory of Mark's complete collection is available at mybeatlescollection.com. Currently, his holdings (including bootlegs and official recordings) include: 1036 CD titles, 623 vinyl, 209 video disk titles, and 11,561 individual tracks. Mark points outs, "These are just the latest numbers. I am constantly adding to the collection."
Of course, any conversation about The Beatles eventually gets to the controversial "Butcher" cover LP (Yesterday…And Today). The cover features the group holding doll heads and raw meat. At the time, many considered this a Beatles protest against the Vietnam War.
Mark explains, "The Butcher covers (the first pressings of the Yesterday…And Today LP) are classified as first state (most valuable – alternate trunk cover was never pasted on to jacket), second state (alternate trunk cover is pasted over butcher cover, but under a bright light butcher cover is detectable underneath), or third state (trunk cover has been professionally removed from second state). I have four Butcher cover LPs."
The Yesterday… And Today (Butcher Cover LPs) are among the more valuable and interesting pieces in his collection—but not the most valuable. Other examples of valuable pieces in Mark's collection include Decca 45: My Bonnie/The Saints by Tony Sheridan & The Beat Brothers (aka The Beatles) (Decca 31382 stock copy), which is very rare and was worth $30,000 in 2013; and Vee Jay LP: Introducing The Beatles (mono "Ad Back" version), worth $8,000 in 2013.
When asked what other individual items would be of particular interest to Beatles fans or collectors, he replies, "The collection is not only vinyl but also includes lots of CDs, videos, USBs, cassettes, VHSes, Beatles Rockband stuff, posters, etc. I have all the bootlegged material that I am aware of and a few odds and ends. Of course, the vinyl is the most valuable of my holdings from a monetary standpoint."
His Beatles collection is so extensive that Mark devotes an entire room in his North Carolina home to exhibit his items. So expert is Mark that he used to have a blog and do a radio podcast on a regular basis from 2007 to 2016. "I was more in touch with other collectors and fans then," he says, "but these days the collection is mainly for my own enjoyment." You can check out Mark's collection at mybeatlescollection.com.
About Collectibles Insurance Services
Collectibles Insurance Services has been protecting collections since 1966 and all coverage is provided by a carrier with a group rating of "A" (Excellent) by AM Best, the leading rating agency for the insurance industry.

Comprehensive coverage includes, but is not limited to: accidental breakage, burglary, fire, flood, loss in the mail, theft, natural disasters, and other causes of loss unless specifically excluded from the policy. Deductibles start at $0 for collector policies and we provide coverage for the market value of your collection for losses in excess of $50.

Additionally the protection extends At home and away, and we don't require collection itemization and serial number nor extensive paperwork and red tape.